QUESTIONS
P.O. Box 631 Station A
Toronto, ON, M1K 5E9
Unveiling Our Winning Progress Campus A-Block Expansion Proposal
Unveiling Our Winning Progress Campus A-Block Expansion Proposal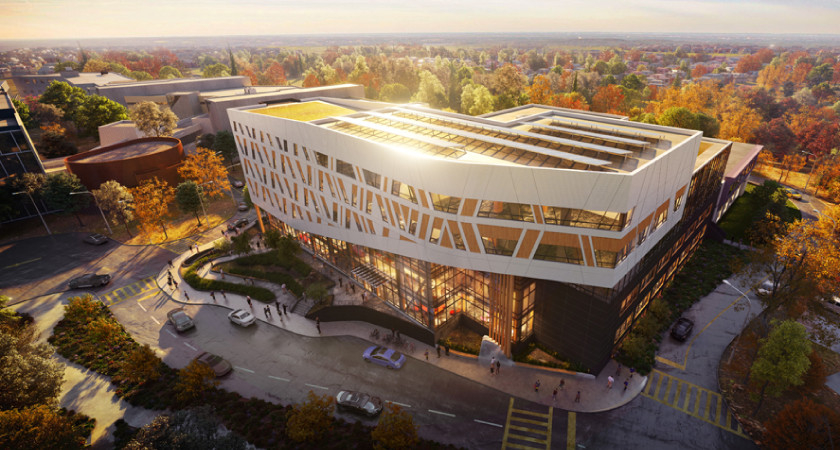 Centennial College is pleased to announce that we have selected and approved the winning Design Build proposal by EllisDon, together with Dialog Architects and Smoke Architecture, to expand the A-Block building and help accommodate our growing student enrolment. The project will not only form the new face of A-Block, but it will also serve as our distinctive gateway to Progress Campus. The six-storey addition will provide 150,000 gross square feet of space, which includes renovations to the existing A-Block building.
The expansion will be a mass timber, zero-carbon building with academic programming space for our School of Engineering Technology and Applied Science programs (ICET), flexible classrooms that support Indigenous ways of teaching and being, as well as support areas such as Wisdom Hall, an engaging student touchdown space, along with collaborative spaces, administrative offices and food services.
The expansion project will be connected to the existing A-Block building on levels 2 and 3 to provide easy passage between the two buildings. The College is committed to eliminating barriers and improving accessibility for persons with disabilities in a manner that respects dignity, independence, integration and equality of opportunity.
This building is a significant first step towards realizing the goals outlined in the College's Indigenous Framework and advancing our commitment to Truth and Reconciliation with the Indigenous peoples of Canada. The building design inside and out will reflect Indigenous values and principles, and is based on the concept of "two-eyed seeing" -- viewing the world through the lens of Indigenous knowledge and the lens of Western knowledge.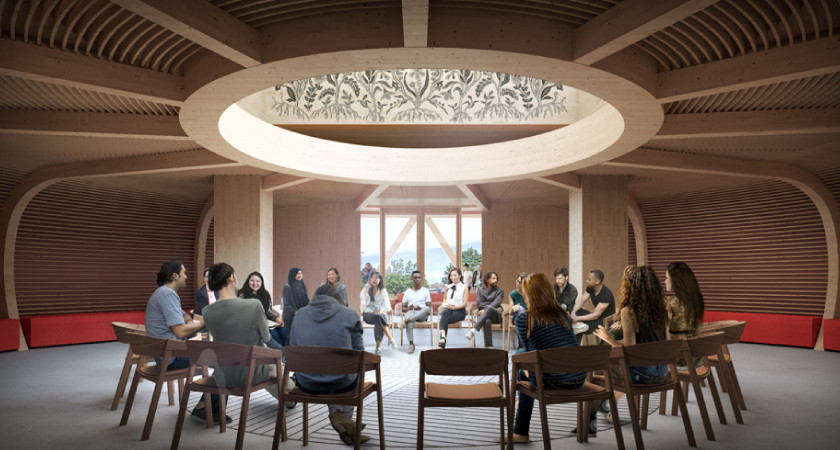 Indigenous Commons
Environmental sustainability is a key focus and attribute that the College wishes this building to embody. Its zero-carbon emissions design, along with its ability to store thousands of tonnes of carbon in its sustainably harvested mass timber wood structure, will be an important precedent in both Canada and globally. Centennial allowed for widespread use of wood while ensuring the space accommodates flexible academic delivery. The College is also pursuing an effective sustainability strategy to reduce energy consumption, aiming to achieve a minimum LEED Gold Standard and a Net Zero, or possibly Net Positive, building.
Next Steps
The A-Block Expansion project begins with interior A-block renovation work commencing in late June, as well as "early works" site preparation, such as rerouting underground utility lines and vegetation and bridge removal over the late spring and summer. Full site mobilization and construction will start in the early fall. Substantial completion is anticipated by fall 2022, and building occupancy is scheduled for January 2023.
More detailed information pertaining to specific construction schedules, pedestrian and traffic management changes on campus, and key milestone activities will be provided in upcoming College communications via broadcasts, social media, web content and more. A web camera installed on the roof of the Event Centre will provide a real-time view of the A-Block Expansion site through a link available on the College website in the near future.