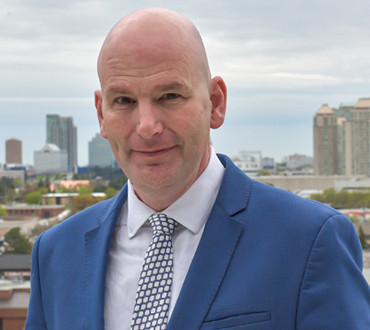 Dr. Craig Stephenson
President and CEO
Dr. Craig Stephenson, President and CEO (2019–24) was appointed in 2019. His career spans two continents, three countries and seven higher education settings.
Since joining Centennial in 2008 as Dean of Students, and then as Vice President, Student and Community Engagement, Craig's focus has been on enhancing the quality of the student experience. He is known for tailoring academic delivery and services to strengthen success, creating spaces for open and creative dialogue, and inviting colleagues to inject their own colour and ideas into the template.
In response to COVID-19, the most defining aspect of his presidency to date, Craig led efforts to ensure the safety of students and employees, develop market-ready solutions (including 43 online programs and 21 micro-credentials), support local communities, and, in collaboration with the Scarborough Health Network, open the community's largest vaccine distribution centre at Centennial's Progress Campus.
In 2020, he launched an ambitious transformation plan to address the impact of the pandemic and a shifting higher education landscape. Driven by his emphasis on the 3Es (Enrolment, Employment, and Empowerment), the plan encompasses three- and seven-year strategies, six areas of excellence, ten priority enablers and a new executive structure – all designed to offer students the Centennial advantage formula: academic excellence today, career success tomorrow, and global leadership for life.
A firm believer in the power of education to expand students' worldviews and strengthen intercultural understanding, Craig has championed several initiatives to strengthen inclusive and equity-based practices, confront anti-Black and anti-Indigenous racism, and address the imperatives of Truth and Reconciliation.
With his trademark passion and devotion to all things student, Craig is committed to building a strong future for Centennial, its students and the communities it serves and ensuring that the College, which he refers to as "a gem of institution," thrives for many years to come. By virtue of his role, he is a member of the Board's Executive Committee.