QUESTIONS
P.O. Box 631 Station A
Toronto, ON, M1K 5E9
Presidential Search
Presidential Search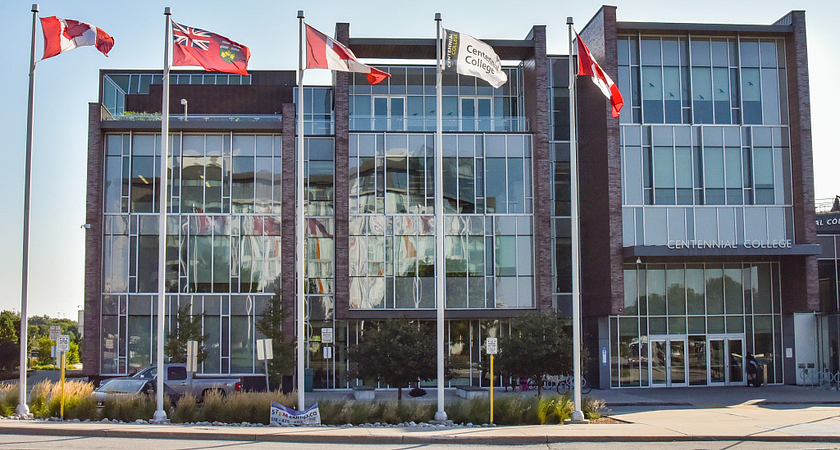 May 23, 2019
Message from Scott Allison, Chair of the Board of Governors
Dear Centennial Colleagues,
It is my distinct honour to announce Centennial College's next President and CEO, a dynamic educator and leader who is also a colleague and a familiar face at the College. Dr. Craig Stephenson, Vice President, Student and Community Engagement, has been selected to serve as Centennial's seventh President since our inception in 1966. Craig will commence in his new role on August 26.
Our rigorous selection process was led by the Board of Governors' Presidential Search Committee, supported by Phelpsgroup Executive Search. This process included a series of campus- and community-wide consultations that resulted in a comprehensive Job Opportunity Brief for the role of Centennial's new CEO. It attracted an exceptional slate of candidates from across Canada. The selection committee found the candidate who not only reflected Centennial's future vision, but who also has the capabilities to implement that vision.
With his deep roots in the formation of our new Book of Commitments, Craig demonstrated keen insight on how a more agile Centennial will transform student and employee lives. Internally, his leadership will advance the cross-disciplinary communication that is a hallmark of the Centennial brand and will focus minds and hearts on sustaining success, ensuring the College remains robust and receptive to new opportunities. Externally, he will reach out to government, business and community stakeholders, creating more innovative partnerships and alliances.
The College's ability to transform lives and communities resonates readily with Craig's own childhood roots and post-secondary experiences. He overcame great odds that reflect many of the experiences of our students today. Staring adversity down, three life lessons shaped the leadership of our new President and CEO. The first was the need to provide student support to build confidence – even at times when little may seem to be at hand.
Born into a working-class family living in a rural district in northern England, Craig was the first in his family to go to post-secondary school. It was not an easy journey. Advised to "aim low" due to England's classism, he was dissuaded from applying to the country's best universities despite having exceptional grades. Craig went on to earn a first-class honours degree in history at Warwick University in Coventry, having worked hard to overcome a strong sense of not belonging.
Following this, a second life lesson emerged: the importance of exploration as a means to develop a worldview. Having studied and worked in England, South Carolina and California – and on an ocean-going ship touring the world – Craig has always been an education pioneer. A former international student himself and later, an International House Associate Dean, a senior member of the Semester at Sea student life team and architect of an international student services operation, Craig has become well versed and passionate about global citizenship and internationalization.
A third life lesson surfaced as Craig took his education to the next level. The mantra aim high to achieve your potential while supporting others, emerged as he completed his doctorate and taught social history at the University of Warwick, while serving as a Resident Coordinator, overseeing the well-being of first-year students. All of these lessons shaped his views of how the power of local action contributes to global citizenry. From developing new programs and pedagogy, to growing our research capacity and developing faculty, Craig has already shared with us his unwavering commitment to hear your views on how to creatively bring our Book of Commitments to life.
Originally hired as Centennial's Dean of Students in 2008, he immediately initiated discussions, planning, retention analysis and action setting to conceive our leading-edge developmental advising model. This momentum yielded a fresh approach to academic advising and simultaneously launched a powerful career services model. Of vital importance to our students, he led mental health initiatives and became an exemplar of "silver service" quality, innovation, design and evaluation.
Those who have worked alongside Craig know his leadership style is inclusive, principled and connected. He prefers to walk the talk and deliver what was agreed to. He's a fan of the "pop-in" – to quote Jerry Seinfeld – dropping in to see people face-to-face when able. Through his long and varied involvement in the post-secondary sector, Craig is keen to never let a day pass by without finding a way to enhance the student experience, while considering the impact of his decisions on employees, institutional resources and stakeholders.
As an accomplished advocate and champion for Centennial students, his contributions signal our next stages of growth and development. From pro-active student services to radical re-imagination of academic advising, Craig demonstrates the power of service leadership. Decision-making will be grounded in evidence, producing the result we all aspire towards: graduating healthy students who are exceptionally employable.
Craig is an avid cyclist, residing in Whitchurch-Stouffville with his partner Parna and their 7-year old son, Oakley. As he takes the leadership mantle, he will be training as hard as he would for any long-distance cycling event – in this case, to understand the cadences of Centennial as he focuses on Scarborough and the communities that the College's five campuses, learning sites and international partnerships serve.
My sincere thanks to the Presidential Search Committee, Phelpsgroup Executive Search and to you, the Centennial community, for your support during this process. As Craig transitions from steward of student life to guardian of Centennial life, I know you will join me in wishing him all of the best as he leads Centennial to new heights.
---
April 3, 2019
Message from Scott Allison, Chair of the Board of Governors
I wanted to take a moment to update you on the status of our search for a new President. The Presidential Search Committee has met on a number of occasions to discuss our requirements related to the search. I am happy to say that together with the Phelpsgroup we have developed a comprehensive brief for the candidates to consider. This process was greatly aided by the consultative process undertaken with a broad cross-section of the Centennial community.
The Phelpsgroup has been highly successful in their outreach and we have seen interest from excellent candidates from across the country. We are continuing with our process and are expecting to engage in interviews over the next few weeks. On April 11th the Board, during its annual retreat, will turn its mind to developing a process to support the on-boarding of a new President. This discussion will set the stage for success as we ready ourselves to welcome a new President over the next few months.
It is my hope to be able to provide you with more details once we have identified our short list of candidates later this month and have conducted our interviews.
---
March 26, 2019
Our Presidential Search is Well Underway
Please click here for a look at the complete posting.
---
December 10, 2018
Message from Scott Allison, Chair of the Board of Governors
It gives me great pleasure to share with you the name of the successful firm we will be partnering with in our search for a new President.
Phelpsgroup of Toronto has over 40 years of experience in the sourcing of executive talent. Over the past decade, they have worked closely with College Boards and Executive teams, supporting the vital role colleges play in developing tomorrow's global citizens. They have conducted a number of national searches in the college sector and have worked extensively with Centennial College on a number of key searches.
Leading this search are Heather Phelps and Jayson Phelps, two of the firm's partners, together with their team of Senior Consultants, which includes Frank Sorochinsky, Joan Green and Margie Peskin. They look forward to gaining an even deeper understanding of Centennial College's key priorities and to engaging the community in a robust consultative process to identify the skills and attributes that will be required of our next President and CEO. The team is committed to harnessing their vast network of focused, strategic leaders, working with the Centennial Presidential Selection Committee to identify innovative, caring and committed leaders who have the depth of experience and competencies to fulfill Centennial's vision for the future.
Over the next few weeks, you will receive a questionnaire from the Phelpsgroup asking for your opinion of the key attributes you think are essential for our next President to be successful. I encourage you to participate in the survey and to share your insights through the website that will be available for this purpose. These are two of the key consultation tools that will help the Board to develop a portrait of our next leader.
The selection committee and I thank you for your support as we continue to move forward with this important presidential selection process.
---
October 16, 2018
Message from Scott Allison, Chair of the Board of Governors
As you likely know, Ann Buller, Centennial College's President and CEO, is retiring from the college she first joined as a recruitment officer in 1989. With boundless optimism and energy, Ann ushered in an era of comprehensive institutional change when she was chosen to lead Centennial in 2004. A college graduate herself, Ann moulded Centennial into a dynamic postsecondary institution that transforms lives – much as the college system architect, Bill Davis, had envisioned.
I am writing to provide you with a brief update on the status of our search for a new College President. Following Ann's announcement that she will retire next spring, the Board of Governors assembled a search committee working under the framework of the College's
Presidential Search Policy to coordinate our efforts to find our next President.
With the help of the Vice President of Human Resources, we solicited proposals from a number of executive search firms. Our search committee has evaluated the many proposals we received to select the best firm for this vital work. We have narrowed our selection to two firms, and will be choosing the successful one once the search committee has had a chance to interview the finalists.
Once they are chosen, we will work with them, and with members of the College community, to develop an executive profile of the position that we will use to inform potential candidates about this opportunity.
This page has been developed to provide the community with more information about the search as it progresses. Please come back frequently for more updates on this important recruitment initiative.