Return to Class Updates
Return to Class Updates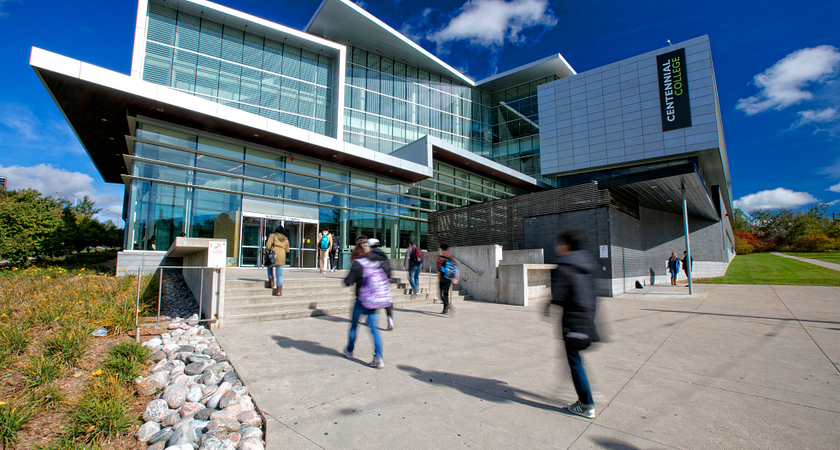 Return to Class Update: November 30, 2017
To support students as they return to class, Centennial College's libraries are offering special drop-in workshops. We offer help with how to research using the library's resources, and show you how to properly add references to your essays, reports and assignments.
Return to Class Update: November 24, 2017
Tuition Deposit Due Date for Winter 2018 semester has been changed from November 30, 2017, to December 13, 2017. Please review the Important Dates by clicking this link.
Return to Class Update: November 22, 2017
Attend one of our Tuition Reimbursement and Withdrawal Information Sessions on Nov 21 - 24 and learn more about the Fall Semester Withdrawal and Tuition Refund Process.
Strike Update: November 19, 2017
As you know, the colleges asked the Ontario Labour Relations Board to schedule a vote this week on their last offer to faculty. When the offer was rejected, the Ontario government introduced back to work legislation. Bill 178 back to work legislation was passed today which means our professors, librarians and counsellors will return to work on Monday, November 20 and regularly-scheduled classes will resume on Tuesday, November 21.
I am proud of how you persevered during this difficult time. It is not the challenges we face that define us, but how we respond to them, and you responded brilliantly. You showed our faculty on the picket line respect and support. You came to the College and worked with your fellow students to further your learning as you completed assignments, lab work and even drill exercises. I couldn't be more proud.
So what's next? We will consult with your faculty to finalize our academic recovery plans. Centennial's service teams are working on every aspect of student support and we are putting additional resources in place to help you succeed, including for example, extended hours of service, access to library learning strategists, greater disability supports and once the Ministry details are known and operationalised, access to hardship bursary funding. Rest assured, you will not have to submit assignments or write tests during the first five business days (Monday to Friday) of classes. Below you will find more detailed information from the Vice President Academic, Dr. Marilyn Herie, and Vice President Student and Community Engagement, Dr. Craig Stephenson.
Thank you for your patience and cooperation during this difficult time.
Ann Buller
President & CEO
Strike Update: November 19, 2017
As a result of the passage of back-to-work legislation this afternoon, Centennial College professors, librarians and counsellors will return to work on Monday, November 20 and all regularly-scheduled classes will resume on Tuesday, November 21.
To say this has been a challenging time that has tested your patience and resolve to stay the course is an understatement. We thank you for your persistence and eagerly welcome you back to your regularly scheduled classes.
As you may be aware, on Friday, November 17, the Ontario government tabled legislation to end the five-week-long faculty strike. With the third reading of this bill scheduled for Sunday, November 19, media outlets have widely reported that the Bill will be passed that day. With the bill now approved, the back-to-work legislation takes effect immediately and faculty will convene at the College on Monday, November 20 to prepare to start classes again.
All full-time classes will resume on Tuesday, November 21. We are sharing our recovery plans with you to give you an idea of what the remainder of the academic year will look like.
First and foremost, we have extended the fall semester end date by three weeks – December 18 to 22 and January 2 to 12, 2018. Once faculty return, we will consult with them on how to best adjust your program to ensure you achieve the required learning outcomes. Rest assured that the quality of your education for career success will not be compromised.
The College is also establishing additional learning and health and wellness supports for you: we'll offer extended hours for the campus Libraries and Learning Centres, Counselling Services, Student Relations, Student Life and Transitions, and the Centre for Students with Disabilities. Student Life employees and other College volunteers will welcome you back to your campus with essential information on supports, services and processes which will ease your transition back to class. We are also increasing the availability of peer tutors and counsellors to support your success in your courses.
Important Dates:
Fall Semester - 2017
Classes resume - On, or after, November 21
Holiday break - December 23 to January 1, 2018
Fall Semester - 2018
Classes Resume - January 2
Semester Ends - January 12
Winter Semester - 2018
Semester Begins - January 22
Engagement Week - February 26 to March 2
Semester Ends - April 27
Spring/Summer Semester - 2018
Semester Begins - May 14
Convocation
June 11 to June 15 (subject to change)
We realize that, even with a new schedule firmly in place, additional resources available to support you, and access to extended service hours, your journey to complete this semester may be challenging. Rest assured that we will do all we can to help you and give you the resources you need to complete your program.
With our sincere best wishes for your success,
Dr. Craig Stephenson
Vice President
Student and Community Engagement
Dr. Marilyn Herie
Vice President, Academic
and Chief Learning Officer
Strike Update: November 17, 2017
Classes Expected to Resume Next Week
We expect that classes will resume next week; we'll let you know immediately as soon as the date has been confirmed. If you've travelled out of town during the strike, please plan to return to Toronto this weekend.
Please continue to monitor your Centennial College email, our social media channels and College websites for updates.
Strike Update: November 16, 2017
Ontario Government to Table Back-to-Work Legislation for Faculty
Faculty at Ontario's 24 public colleges voted to reject the last offer tabled by the colleges' bargaining team, prolonging the strike action.
Although this is not the outcome we were hoping for, we understand this is part of the process and respect our colleagues' decision. We will do our best to reduce its impact on our students by keeping them updated and engaged, informing their self-study and responding to their questions and concerns.
Also on November 16, Premier Kathleen Wynne announced she was tabling back-to-work legislation after the faculty union and Ontario's colleges reached an impasse. Under the proposed legislation, the government will appoint an arbitrator to resolve the outstanding issues while the professors return to work.
Colleges appreciate the government's commitment to introduce back-to-work legislation and encourage all parties to consider students first by supporting the speedy passage.
What does this mean?
Passing the legislation may take a few days. Once that happens, professors, librarians and counsellors will head back to work. As soon as that occurs, we will let students know when they can expect classes to resume.
Meanwhile, we strongly encourage students to continue reviewing their course materials, working on their assignments and pursuing self-study so they are better prepared for when classes begin.
Strike Update: November 13, 2017
The new Collegevote.ca website
This morning, Ontario colleges launched a new website – collegevote.ca – to provide information for the 12,000 faculty, who will be voting on the colleges' offer, this week. College faculty are making a very important decision this week and still have many questions. You can find out more about the site here.
Strike Update: November 10, 2017
Faculty to Vote on Employer Offer
Colleges took the decision to ask for a faculty vote on the employer offer last Monday. An employer offer vote is never a preferred path because a labour dispute settlement should be reached at the bargaining table. Unfortunately, the colleges and the union have not been successful in bargaining, and the strike has not been resolved.
The vote has been scheduled by the OLRB to take place between 9:00 am November 14 through to 10:00 am November 16. Faculty members will have the opportunity to cast a secret electronic or telephone ballot to accept or reject the employer's November 6 offer. The OLRB instructions and the entire employer's offer of November 6 can be found below.
Ontario Labour Relations Board
Management Offer for Settlement November 6, 2017
Strike Update: November 6, 2017
Full-time classes continue to be cancelled until further notice.
Faculty Vote to Be Scheduled
Ontario colleges announced today that they have asked the Ontario Labour Relations Board to schedule a vote on the colleges' offer.
"We need to end this strike and get students back in the classroom. We have asked the Labour Board to schedule a vote and let our faculty decide," said Ms. Del Missier.
Colleges Ask OPSEU to Suspend Strike
The colleges have requested that the strike be suspended. This will allow faculty and students to return to class, while the vote is being organized. Suspending the strike will also allow voting at college campus locations so that the largest number of faculty are able to exercise their right to vote.
What Happens Next?
The Labour Board will determine the vote date. It is expected that the vote will take between five and ten days to organize. This length of time is why the union should suspend the strike and not harm students with another lost week of studies.
"An employer vote is never a preferred path, because a settlement should be reached at the bargaining table. But we have exhausted all efforts at the bargaining table and now our faculty will decide," said Ms. Del Missier.
Please drive safely when crossing picket lines
Safety is a top priority for Centennial College during the unionized faculty strike. If you are driving, please remember you must stop and wait for the roadway to clear. Wait until picketers wave you through and always proceed with caution. Do not try to force your way through or follow the car ahead of you when the picketers allow it to pass. If turning left into the campus, make sure it is safe to proceed and you will not block oncoming traffic. Whenever possible, make a right turn into the campus. Security is monitoring traffic and pedestrian safety on the picket line and will follow up on aggressive driving or call police. Be prepared for delays. Follow the law and any direction you are given.
Postponed: Apprenticeship Block of In-School Training
Friday, October 20, 2017
Apprenticeship Block of In-School Training Scheduled to Begin October 23 has been postponed until after the faculty strike. Please see your Centennial College email for more information.
Unionized Faculty on Strike
Sunday, October 15, 2017
Unionized faculty (professors, librarians and counsellors at Ontario's 24 colleges) are on strike. During the period of the strike, these employees will not perform work-related duties, including contact with students. Therefore, all full-time courses have stopped.
Part-time (in class and online) courses will continue to run, with some exceptions, and courses delivered by our university partners may continue to run. Throughout the strike, the College will remain open, with administrative and support staff reporting to work.
Before you head to any of our campuses, please carefully read and follow our Guidelines for Crossing a Picket Line Safely and Respectfully. Throughout the strike, we will provide you with updates via your myCentennial email, the studentHUB and our Facebook and Twitter accounts. We will post regular updates on the College website. You can also direct any questions you may have to the Centennial College Strike Hot Line 416-289-5226.