Safety Watch App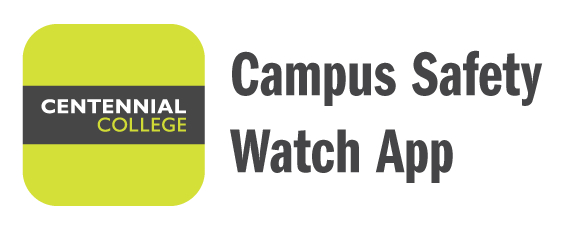 Download Now
I've Been Assaulted
I've Been Assaulted
It is not your fault
If you have been assaulted, please understand that it is not your fault. You will be believed, you have options, and you are not alone. Learn about your options and how to get support here.
If you have experienced sexual assault or sexual violence
1. Go to a place where you feel safe
If you live in Residence, go to a trusted friend or your Residence Advisor.
If you don't live in Residence, go to a trusted friend or relative.
If you still feel as though you are in physical danger, go to Campus Security.
2. Get medical attention as needed
Go to your local hospital emergency room.
3. Get advice on available reporting options
Contact a College Security Investigations Consultant at 416-289-5000, ext. 7056, or one of the College contacts below for reporting options
Sexual Assault Reporting Contact Information
Students
Employees
Other (Contractors, service providers, visitors, etc.)
Campus Security, 416-439-4357 or 416-289-5000, ext. 2020, Available 24/7
Counselling Centres
416-289-5000
Ashtonbee, ext. 7252
Morningside, ext. 8025
Progress, ext. 2627
Story Arts Centre, ext. 8664 or 2627
Hours: 8:30 am - 4:30 pm

Employee Assistance Program
1-800-387-4765
Available 24/7
Manager of host department or contract
Student Experience Office
416-289-5000, ext. 2499
Hours: 8:30 am - 4:30 pm

Residence Advisor, Front Desk, Resident's Life Coordinator
Available 24/7
External resources available to you
Assaulted Women's Helpline: 1-866-863-0511 or 1-866-863-7868 (TTY)
Toronto Rape Crisis Centre and Multicultural Women Against Rape: 416-597-8808 or 416-597-1214 (TTY)
Community Connection: 211, www.211toronto.ca
Scarborough Hospital Sexual Assault and Domestic Violence Care Centre: 416-495-2555
Scarborough Centre for Healthy Communities: 416-847-4144
Women's College Hospital Sexual Assault and Domestic Violence Care Centre: 416-323-6040
Durham Region Domestic Violence and Sexual Assault Care Centre: 905-571-3344, ext. 116
Distress Centres of Toronto: 416-408-4357 or 416-408-0007 (TTY)
519 Church Street Community Centre: 416-392-6874 (LGBTQ Support)
Good2Talk Student Helpline: 1-866-925-5454, www.good2talk.ca
Women In Crisis Algoma: 1-877-759-1230, www.womenincrisis.ca
Sexual Assault Centre for Quinte & District: 1-877-544-6424, www.sacqd.com
Sexual Assault Centre of Brant: 519-751-3471, www.sacbrant.ca
Women's House Serving Bruce and Grey: Sexual Assault Crisis Centre: 1-866-578-5566, www.whsbg.on.ca
Chatham-Kent Sexual Assault Crisis Centre: 519-354-8688, www.cksacc.org
Sexual Assault Support Services for Women, Cornwall

English: 613-932-1603
French: 613-932-1705

Counselling Centre of East Algoma: 1-800-721-0077, www.ccea.life
Guelph-Wellington Women in Crisis: 1-800-265-7233 or 519-836-5710, www.gwwomenincrisis.org/
Sexual Assault and Violence Intervention Services of Halton: 905-875-1555, www.savisofhalton.org
Sexual Assault Centre Hamilton and Area (SACHA): 905-525-4162, www.sacha.ca
Kawartha Sexual Assault Centre: 705-741-0260, www.kawarthasexualassaultcentre.com
Kenora Sexual Assault Centre: 1-844-529-2272 or 519-438-2272, www.kenorasexualassaultcentre.ca
Sexual Assault Centre Kingston: 1-877-544-6424 or 613-544-6424, ;www.sackingston.com
Sexual Assault Support Centre of Waterloo Region: 519-741-8633, www.sascwr.org
Sexual Assault Centre London: 1-877-529-2272 or 519-438-2272, www.sacl.ca
Niagara Region Sexual Assault Centre: 905-682-4584, www.sexualassaultniagara.org
Amelia Rising Sexual Assault Centre of Nipissing: 705-476-3355, www.ameliarising.ca
Oshawa-Durham Rape Crisis Centre: 905-688-9200, www.durhamrapecrisiscentre.com
Sexual Assault Support Centre of Ottawa: 613-234-2266, www.sascottawa.com
Ottawa Rape Crisis Centre: 613-562-2333, www.orcc.net
Hope 24/7: Sexual Assault Centre of Peel: 1-800-810-0180, www.hope247.ca
Women's Sexual Assault Centre of Renfrew County: 1-800-663-3060, www.wsac.ca
Sexual Assault Survivors' Centre Sarnia-Lambton: 519-337-3320, windsoressex.cioc.ca/record/SAR0338
Voices for Women Sudbury: 705-523-7100, ext. 2647, www.connexontario.ca
Thunder Bay Sexual Abuse and Sexual Assault Counselling and Crisis Centre: 807-344-4502, www.tbsasa.org
Timmins and Area Women in Crisis: 1-877-268-8380, www.tawc.ca
Sexual Assault Crisis Centre of Essex County: 519-253-9667, www.saccwindsor.net
Women's Support Network of York Region: 1-800-263-6734 or 905-895-7313, www.womenssupportnetwork.ca
24/7 Men's Survivor Crisis Line: 1-866-887-0015, www.attorneygeneral.jus.gov.on.ca
Additional external links
To report sexual assault or violence:
What happens after I report a sexual assault?
If you report to the Police:
In most cases, a police officer will take brief details about the sexual assault. The officer may ask you to go to the hospital to treat any injuries and to have a Sexual Evidence Kit take samples.
If you report to a College official:
We will believe you, ensure you are safe and discuss options on how you wish to proceed.
Reporting emergencies
Police, Ambulance, Fire 911

When calling 911 at the College, it is essential that Campus Security be notified so we can respond and direct emergency vehicles and personnel where needed.

Campus Security

Use a Yellow Emergency Phone
Emergency, 416-289-5000, ext. 2020
Emergency Helpline 416-439-4357 (HELP), free call from any College payphone or mobile phone
Reporting sexual assault or violence to the College
It is often difficult to disclose and report incidents of sexual assault or violence. It is entirely up to you if you choose to report the incident. However, we strongly encourage you to do so.
Sexual Assault College Reporting Options
Students
Employees
Other (Contractors, service providers, visitors, etc.)
Campus Security, 416-439-4357 or 416-289-5000, ext. 2020, Available 24/7

Student Experience Office
419-289-5000, ext. 2499

Hours: 8:30 AM - 4:30 PM

Human Resources
416-289-5000, ext. 5126

Hours: 8:30 AM - 4:30 PM

Manager of host department or contract.

Residence Advisor, Front Desk, Resident's Life Coordinator

Available 24/7

Supervisor or Manager