QUESTIONS
P.O. Box 631 Station A
Toronto, ON, M1K 5E9
Recycling Programs
Recycling Programs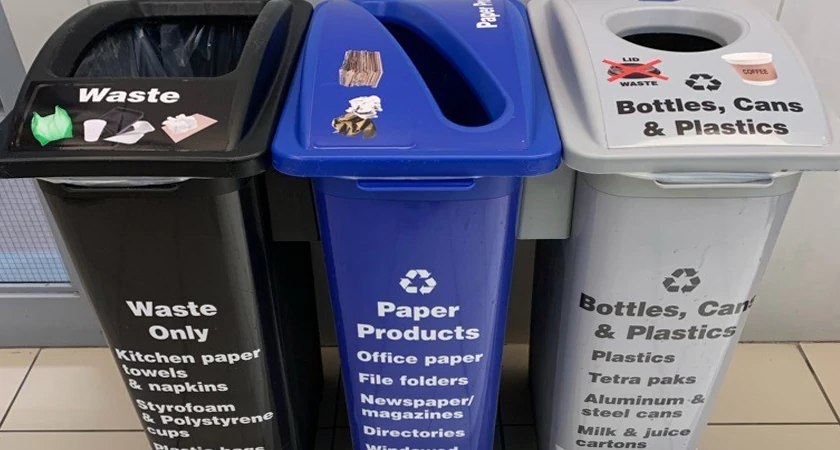 Marked and colour coded containers located in common areas enable staff, students, and visitors to conveniently place their recyclable materials in collection containers for recycling. Single-bin garbage has been removed from classrooms and individual offices and desks. This is to encourage staff and students to use the sorting waste collection system to reduce waste production and encourage recycling practices.
3-Sorter Waste Collection System
To help support the College's goal of becoming a landfill-free facility, it is important to place your waste in the appropriate receptacle. Remember to:
Place Paper products in the blue bin, which include corrugates cardboard, fine paper, and newsprint. 
Remember: Ensure all material is dry (no liquid) and free from food waste, grease or residue; and only the appropriate material is deposited.
Place all plastics (#1-7), steel and aluminum beverage and food containers, including cartons, plastic bottles, and cans, in the grey bin.
Remember: Ensure all material is dry (no liquid) and free from food waste, grease or residue; and only the appropriate material is deposited.
All other remaining non-hazardous materials can be placed in the black bin unless another program exists to receive that waste.
Remember: If you are unsure and would like clarification of which bin to use, contact sustainability@centennialcollege.ca.


Did You Know
If an unrecyclable material is placed in the recycling, it can render the whole bin contaminated and end up in a landfill. This includes pouring liquid, greasy material or food in the bins.
Composting Program
Centennial College is currently in the first phase of its organic waste diversion strategy, which was implemented in October 2019. Pre-consumer organic waste is being collected in all food prep areas across all five campuses for off-site composting.
Separately managed, Centennial Place and our Culinary Arts Centre have an organics collection program throughout the whole facility with an installed digestor for on-site processing. Within this building, you will notice the addition of a green bin to collect organic material next to the standard 3-sorting bins. If you are in the building it is important to dispose of the allowable waste in the green bin. The system cannot process the organic waste correctly if unaccepted materials are disposed of in the organics bins.
If you have any questions, please feel free to contact sustainability@centennialcollege.ca.
Battery Recycling
Batteries are considered hazardous materials and should not be put in the garbage or any recycling bins. All college staff and students are welcome to drop batteries off at collection points located across each campus, in the vicinity of the cafeteria. For safety please ensure corroded, leaking or damaged batteries are placed in a bag prior to depositing in the bin. If you need help locating a bin, please contact sustainability@centennialcollege.ca.