QUESTIONS
P.O. Box 631 Station A
Toronto, ON, M1K 5E9
Reduce, Reuse and Repurpose
Reduce, Reuse and Repurpose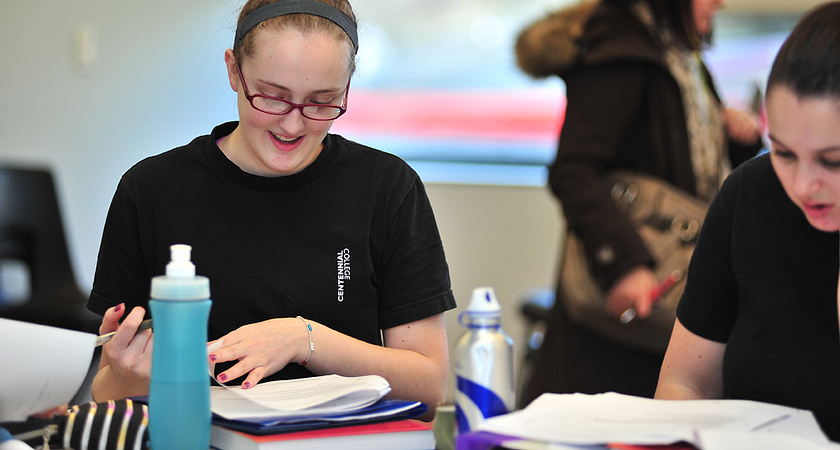 Centennial College strives to reduce its environmental footprint by decreasing and diverting waste from landfills, and the best way to do this is by reducing the amount of waste produced in the first place. Every person in our college community doing one or more of these initiatives can greatly contribute to our overall goal of becoming a landfill-free college.
1
Bring your reusable water bottle
Utilize one of our 47 water bottle filling stations across all five of our campuses for fresh filtered water.
Why this helps: It is estimated that only 14% of single-use water bottles in Ontario make it to a recycling facility, and tragically it is estimated that 22,000 pounds of plastic waste ends up in our great lakes every year.
2
Bring your reusable mug
Utilize our LUG-A-MUG program and save! Every food service provider at all of our campuses will provide you with a discount if you bring your own reusable mug for coffee and tea.
Why this helps: In 2019, 53,572 pounds of coffee cups were used by the college community and disposed of in a landfill.
3
Bring your own reusable bag
Cutlery and straw to displace single-use plastic items. Sometimes it's just a habit to accept and use these items, but remember to say no thank you and bring your own.
Why this helps: Nearly 3 billion single-use plastic bags are used in Canada each year. Although outlets are making the switch to biodegradable items, they still consume resources to manufacture, distribute, and dispose of. The best action is to avoid using any disposable items whenever you can.
4
Before you purchase, assess its purpose
Ask whether you need it and who else can use it. Does this product already exist at the college? Can it be borrowed? Can it be shared? If you are required to purchase an item, you can also ask whether it can be repurposed at the end of its product life and lastly can it be recycled. Consider sourcing products made using recycled content and products that are durable, repairable, and recyclable.
Why this helps: We can reduce our ecological footprint by making choices when purchasing products that support the circular economy by choosing products that design out waste and pollution; keep products and materials in use longer and regenerate natural systems. Visit the Ellen MacArthur Foundation to learn more.