Global Community Made From Global Students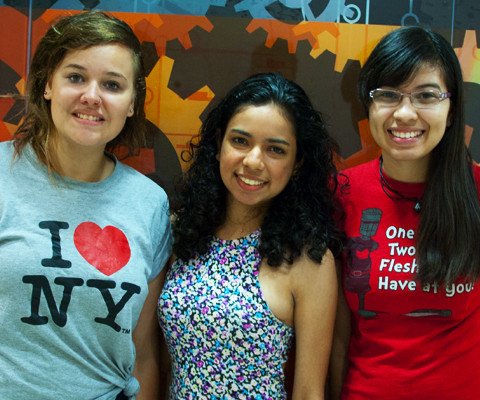 Here at ARIC, we strive for borderless innovation. Learning knows no bounds, which is the reasoning for our active community of international students. We've written about the PodoTech project in the past, in which the custom shoe manufacturer came to us to take a 3-d scanner for custom footwear they'd developed, and make it market-ready. For this effort, a team of students both local and international were recruited.

This summer, Centennial's Applied Research and Innovation Centre (ARIC) hosted three research interns Andrea Monteiro, Elizabeth Santo, and Tais Stein from Brazil under the Canada Brazil Ciênciasem Fronteiras scholarship program. , Students are involved in multidisciplinary, collaborative applied research projects with ARIC staff, other students and faculty members. Andrea and Tais had studied industrial design back home, and came here to study fine arts. Meanwhile, Elizabeth's area of expertise was digital media. Their reasoning for choosing ARIC? According to Tais, word had reached them that "Centennial College was a nice place to do the internship."

PodoTech was a multifaceted project. Outside of research and development, the device needed marketing, which was where these three came in. Tais made illustrations and graphics for their website and mobile app, Andrea handled social media, and Elizabeth created videos. The trio wound up learning some essential life skills from the project. "Now I feel I'm much more prepared to work with clients and companies," Tais explains. "I got some responsibility, too. I know what I have to do, and now I know how to work inside a schedule."

 "I learned to work in a team, too," adds Andrea, "because a lot of the photos and videos were created together." Aside from the educational aspect of the program, they praised the chance to travel to another country, and had only good things to say about Canada. "Here in Canada," says Elizabeth, "you meet a bunch of different cultures, and it's interesting to see how other people see the world."

This initiative, funded by the Government of Brazil, intends to promote international cooperation in joint applied research between Canada and Brazil.