Centennial Empowers Young Entrepreneurs with New ACCEL Program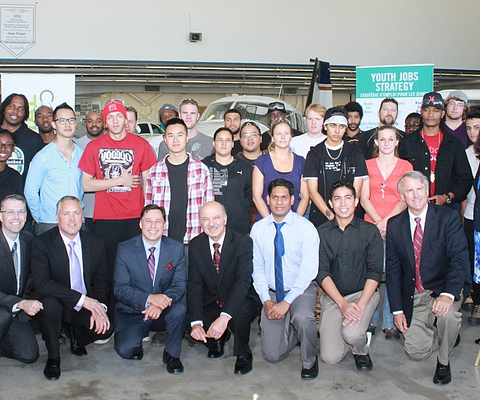 Centennial College has unveiled its new Campus-Linked Accelerator program, known as ACCEL (Accelerator for Centennial Community Entrepreneurs and Leaders). The program will introduce enterprising youth in the eastern Toronto region to an entrepreneurship eco-system that will provide the tools and guidance they need to start their businesses.
Centennial is the only college in the province to undertake an independent accelerator project. Donovan Dill will serve as Youth Entrepreneurship Manager, bringing with him 23 years of experience inspiring positive development and entrepreneurship in youth nationwide. Under his guidance, ACCEL will foster 60 new businesses in the next two years.
"Centennial College has a long history of working with youth to remove barriers to their success," says Ann Buller, President of Centennial College. "In addition, our Centre of Entrepreneurship has been helping more than 3,500 entrepreneurs launch their businesses since 1987. The college is committed to driving innovation and entrepreneurship, especially when it comes to young people looking to start an enterprise."
Centennial's key partner in this initiative is ventureLAB, one of Ontario's Regional Innovation Centres (RIC). "We're excited to be delivering this program with Centennial College. At ventureLAB we strive to assist all entrepreneurs by providing them with the tools and guidance they need to build a successful business," says President and CEO Jeremy Laurin. "Partnering with the ACCEL will also allow ventureLAB to reach and empower more youth entrepreneurs."
ACCEL is supported by the Government of Ontario's Youth Jobs Strategy and is being managed by the Ontario Centres of Excellence (OCE), part of the Ontario Network of Entrepreneurs. Funded by the provincial government, the Ontario Network of Entrepreneurs is Ontario's innovation system (oneinnovation.ca). ONE is made up of regional and sector-focused organizations designed to help Ontario-based entrepreneurs rapidly grow their companies and create jobs.
Ontario's Youth Jobs Strategy represents an investment of $295 million over two years with the goal of connecting 30,000 youth with the tools, experiences and entrepreneurial support they need to find employment or start their own businesses. More than 20,000 job opportunities have already been created to date under the Youth Jobs Strategy, and ACCEL is poised to create even more.
"Fostering the entrepreneurial spirit among students is a key component of Ontario's Youth Jobs Strategy, through programs that help transfer their ideas and skills to the marketplace while creating rewarding careers," says Reza Moridi, Ontario's Minister of Research and Innovation, and Minister of Training, Colleges and Universities. "By partnering with colleges and universities to support entrepreneurship, we are ensuring our province's business leaders of tomorrow are getting the support they need to succeed today."
"Ontario Centres of Excellence is pleased to be able to deliver this project as a trusted partner of the Government of Ontario," says Dr. Tom Corr, President and CEO of OCE. "I look forward to putting our years of experience in connecting academia and industry, and our on-going support of young entrepreneurs to good use in making this initiative a tremendous success."

Credit: City of Toronto