Centennial College's ARIC and COE Receives National Awards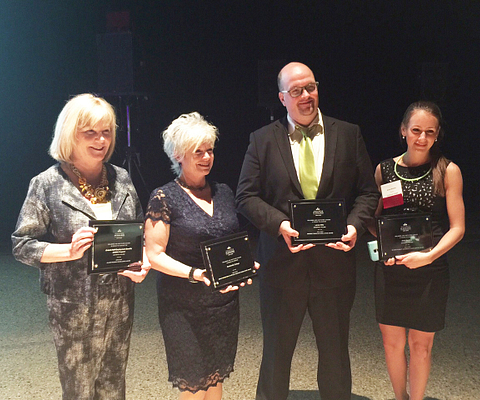 Centennial College's ARIC and COE receives National Awards at the- 2015 Colleges and Institute's Canada (CICan) 2015 Awards of Excellence gala. The award recognizes best practices and leadership demonstrated by public colleges and institutes from across Canada. The CICan award includes eight distinct categories, including two recognitions for Indigenous Education and Innovation in Applied Research. Other categories of the award include Internationalization, Leadership, Best Program, Staff, Student Leadership and Teaching.

CICan's first prize for Innovation in applied research went to Centennial College's Applied Research and Innovation Centre (ARIC). Who recorded double-digit growth in research and innovation. Centennial has established itself as a leader in fostering partnerships with industry and community organizations to advance innovation and applied research, which can lead to successful commercialization of new products and services. Trish Dryden, Associate Vice President, Research and Corporate Planning, was on hand to receive the award.

Centennial College also received a silver award of excellence for topping the Best Program in recognition of Ontario Self-Employment Benefits program delivered by the Centre of Entrepreneurship (COE). This is the second win for Centennial's OSEB program, which was honored with a CICan Entrepreneurship Award in the Entrepreneurship in the Community category at the Enabling Entrepreneurship Symposium in March. Sharon Mooney, Manager, Centre of Entrepreneurship, was on hand in Winnipeg on Tuesday to receive the Silver Award of Excellence for Best Program in recognition of the Ontario Self-Employment Benefits (OSEB) program delivered by the Centre of Entrepreneurship.

The Colleges and Institutes Canada is the national and international voice of Canada's publicly supported colleges, institutes and polytechnics, of which Centennial College is a member. The association works with industry and social sectors to train 1.5 million learners of all ages and backgrounds at campuses serving more than 3,000 urban, rural and remote communities in Canada. The association also operates in 29 countries around the world.