Full House for Health Hackathon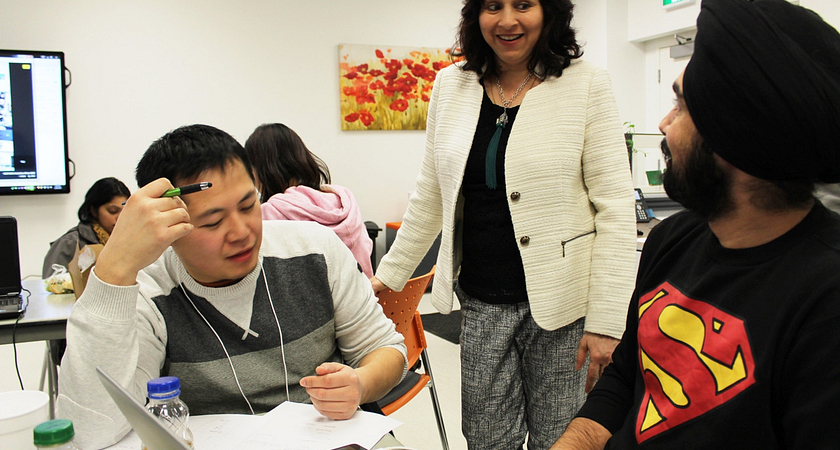 Wearable, Interactive and Mobile Technology Access Centre in Health (WIMTACH)'s headquarters was packed full of eager students for an intensive two day hackathon from January 27-28th, 2016 at Progress Campus. Sponsored by Smokebomb Entertainment, a division of the Toronto based Shaftesbury Studios, the hackathon was the second hosted by the WIMTACH team. Yielding an outstanding turn out of 33 students, mainly from Centennial's Software Engineering program, the participants brought their coding skills and enthusiasm as they eagerly awaited their tasks.
Representatives from The Scarborough Hospital and Newmarket's Southlake Regional Hospital presented six different software application challenges for the students to choose from, where they were required to design, code and test in an intensive hackathon setting. Teams were able to choose which application they wanted to work on, from an app to perform hand hygiene audits in hospital settings, an app to capture hospital improvement opportunities, a game to create awareness of calcium levels in a diet, an employee absence app, an anti-smoking educational app or a communications system to replace age-old pagers still used by some health professionals.
Throughout the two days, room D2-02 was full of energetic students dreaming up ways to bring their applications to life, while meeting the criteria desired by the clients. After meticulous planning, the teams all prepared presentations to explain their work and the judging panel settled in, ready to hear what these talented students created. In order to determine the winning group, the judges filled out a score card consisting of five categories: design/user interface (innovative and creative design), functionality, feature complexity, innovation and demonstration (presentation).
Taking home first place was a group of five students, Tabish, Meer, Shukry, Shivya and Hyo who designed an application for The Scarborough Hospital's improvement opportunities. Second place was awarded to another group of five, Kimberly, Jihee, Samee, KwangSik and Zirgham, who tacked Southlake Regional Hospital's employee absence software. The third place team was a group of four students, Carolina, Chemcee, Padma and Joseph who worked on Southlake's anti-smoking app, aimed at educating teens on the adverse effects of smoking.
The winning teams took home a $1,000 gift card, and every participant was given a consolation prize and a certificate of completion. After such a great turnout, WIMTACH is planning to host a third hackathon offsite in April – keep your eye out for information in the coming months!
Twitter: @Centwimtach