WIMTACH Creates a New EEG Testing Device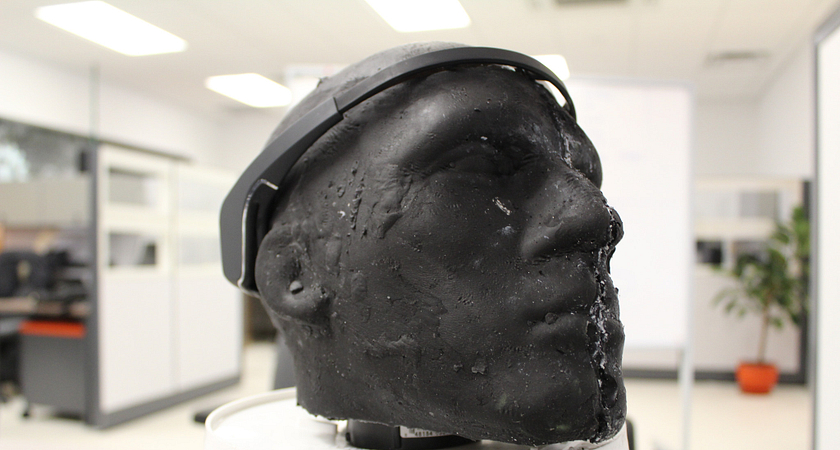 Centennial's WIMTACH recently partnered with InteraXon Inc. to design and manufacture a "Specific Anthropomorphic Mannequin", in short known as SAM. This unique artificial human head simulates the properties of human tissue better than previous Electroencephalogram (EEG) calibration methods and provides a better calibration environment for testing the EEG devices.
InteraXon is a Toronto-based innovator in the field of brain-sensing technology. Over 50,000 people have experienced InteraXon's technology, and this continues to grow. In 2014, InteraXon launched their first product, Muse: the brain sensing headband. Muse is a brain fitness tool that senses your brain like a heart monitor reads your heart rate. Muse uses short, fun sessions to help you calm your mind, increase focus and composure and reduce stress.
As innovative as the device is, the Research and Development (R&D) process turns out to be equally challenging. Traditional EEG testing and calibration methods were unable to completely support MUSE's R&D process. This was because the traditional methods offer only two approaches. Firstly, you can hook the electrodes directly into the device to be tested, which will completely overlook conductivity, impedance and resistance of human tissues. The second approach is to use a human test subject to deliver the bio signals which again is inaccurate as a human brain will never repeat the same signal again. However InteraXon needed something that could simulate the human tissue properties, while providing the ability to control and reproduce the signals as required.
To address this issue, InteraXon partnered with Centennial' WIMTACH. A team of Biomedical Engineering Technology and Electronics Engineering Technology students along with experienced faculty members was put together. Starting with a comprehensive study of current research work, the team went on to create a design and manufacturing methodology. Creating the actual head model turned out be quite a challenge. Most of the materials required were not simply available off the shelf. This led to innovative thinking, resulting in the use of easily attainable materials to create the required composition. Achieving the correct tissue conductivity again took a great deal of experimentation. The end results were astounding with the SAM surpassing all performance benchmarks.
SAM can emulate the human tissue's properties as well as generate a wide range of signals with the ability to replicate signals over any period of time. EEG testing is no longer limited to the scope of the conventional testing methods. Thanks to extraordinary research work at WIMTACH, InteraXon can now simulate brain signals in a much faster and effective way, leading a more exhaustive Testing process and better product for the customers. Although this project has successfully ended, WIMTACH and InteraXon Inc. are exploring other ideas to collaborate upon.