International Visitor to Centennial's Applied Research Facilities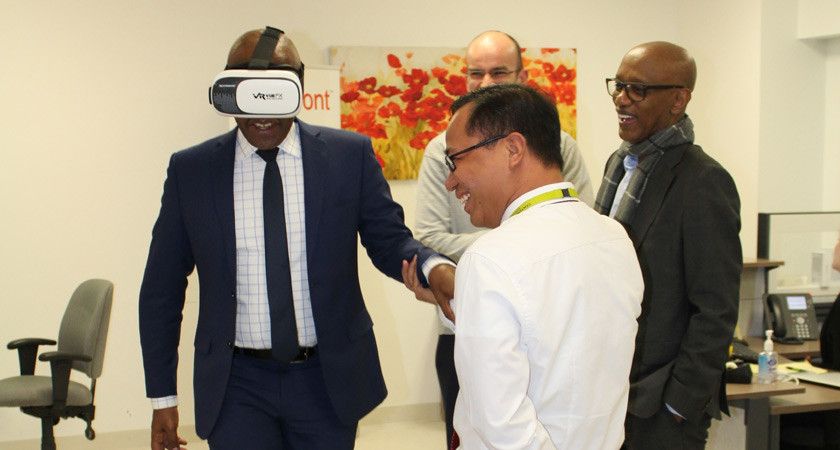 Centennial College's Applied Research, Innovation and Entrepreneurship hosted a very special guest February 17th, Professor Thandwa Mthembu, Vice Chancellor of South Africa's Durban University of Technology (DUT).
The school, situated on the country's eastern coast, is similar to Centennial College in terms of full-time enrollment, as well as its commitment to global citizenry and applied research and innovation – especially as it pertains to the energy sector.
The purpose of Professor Mthembu's visit was to draw attention to "energy poverty," a grave electricity access problem faced by developing countries. This can be observed as large swaths of the world's map not being lit up when viewed from space at night. It's important to realize that electricity access, even if it's something as simple as powering a cellphone, is critical to international development.
In his talk to a group of Centennial College associates, as well as energy industry professionals, Professor Mthembu described his institute's commitment to green energy. Like Centennial College, the Durban University of Technology has outdoor wind/solar lighting systems installed and solar chiller units similar to ones currently being tested at Progress.
The special guest described efforts to deliver off-grid wind and photovoltaic hybrid system solutions to power local schools, and explained the energyDRIVE project, a customized mobile truck equipped with wind turbines and photovoltaic panels, which travels to remote schools to draw attention to the phenomenon of energy poverty.  
Professor Mthembu took time out of his visit to explore Centennial College's applied research initiatives.
Many are not aware of these, but Centennial College features NSERC-funded green energy projects (visible on the roof adjacent to ARIES' offices) as well as solar panels out in the parking lot of Progress campus, and even an off-grid electric vehicle charging station.
Professor Mthembu's tour included Centennial College's WIMTACH, the College's Wearable, Interactive and Mobile Technologies Access Centre for Health, where the team of software engineers demonstrated some VR technology.
Part of the Vice Chancellor's visit also included a trip to meet with students from Centennial's Accelerator for Centennial Community Entrepreneurs and Leaders (ACCEL).
Despite being put on the spot, the group impressed Dr. Mthembu with their impromptu and energetic business pitches.
Welcoming our international colleagues is a great way to share ideas, but more importantly, to not lose sight of our connection to the broader, global community.