Centennial College showcases remarkable student projects at OCE Discovery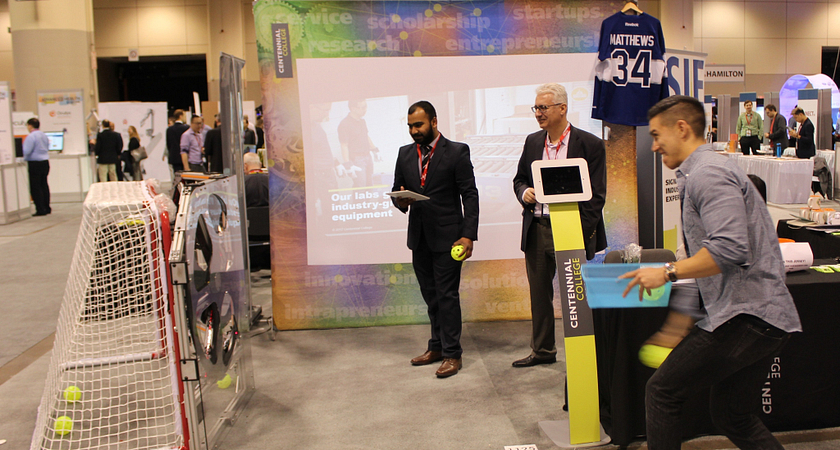 On May 15-16 the Ontario Centres of Excellence (OCE) hosted its annual OCE Discovery event at the Metro Toronto Convention Centre.
Discovery is one of the most highly anticipated events of the year for Canadian innovators, entrepreneurs, as well as professionals and students within the technology sector. Discovery is put together to allow government, industry, investors, universities/colleges, and students to meet at one place to network and collaborate to innovate, grow and forge relationships.
Centennial College was well represented at Discovery by the Applied Research and Innovation Centre (ARIC), the Centre of Entrepreneurship (COE), Centennial's Wearable, Interactive and Mobile Technologies Access Centre in Health (WIMTACH) and Strategic Initiatives and External Relations (SIER). Discovery, billed as Canada's "leading innovation-to-commercialization conference" gave the College an opportunity to liaise with potential partners as well as showcase the remarkable projects that the students have been working on.
WIMTACH demonstrated their prototype robotic goalie. The robotic goalie exhibit encouraged event-goers to get shots past the goalie into a hockey net. This attraction drew the interest of many curious attendees and gave others in the industry a chance to witness Centennial's innovation.
Jeziel Vidad, WIMTACH Program Manager, who was on hand to oversee the event, felt it was a great experience and quite beneficial for Centennial College. "This is my third year participating in the event. I find it very valuable to showcase our capabilities as a Centre by demonstrating the projects that we've done for our clients, says Vidad. "Moreover, it is a very good venue to network and find new clients and partners."
Discovery also showcased a strong contingency of youth entrepreneurs, students, and start-up businesses. These groups in particular benefit greatly from Discovery, as they are provided an opportunity to see how their project(s) compare to others in the industry during the early phases. Vidad commends Discovery because "potential partners and clients will see the actual projects and witness the students presenting them."
Along with the student projects that were on display, the Centre of Entrepreneurship (COE) was able to meet young entrepreneurs who are looking to grow their business as well as young individuals with bright business ideas looking to get off the ground. COE also took the opportunity to build strong relationships with potential partners in the industry.
Shelly Gupta, Signature Industry Experience Officer at SIER, relayed a similar experience as SIER utilized the event to develop partnerships. "It was an amazing experience meeting with so many organizations who have engaged in innovation across all sectors and develop partnerships for Centennial College," Gupta said. "We met so many individuals who have connected with us, and would like to engage with Centennial College."
The collaboration between ARIC, SIER, and COE, was a concerted effort to represent Centennial College in an event highly regarded by Ontario innovators.
As has been the case for years, Discovery continues to set a high standard for excellence among Ontario innovators. After a successful Discovery 2017, everyone will be eagerly awaiting the conference in 2018 and beyond.
By Pierre Ross