Innovation and Ingenuity on Full Display at OCE Discovery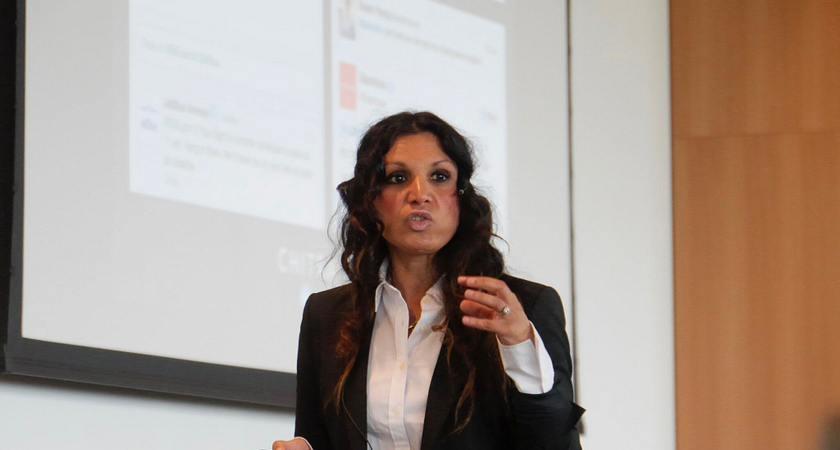 Author: Pierre Ross
2018 marks another year Centennial College attended the Ontario Centres of Excellence (OCE) Discovery Event. OCE Discovery is an annual event celebrating Ontario's best and brightest in health, manufacturing, media, energy and many more in the research and innovation field. Attendees from industry and academia come under one roof to discuss and promote their ideas with the potential for collaboration. Held this year at the Metro Toronto Convention Centre from April 30th – May 1st 2018, the marquee event is one of Canada's leading innovation platforms.
Students show off their Automated Package Sorting System
Centennial College attends the event every year to demonstrate the innovative projects on which our staff and students are working. This year, two students, Kuldip Bhesadadiya and Akash Mangukiya from the Electro Mechanical Automation and Robotics Technology program were on hand. Bhesadadiya and Mangukiya won the Dean's Award at the 2018 SETAS Tech Fair for their 'Automated Package Sorting System'. Due to the recent surge in online shopping platforms such as Amazon and eBay, demand for more efficient modes of sorting product to be shipped has risen correspondingly. Bhesadadiya and Mangukiya, with their group members Chirabhai Bhayani, Dhaval Dadhania and Ozgur Tuncel sought to address this demand.
At OCE Discovery, both Bhesadadiya and Mangukiya demonstrated the capabilities of the sorting system and explained how their project can be integrated into the market. "Our project diverts packages as per the barcodes assigned to different lanes or locations" explained Bhesadadiya. "Moreover, it mainly includes Electricals such as PLC and SCADA, Pneumatics and Custom built Mechanical conveyor system."
The students took the opportunity at OCE Discovery to network with as many potential industry partners as possible. "It was a very great and informative experience" adds Bhesadadiya. "I met few industry people and I believe OCE Discovery can be a very useful platform for those students who are seeking sponsors and investors."
Attending OCE Discovery was a first-time experience for the pair of students. The event provided them with great insight into what other organizations are doing and in turn provided another learning experience the students can use in the future. "The biggest takeaway which I got is regarding the future of advancement and how the industry is going to change," reflects Bhesadadiya.
Talking Innovation and Entrepreneurship
For the past several years, Centennial Applied Research Innovation and Entrepreneurship Services (ARIES) has attended the OCE Discovery to interact with other organizations focused on innovation and entrepreneurship. Members of the ARIES team provided presented what Centennial College offers in research and innovation, including aerospace, artificial intelligence, cyber security, health technology, and entrepreneurship.
"OCE Discovery brings together key players from industry, academia and, government" offered Taylan Tatli, Associate Vice President of Research and Corporate Planning. "Therefore, over the last two years, Centennial College used this event as a platform to display its signature applied research, innovation projects, as well as entrepreneurship programs."
Centennial ARIES took the opportunity to use OCE Discovery as a chance to celebrate its successes with other organizations while discovering the achievements from industry partners. Tatli states "Our researchers and entrepreneurs (staff and student), realize a chance to see the best practices from other post-secondary educations and industry leaders, connect with funding agencies, and celebrate students' accomplishments on various projects."
Attending OCE Discovery is a highlight for Centennial College every year. The event provides a fantastic forum to communicate and learn from other like-minded innovators while demonstrating the tremendous projects that our students have been working on this past year. Anticipation will remain high for OCE Discovery in 2019.