Yearly Summit Sparks Bright Ideas for the Future of Work and Learning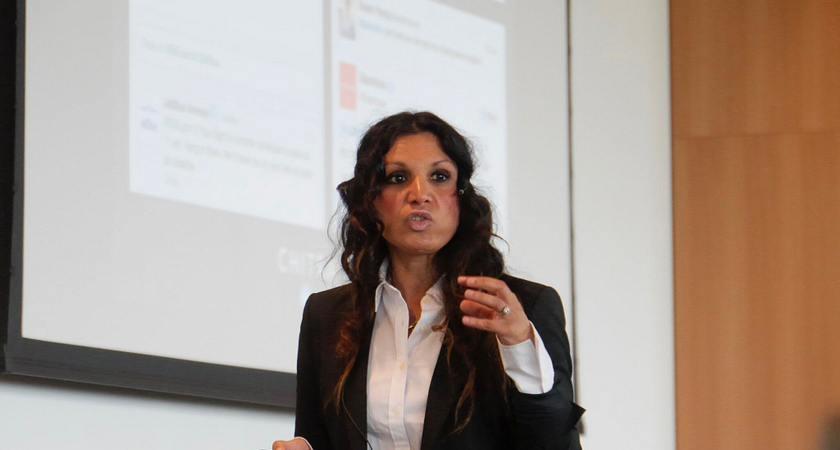 Pierre Ross
The 2018 Centennial College Research, Innovation, Scholarship, and Entrepreneurship Summit (RISES) was a celebration of great ideas and a forum for great minds to share their ideas. The flagship event for Centennial Applied Research Innovation and Entrepreneurship Services (ARIES) gave those in attendance a glimpse at what Centennial College is doing to create a better tomorrow.
 'The Future of Work and Learning: Relate, Create, Remake' was the theme of the day. A message that encourages looking into the future to envision how Centennial College can be at the forefront of innovation in the classroom and at the workplace.  "I can't think of a theme that is more relevant to where we are as an institution at this moment in time" stated president Ann Buller in her opening remarks. "Last year was the 50th anniversary of the Ontario College system. Centennial is now looking beyond 50 into our future. We have a firm grasp as to who we are and what we came from, now we ask "What next?"
Centennial RISES took place on June 6, 2018, and was attended by over 200 eager Centennial College staff, students, and industry partners. The full-day event featured esteemed guest speakers, a panel of experts, and 25 lightning round presentations on research, innovation, scholarship, and entrepreneurship.
Environmental activist and author Sheila Watt-Cloutier began the morning with an important talk about the Arctic and the human element that is often overlooked when discussing the region. "There are issues that you hear about only in terms of ice or polar bears" related Watt-Cloutier. Watt-Cloutier described how the human population of the Arctic has been negatively affected by a warming climate. Much of the Inuit way of life is dependent on the ice. Dog sledding, hunting, and fishing are all vital elements of the Inuit lifestyle. Those in attendance were educated about the impact climate change has on Inuit culture and way of life.
After the Morning Keynote concluded, attendees broke out into four Rapidfire Breakout Sessions. Centennial College staff and students presented 25 projects on the key subjects of the day: Research, Innovation, Scholarship, and Entrepreneurship. Topics included: The Next Generation in Landing Gear Technology, Predicting Students At-Risk Using Demographics and eCentennial (D2L) Data, 'Re-Orphaning' and the Impact of Multiple Caregiver Deaths on Children Affected by HIV and AIDS in Southern Africa, and case studies of current start-up projects working with ACCEL. No question the cross-section of information was enriching and certainly representative of the quality of work coming out of ARIES.
Halfway through the day, the Centennial College community was asked, "What is your big idea to take leadership to a whole new level?" One respondent brought up the idea of creating programs that foster innovation from kids at a young age. Another participant proposed developing an app for students to find their way around campus. The idea of quarterly innovation sessions was another bright proposition. Approximately 40 ideas were proposed that were broad and diverse and provided significant ideas for Centennial College leadership.
The afternoon panel featured distinguished guests Dr. Usha Srinivasan, VP Venture & Talent Programs at MaRS, Dr. Martin Croteau, Director of Academic Entrepreneurship at OCE, and Lionel Loganathan, Director of Academic Partnerships at Knowledgehook Inc. The panel was moderated by Centennial College Professor of Journalism, Tim Doyle. The panellists provided viewpoints on 'The Future of Work and Learning' from their respective industries and what the future has in store for individuals at the workforce and school. The panellists were asked to look to the future and discuss issues such as the role that Artificial Intelligence (A.I.) will play in education and at work, work-integrated learning, and the role the gig economy plays in creating entrepreneurs and whether educators are equipped to provide support for this influx of entrepreneurs.
Public Speaker and Professor Chitra Anand capped off the day with a provocative talk about 'The Rise of the Intrapreneur'. An intrapreneur, as defined by Anand, is someone who challenges conventional thinking to drive innovation inside and despite the confines of a large organization. "Deliver innovation from within" was the message Anand relayed. In order to drive innovation, a company needs to adapt to a rapidly changing world. Factors such as changing technology, a digital revolution, and globalization all impact the future of business. A company's ability to stay ahead of the curve and adapt to these changes will dictate the company's ability to survive.
Centennial RISES 2018 - The Future of Work and Learning was a sterling success. Through the engaging guest speakers, informative rapid-fire sessions, sharing of big ideas, and captivating panel, this year's edition of Centennial RISES left the audience inspired to take what they learned at the Summit and bring it back to the classrooms and workplace. The future is in good hands.