Students Take a 'Hack' at Centennial Intrapreneurship Ideas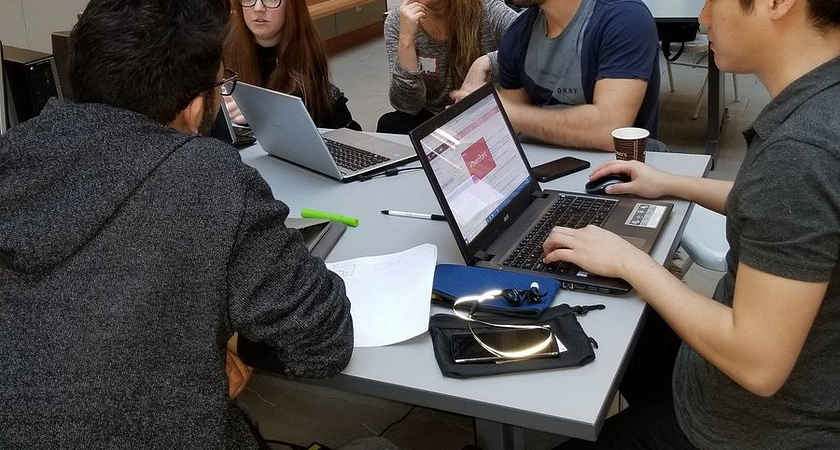 Author: Pierre Ross
On March 24th, 2018 Centennial Applied Research Innovation and Entrepreneurship Services (ARIES) and the School of Engineering Technology and Applied Science (SETAS) held a 'Student Hackathon' where students put their creativity and teamwork to the test.
Hackathon logistics were organized by ARIES Research and Innovation Engagement Manager Gabriella Zoltan-Johan. SETAS Professors Narendra Pershad, Arben Tapia, and Vijayalakshmi Tiruchengode Angamuthu coordinated student outreach and supported/mentored students throughout the day. The professors also coordinated presentations and award categories
42 students from the Information and Communication Engineering Technology program at the School of Engineering Technology and Applied Science (SETAS-ICET) participated in the day-long event. Students were split into nine groups to develop concepts and initial prototypes for four of the Inaugural Centennial Intrapreneurship Challenge finalists' ideas.
The ideas for consideration were: 
An Accessible Wayfinding System that assists visually impaired students to navigate the campus – Lyle Williams, Adaptive Technology Specialist, Centre for Students with Disabilities
A Centennial Job Shadowing Portal that allows departments at Centennial College to post job shadowing opportunities – Rene Chakraborty, Server and Storage Administrator, IT Department
A Professionalism Grade app that grades students based on their attendance– Kenneth Dyment, Professor, Graphic Design/Publishing
A Digital Coach for Students (COLT Coach) that identifies areas of academic improvement– Geoffrey Chan, Exam Invigilator and Natascia Reay-Laidler, Assessment Centre
Most of the Centennial College Intrapreneurs who developed the ideas were in attendance to share their concept and how their idea can benefit the student experience.
Students presented their ideas to a panel of judges that included ARIES Executive Director Dr. Deepak Gupta and the SETAS-ICET Professors. The students were judged and awarded at the end of the presentations for 'Best Overall', 'Most Original Solution' and 'Best User Experience/User Interface'.
Professor Tiruchengode Angamuthu hopes that Centennial College can provide a similar learning experience for the students in the future and host more events like this.  "Our students are so creative and very intelligent", said Tiruchengode Angamuthu.  "We need to run similar events like this. It triggers students' mind to give innovative solutions. We need to provide more opportunities like this."
Tiruchengode Angamuthu believes that from a student perspective, the Hackathon and events like it can spark creative interests. "Our students are so creative and very intelligent. It was really cool to see a full functioning application created by them with a limited time frame. Students were so excited and they have gained a wonderful experience. It actually motivated them.  This opens the door for them to participate in upcoming events".
The Hackathon provided an experiential learning opportunity for the students while taking actionable steps to further develop the ideas created by Centennial College Intrapreneurs. The next step will feature ARIES working with Student Life Enhancement, the Centre for Students with Disabilities, and Career Services to develop pilot implementation for the proposed projects.