Newly Opened Innovation Hub Ignites Creative Collaboration Among Student Researchers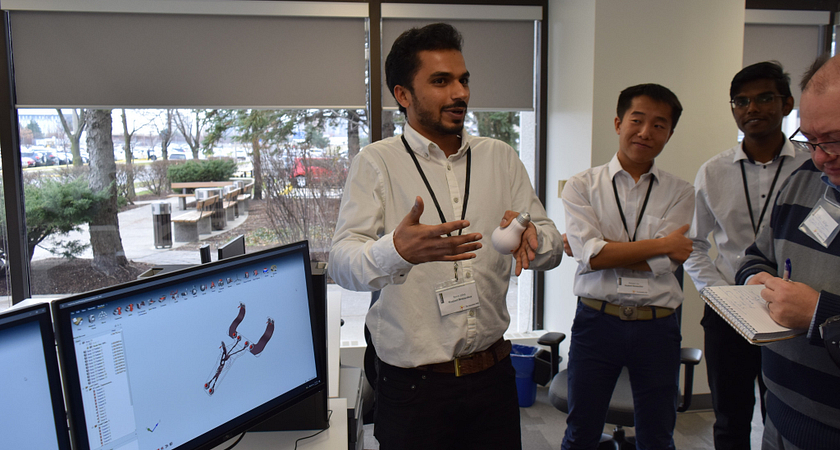 Pierre Ross
The recent opening of the Innovation Hub has provided a great platform for collaboration at Centennial College. 
The research facility, located within walking distance from Progress Campus at 305 Milner Avenue, was designed to provide students with a working space that allows for seamless communication among the research teams and act as a one-stop "hub" for all applied research projects. Teams employed on aerospace, health technology, artificial intelligence, and cybersecurity projects can now collaborate in one space. This is especially beneficial for multiple groups tasked with one project. Groups that had been working in separate spaces will now work together to create a more efficient environment. The student researchers have already seen the benefits.
"When we were on Progress campus we had limitations, our whole team was fragmented into three different locations." notes Gheevarghese Saju, Student Researcher in Electric Actuation. "Here at the Innovation Hub, we have the time to interact with each other, it's all about interactions. We share our ideas and it has helped us to enhance our work so we can be more efficient."
Saju is currently working on the Landing Gear project with the aerospace team, in partnership with Safran Landing Systems. The Electric Actuation group that he works on collaborates with the Additive Manufacturing group. To ensure clarity and quality, the groups exchange the details of their respective projects. "The Additive Manufacturing group is using the models that the Electric Actuation group created" says Saju. "When they have a doubt regarding the models they consult with us and ask about the dimensions or materials we used."
Eldo Matthew who works on the Additive Manufacturing team, echoes similar sentiments. "We used to be situated in different locations, now we can just find each other in a few steps" says Matthew. With the new collaborative environment, Matthew hopes that the research accomplished at the Innovation Hub will revolutionize the industry in the next few years.
As the first phase of student researchers break new ground in this Scarborough research facility, the next phase of student researchers will continue what was started. There will be an overlap of both as the first group integrates the next group with the knowledge transfer allowing for a smooth transition.
The Innovation Hub is one of the latest advancements that Centennial Applied Research Innovation and Entrepreneurship Services (ARIES) has made. In 2018, ARIES moved up to 7th place in the top 50 Research Colleges in Canada. Centennial College ranks second among Canadian colleges in the number of students employed and paid on applied research projects.