Student Researchers Wrap Up Final Phase of 3D Printing Project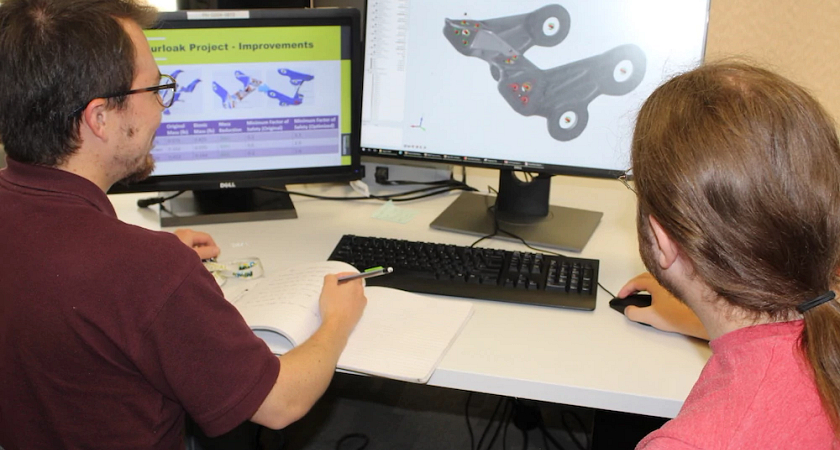 It's been a long road, but our student researchers on the additive manufacturing team are wrapping up the final phase of a series of projects that began in July 2018. These projects are part of a two-year research program that has engaged more than 50 student researchers to date, focusing on design for additive manufacturing (better known as 3D printing) in the aerospace industry and is funded by the Ontario Centres of Excellence (OCE).
Centennial students need the knowledge and skills to think critically and creatively about complex problems, and our industry partners need to improve their processes, services and products. This program provides a unique opportunity for the student researchers to work with industry partners to find innovative solutions to problems, and improve on previous designs.
With this in mind, five groups of student researchers have been working with key institutional partners, including Safran Landing Systems, Burloak Technologies, Lynch Dynamics, Amaircaire and Bombardier, to provide energy-efficient solutions in aircraft manufacturing. Additive manufacturing proved to be the solution, because it offers a suite of advantages over traditional manufacturing, including:
Time: Additive manufacturing gives you the freedom to print a model wherever a 3D printer is available. Meanwhile, traditional methods can be expensive, and it can take weeks to develop, machine or assemble the parts, which are then shipped over for assembly elsewhere.
Cost: Many of the student researchers' designs are lighter than their traditional counterparts, allowing the client to save costs on materials, shipping fees and fuel costs.
Freedom of design: Instead of being limited by straight lines and traditional shapes, designers using additive manufacturing can work with more organic concepts and structures, and develop their ideas even further.
Wladmir Oliveira Figueiredo is a student researcher working on one of the five projects. His team is creating parts for Bombardier's Global aircraft series.
"For me, the main advantage of additive manufacturing is that geometry is never a limitation," Wladmir says. "Additive manufacturing gives us freedom to play with the geometry, and to change the shape of the part in a way that will make the part lighter – and better." Lighter manufacturing materials mean the aircraft can use less fuel overall, which results in overall cost reduction for the company and the potential for a positive impact on the environment.
Daniel Henning and his team are working on a redesign for an inflow valve muffler made for the interior of the cabin space on Bombardier Global 6500 and 7500 business jets.
"This piece releases pressure on the cabin," explains Daniel. "Bombardier had an initial design for a muffler, and we wanted to reduce the weight of the piece. The plane currently has a muffler, but it's heavy and made of metal. We're using different software to reduce the weight."
Pranay Uday and his team are also working to redesign a pre-existing product: Amaircare's aircraft air filters.
"It's a simple project, but the way we are designing and printing is what's really innovative," Pranay says. "We are optimizing what existed before so that it requires less labour to produce, and to make operations faster. Now, I can say I have the experience of both an engineer and a designer."
Aside from knowledge and skills, these projects also offer the students experiential learning opportunities that better equip them for employment after graduation. Neil Amin, whose team was working on projects with Burloak and Safran, explains.
"There are many things as an engineer that I didn't know at first," Neil says. "For example, that the reporting is just as important as the work being done. I also learned to work with other companies who have their own ideas. I learned what questions to ask them to determine the output they want, which isn't always the output you come up with."
 "This was a good experience because it provided an environment that I could actually face after college," says Suhan Vyas, who's working with a team to create a manifold for Lynch Dynamics.
Currently, all of the parts of this project are being printed at multiples facilities, and will then be tested to validate the student researchers' redesigns. Check back in a few weeks to read what's next for our student researchers!
Interested in getting involved with applied research?
Email aries@centennialcollege.ca