ARIES Engages in Collaborative "Green Energy" Research for a Sustainable Future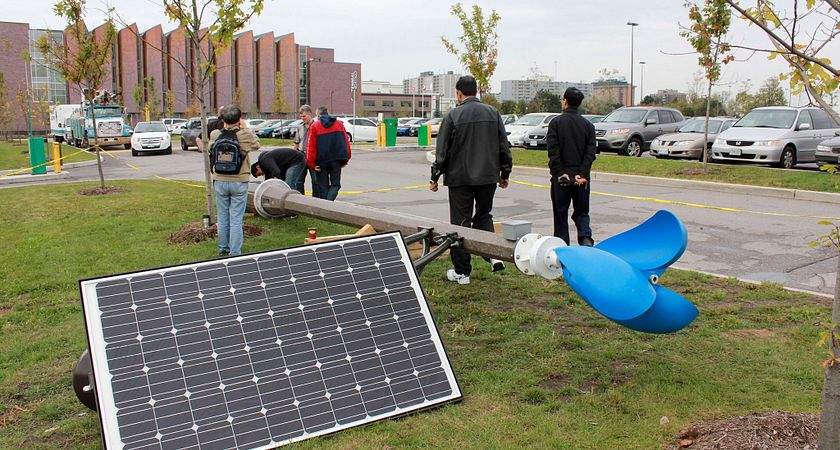 On the footsteps of the 50th anniversary of Earth Day, we're sharing some of the ways we're helping to prevent climate change and discovering renewable solutions to today's resource problems.
Centennial College has been a leader in sustainability research for more than a decade. The department of Applied Research, Innovation and Entrepreneurship Services (ARIES) is leading these activities, supporting our transition to a more sustainable, zero-carbon future.
In 2006, Centennial's School of Engineering Technology and Applied Science established the Centennial Energy Institute, which worked with local partners to engage in collaborative research in renewable energy technology. Our efforts in this area were recognized by the Natural Sciences and Engineering Research Council of Canada (NSERC), which awarded a significant Innovation Enhancement grant to Centennial in 2012. This and subsequent grants have allowed us to expand our sustainability research activities.
One of the exciting green technology breakthroughs supported by ARIES is the use of additive manufacturing (or 3D printing) in the aerospace industry. Fuel efficient travel is a critical component in a more green future, and our student researchers have been engaged in a two-year research program focused on providing energy-efficient, additive manufacturing solutions that result in lighter aircraft which use less fuel.
We are also pleased to be mapping our entrepreneurship activities against the United Nation's 17 sustainable development goals and their related thematic issues – including water, energy, climate, oceans, urbanization, transport, and science and technology.
We continue to grow our research portfolio to include partnerships with GTA-based enterprises in the renewable energy field. These partners provide advice for course design, hire Centennial co-op students and graduates, and engage in applied research and technology development with our faculty. Some of the results of these partnerships can be seen at Centennial's Progress Campus, where wind turbines from Clear Blue Technologies power some of the campus' parking infrastructures, and a 4.5-kilowatt solar installation provides a way to evaluate and demonstrate solar-based technology.
ARIES and Centennial continue to work jointly with the University of Toronto Scarborough to establish the Environmental and Related Technologies Hub (EaRTH). By bringing together Ontario's leaders in the industry, academia, government and community organizations, we're hoping to create Ontario's first truly "green" campus and a centre for green technological innovations that can be shared with campuses globally.
To learn more about how ARIES renewable energy research, contact aries@centennialcollege.ca.