Nursing Faculty Wrap Up ARIF-Funded Gamification Project to Better Engage Students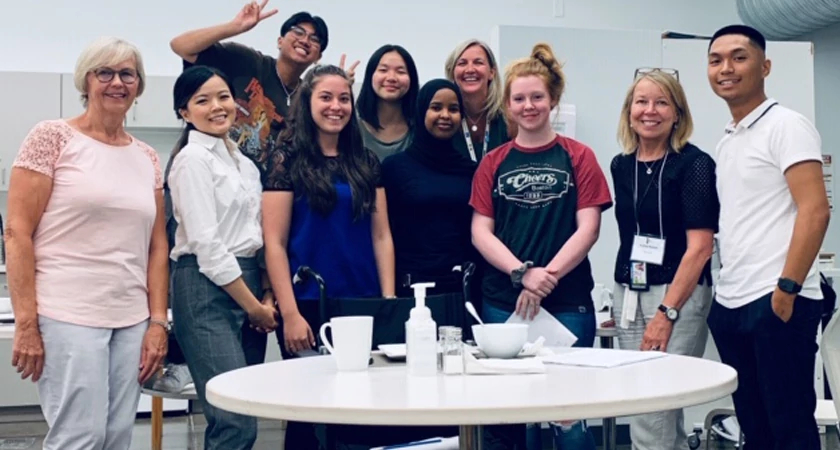 When Centennial faculty engage in applied research, students are engaged too. That's the biggest takeaway Professors Michelle Hughes and Audrey Kenmir, faculty in the Collaborative Nursing Degree program, have from their many shared research projects.
They've just finished the first part of a project to develop a meal assistance virtual gaming simulation (VGS) to help nursing students learn how to assist patients with eating.
Michelle and Audrey's research partnership is built on a long professional relationship: They've been teaching together for almost 10 years. Audrey says it was Michelle who sparked her interest in applied research at Centennial.
This most recent meal assistance project was funded by the Applied Research and Innovation Fund (ARIF) through the Department of Applied Research, Innovation and Entrepreneurship Services (ARIES) at the College.
"Projects like this one really show the value of the ARIF program for Centennial," says Dr. Jordan Wosnick, Manager of Research and Innovation Engagement at ARIES. "It provides a way for faculty and staff to pursue their own curiosity-driven projects and to share their innovations with the rest of the world, all while providing valuable research experience to students."
It all came about when Michelle and Audrey were discussing their students' reflections after their first clinical placements in the spring of 2019: "Many of our nursing students identified the same challenges. Lots of patients, especially in long term care homes, have difficulty swallowing. Students were nervous about how to respond. They weren't sure how to call for help, or what to do if a patient started choking," Audrey explains.
In response, Michelle and Audrey started designing a virtual gaming simulation that would walk students through responding to meal assistance challenges, like choking, in a clinical setting. Along with four student research assistants and two student actors, they agreed on the storyline and relevant questions, developed a script for the simulation, and started filming in August 2019.
"It's a simulation with live actors. The students view it on a computer," says Michelle. "The student playing is first given a client report that explains the situation, the diagnosis of the client, and any other information they need to know."
Once the students enter the scene through the simulation, they meet their clients and start helping them with the meal. Then, they encounter questions, or "decision points," where they have to choose how to proceed with helping the patient.
"The simulation will play out based on what they've chosen, and if they choose incorrectly, they get to see the outcome, and are provided with feedback and a chance to try the question again. At the end, there are some reflective questions for the students to answer," Michelle explains.
From the beginning, Michelle and Audrey knew they needed to include students in the research project for it to be effective. "Students have valuable knowledge. They improved the project. Even while we were filming, they gave us feedback on the scripts," says Audrey.
"It also got the students interested in research, and we were able to engage the students in a different way and share more of our own experiences," adds Michelle.
One student assistant remarked, "The project allowed me to experience different opportunities in the nursing career, aside from bedside care. This experience greatly impacted my perspective of nursing education and the profession."
The meal assistance VGS is an open educational resource, and currently available on the Pressbooks platform to Canadian and international audiences. Michelle and Audrey partnered with nursing faculty at Artevelde University in Belgium, and the simulation is now used in their nursing program as well. There has also been interest in using the simulation from post-secondary institutions across Canada and the United States.
"It's very applicable in lots of different programs: practical nursing, personal service worker programs, occupational therapy and more. Anyone can use it, and instructors can adapt the reflective questions for their needs," Michelle explains.
The next step is to research whether students who play the simulation have improved knowledge and confidence about meal assistance, but Michelle and Audrey are already hearing of their project's impacts in more informal ways. During their post-clinical reflections, one student wrote that they were able to remember the warning signs of choking by recalling the simulation. Other students, too, wrote about using the content from the simulation during their clinical placements.
When asked to give some advice for faculty interested in getting involved in research, Michelle and Audrey bring it back to the students and explain that faculty probably have already been approaching their job with a research mindset.
"Just go for it. We're reflective practitioners anyways, so we're probably already asking research questions and engaging with students in that way," says Audrey.
"Embrace the possibility for failure because it's a learning process. And get your students involved from the very beginning," adds Michelle.
To check out the Meal Assistance: Virtual Gaming Simulation, click here.
For more information on Centennial's ARIF fellowship program, click here.