QUESTIONS
P.O. Box 631 Station A
Toronto, ON, M1K 5E9
Preparing to Re-Enter the College
Preparing to Re-Enter the College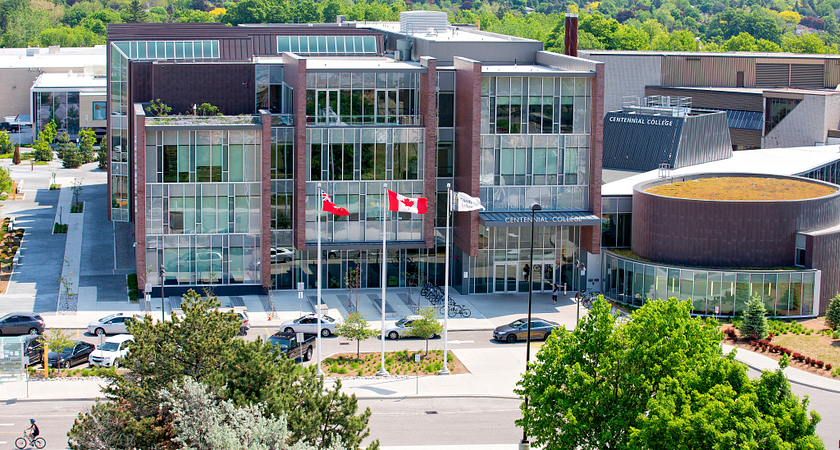 A Phased Approach
Our phased plan for re-entry (see below) is consistent with federal, provincial and local public health guidelines and recommendations, with each phase defining a set of work criteria, and rules and regulations. Students and employees will return to campus in a coordinated process aligned to the phases, ensuring appropriate physical distancing and the sufficient availability of personal protective equipment, among other factors. Any changes in the prevailing phase will be announced by Centennial leadership in a timely manner.
The College will continue to monitor and control the number of people on campus for some time to meet public health guidelines, which includes physical distancing. Centennial leadership will closely assess the potential spread of the virus as on-site operations expand through the phases, and the College will engage the appropriate policies and procedures to mitigate any identified risks. This may include implementing firmer restrictions that reduce on-site staffing and learning.
Centennial has developed its COVID-19 Phases Chart, which is a high-level overview of the various service levels provided during each phase of the College's re-opening during the pandemic. The Phases Chart provides both guidance and regulatory controls on moving backward and forward through all the phases, aiding departments in planning for future stages of re-opening. You can view the detailed Phases Chart on our website here, or the simplified colour-coded version here.
Please see below for a brief overview of the College's Phases of Re-Opening.
| Phase | Approach |
| --- | --- |
| Phase 0 | Complete shutdown of all on-campus activities. |
| Phase 1 | Essential lab recovery activities only. |
| Phase 2A | Increased lab activities with additional on-campus services where the service risk level is low and the demand for the service is high. |
| Phase 2B | Full online and in-person lab delivery with increased on-campus volumes. Additional on-campus services where the service risk level is moderate and the demand for the service is medium to high. |
| Phase 2C | In-class pilots, additional touchdown spaces, and additional on-campus services where the service risk level is high and the demand for the service is low to medium. |
| Phase 3 | Transition to in-class instruction with some non-essential staff returning to campus. |
| Phase 4 | Full return to on-campus operations with some operational improvements. |
Heat maps have been developed for each of our campuses to illustrate lab scheduling, student facing service points, ancillary spaces and campus entry check-in points. The plans are colour-coded to indicate type of area, along with scheduled usage period and any access restrictions in accordance with Centennial's phased re-entry plans. These documents will be consistently updated. You can access the latest versions here.