Highlighting the School of Business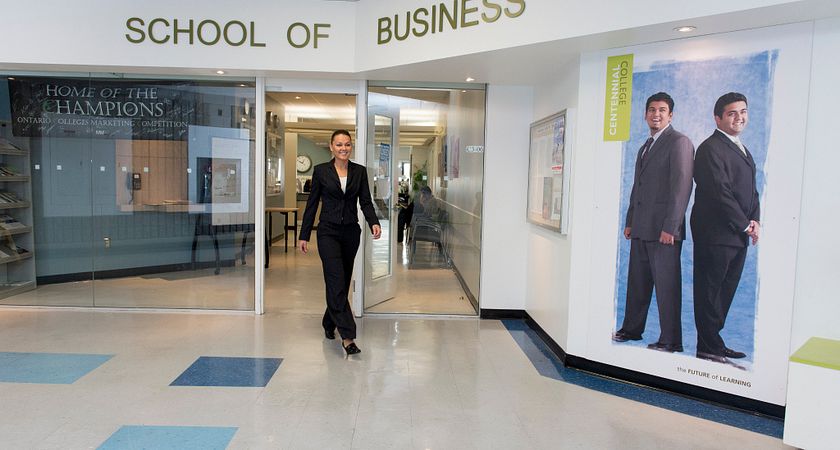 Centennial's main campus at Progress is home to the School of Business. Students from various programs learn the underlying principles in business and specialize in their field of expertise. Some are fortunate to gain work experience from co-op work terms and internships. The School of Business is always evolving to provide meaningful practical experience to its students.

Two new business electives are set to launch in winter 2013 to provide a different form of work placement to full-time, sixth semester students. Industry Experience (BUSN 311 and BUSN 312) gives students in the Business Administration and Business Administration – Marketing programs a comprehension of a company's day-to-day operations, twice a week for 14 weeks. Meanwhile, the Business Capstone Project (BUSN399) is open to various business programs where the students become consultants to small organizations, providing them with insights including marketing research, promotional strategies, and business plans. Both pilot programs put the students' knowledge into action and help them think creatively and strategically through work projects and placements. Students gain a competitive advantage with this hands-on approach in learning with a higher potential of employment after graduation.

The School of Business offers more than classroom knowledge and work experience. It is a place of growth, opportunity, and hope. Business students are active in extracurricular activities where they hone their skills while giving back to the community.
"You make a living by what you get, but you make a life by what you give."
- Winston Churchill

You can find the students spending their Saturday mornings mentoring kids at Centennial's Play It Smart program. Furthermore, a donation for Play It Smart was put together by those who aimed to take part in the Ontario Colleges' Marketing Competition (OCMC). Recently, business students and others in different disciplines as well as business graduates volunteered in OCMC on November 15 and 16, 2012. They supported their school as it hosted the 33rd annual competition.

So, what is all this talk about OCMC? The School of business is famous for it. With an event of such calibre, especially as Centennial College is this year's host, you can't help but notice the anticipation leading up to the November affair. Regardless of your background, a marketing or business student or a student outside the School of Business, the Ontario Colleges' Marketing Competition (OCMC) is a chance for every Centennial student to take pride in.

Green is the new gold as Centennial College placed first in OCMC 2011. Posters were plastered at every corner of the Progress campus and volunteers campaigned to recruit marketing and business students for the 2012 event. The competition has since ended and Team Centennial, also known as CENergy in 2012, managed to keep a high ranking coming in 4th place.


"I have been wounded but not yet slain. I shall lie here and bleed awhile. Then I shall rise and fight again. The title of champion may from time to time fall to others more than ourselves. But the heart, the spirit, and the soul of champions remain..."
- Vince Lombardi
 
The School of Business participates in other annual competitions as well:
• CMA (Canadian Marketing Association) Student Award competition
• CGA (Certified General Accountants) Ontario Case Competition
• Vanier College BDC Case Challenge
• The Great Canadian HR/Business Case Study Competition

I am a proud marketing student at Centennial College and I would not hesitate in recommending the School of Business to students looking for their career path. Business is everywhere, as my high school professor once told me. Everyone has to be a marketer to be able to brand themselves and sell their value to potential employers and the rest of the world.