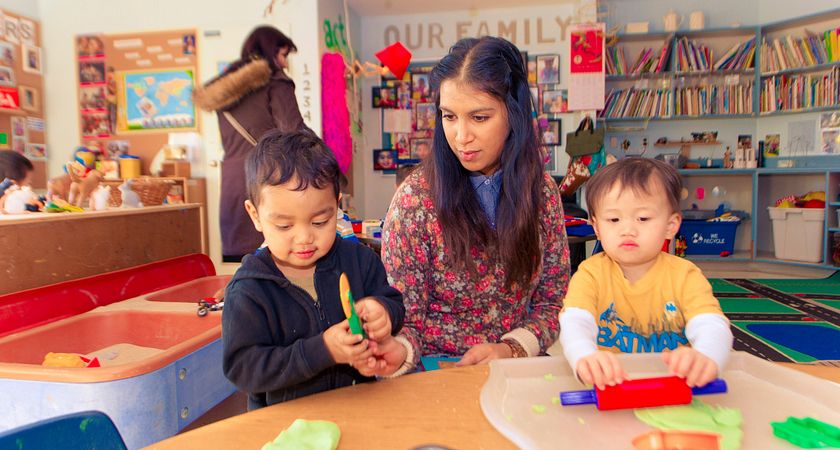 Children First
Children get a lot of attention at Centennial College. That's good news for the many students who are also parents.
Parents Always Welcome
Parents are always welcome to talk with staff members about their children's progress. One-way viewing rooms are also available. 
Outstanding Standards and Staff
These centres are an integral part of Centennial, reflecting the college's strong belief in child health and development, and family advocacy. They're staffed by fully-qualified early childhood education professionals and assistants. As part of their training, students in the college's early childhood programs also work with the children, under the supervision of centre staff.
Two Child Care Centres
The college has two child care centres providing stimulating, high-quality care to children of students, employees and community members. The child care centres are located at Progress Campus and in East York at 550 Mortimer Avenue, not far from The Centre for Creative Communications.
Hours and Fee Arrangements
Child Care Centres are open weekdays year-round  from 7:30 a.m. to 6:00 p.m. and closed statutory holidays, Easter Monday and the last week in December. There is a fee for child care based on the child's age. Centennial College's facilities are licensed and approved to provide subsidized care. Parents should apply directly to Toronto Children's Services for the subsidy by calling 416-392-5437. Parents interested in arranging for child care are encouraged to call or drop by to discuss their needs.
Child Care Centre Specialties
Each facility is equipped to care for children of specific ages.
Progress Campus provides care for infants, toddlers and preschoolers;
The CCC Early Childhood Education Centre, located near The Centre for Creative Communications, covers the broadest range, accepting infants, toddlers, preschoolers and school-age children.