Study Areas at Centennial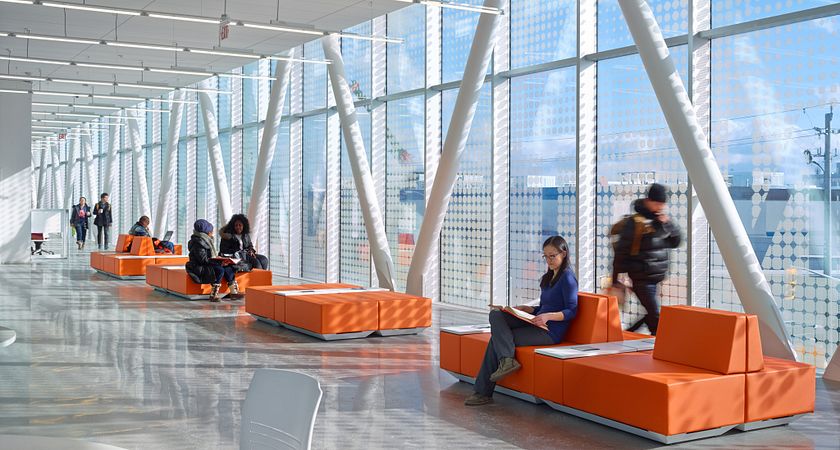 Can't focus on studying? Are you looking for a study spot on campus? The first thing in mind must be the library but there are plenty of places within Centennial where you can lounge and get that academic workout.

First, ask yourself: How do I study? What kind of environment do you prefer as you read your notes and textbooks, do your homework, and study for a test? What elements hinder or facilitate your studies? With that said, take this short quiz --- literally, it's only one question --- and read further to find the study areas at Centennial.

What is your study personality?
Pick the best answer.

a) You like your privacy, studying alone in dead silence. You don`t like interruptions and thrive in a peaceful environment.
b) Silence is not the main issue with your concentration. On the other hand, comfort plays a key role in your ability to start and continue studying.
c) You can't study without some background noise. You like to hear music, conversation or anything that will keep you from total silence.
d) Group work is your forte. You are more productive when studying with your classmates where you can learn from each other's ideas and quiz each other consecutively.
e) Studying is your main goal but you cannot ignore your body and mind's need for a break. You like to be surrounded by things that can stimulate your thinking and relaxes your mind.

Match the letters of your answers above to the recommendations below. Better yet, check them all out and vary your study area as you see fit:

If you answered "a"...
Congratulations: You are the SILENT MOUSE.
You succeed in a serene environment with nothing but silence to occupy your space. The best spot on campus for your needs is a SILENT STUDY ROOM. While the name may sound conspicuous, Centennial offers silent study rooms within its libraries. Everyone is welcome to study in rooms L4-8 and L4-10 at the Progress Campus. An enclosed silent study area is also located at the Morningside campus and other individual study areas with carrels can be found at the Ashtonbee and The Centre for Creative Communications (CCC) campuses. Be forewarned, you shouldn't bring your noisy bag of chips and such snacks to keep the noise level to the minimum.

If you answered "b"...
Congratulations: You are the COMFORT SEEKER.
If your definition of comfort is a pleasant, ample seating arrangement, then keep reading. There is plenty of soft seating available in the libraries of all four campuses. CCC has seven MAC workstations for your use at room 243. Ashtonbee offers a café-style environment with wide armrest chairs, coffee tables and magazines for your leisure. Outside of the library, Morningside has several well-lit areas with large benches dispersed in the third and fourth floors and also located near the entrance for the first and second floors. Progress has the most seating availability as the largest campus with soft sofas and long benches throughout the campus including the Fireside Gallery and the outdoor benches picnic area. The Student Hub vicinity has plenty of space for your convenience. Remember that these areas can have varying noise levels depending on the time of day.

If you answered "c"...
Congratulations: You are the NOISE CAPTAIN.
You can't stand staying in a room so quiet, you start fidgeting. You have to start studying instead so perhaps you need to be surrounded by noise where you can chat and discuss your homework. This place is available on all campus grounds: the cafeteria. The proximity of heating your lunch or buying food is an added benefit. If you don't mind the noise and the constant smell of food, this place is right for you. The cafeteria can be quite peaceful in the wee hours of the morning and after hours but beware of the noise levels especially during lunch time.

If you answered "d"...
Congratulations: You are the STUDIOUS TEAMMATE.
Do you find it hard to start your homework? Do you need motivation from your peers? If you answered yes to both, consider studying with a group of people. While you need to complete individual homework and tests, it is recommended to discuss and share your knowledge between classmates so you can gain some knowledge ion return. Furthermore, you can quiz each other and think of creative ways in learning. Group study rooms within the libraries can be booked online for up to two hours per day to a maximum of six hours per week. A few rooms contain presentation equipment including whiteboards. This is a first-come, first-served basis so reserve a room ahead of time. There is a limit of people inside each room so make sure to check and follow all the rules.

If you answered "e"...
Congratulations: You are the RELAXED BOOKWORM.
You like to study as much as you like taking mental breaks in between. It keeps you productive and lessens your chances of falling asleep. Perhaps, working in a group or hanging out in a place filled with energy and traffic would benefit you. Check out Centennial's rest areas around your campus. CCC has a courtyard where you can relax and organize your thoughts by the reflection pool. The Centennial College Student Association Inc. (CCSAI) has a lounge in room 113 at the Morningside campus and its own building at the Ashtonbee and Progress sites. Get ready to play a round of pool and socialize with the student community. Don't forget that your "ten minute break" is up and it's time to go back to reading!

Centennial College wants to help each student succeed and continues to enhance its facilities and services. Wireless internet access is available throughout the buildings and many of the study areas have power or Ethernet connections. Feel free to bring your laptops, use Centennial's personal computers or borrow a Netbook from the library.