My Favorite College Experience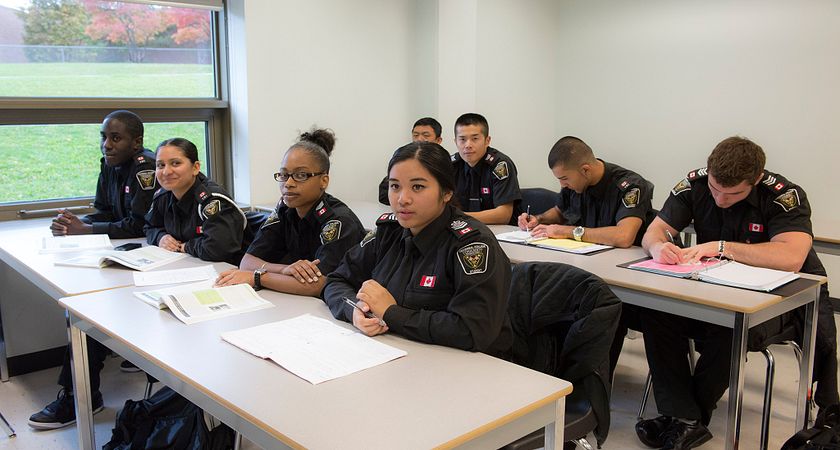 When I think about my favorite experiences during my time at Centennial College many things come to mind. I have volunteered and participated in events such as the White Ribbon Campaign, the Annual Toronto Police Games, and multiple other leadership and volunteer opportunities both on and off campus representing Centennial College with pride. I'm honestly sitting here, trying to think of a specific time that stands out in my mind. I honestly can't think of one. All that comes to mind is the gift of education. That is my favorite experience at Centennial College.

                All my life I was told I wasn't good enough by several people. I believed it. I struggled with school, making friends and fitting in. I grew up in a neighborhood where the values of education were thrown out the window and listening to the latest mixtapes and skipping school to go to the movies were priorities. I didn't do well in school. High school was truthfully a blur for me. I felt like I was passed onto the each grade only to get me out of the school system faster. I would find myself in conflict with the law, school system, family members, friends and my life was just an honest wreck. However, I do not regret any of my decisions in life. I stand here today, four years later – a different woman – a different person – with different morals, beliefs and values.

                Three years ago a post-secondary education was not an option for me. However, I got my act together – finished high school with honors and took my first step into the real world. After arguing with myself over and over again I found myself enrolling in Centennial College. My two year learning experience at Centennial College has truly made me the person I am today. As most of you know, I'm enrolled in the Police Foundations Program here at Progress. Here I was able to identify different sides and qualities to myself that I never knew I had. I was able to grow as an individual and for once in my life feel like I wasn't a screw up. I remember the exact moment I felt this. I was walking to my locker which at the time was located in the second floor E block, right by the Police Foundations Office. I was having a bad day – a real bad day. Just as I closed my locker Kenneth Yates my Criminology professor gave me a nod and asked me how I was. I told him my day went bad and that I was just ready to go home. He smiled at me and said "Steph, I just want you to know that your hard work doesn't go unnoticed and I really appreciate your effort. You're a great student- a smart girl - and you work hard - don't let anyone tell you different". I don't know how the heck I remember what he said word-for-word but I think it's because it truly meant something to me. For that one second, for that one moment - I was appreciated and noticed.

                I guess my favorite experience during my time at Centennial College is learning. I'm not just talking about books and PowerPoint slides. I'm talking about self-discovery and finding out what most people go around their entire life pretending to know- knowing who you are inside and out and knowing what you have to offer the world. Here I was able to achieve true beauty, self-confidence and a true appreciation for myself for the first time in my life. By the constant support of Melanie Holmes, the Community Outreach Office, my peers, Police Foundations professors, Joeseph Perino, Matt Little,  and Centennial College as a whole – I am the woman I am today.


                So maybe I haven't taken the time to ever say thank you. But here it is. I'm pouring out my heart – thank you. All of you have helped me become the person that will walk that graduation stage this June. I don't know what words I could type to explain my sincere gratitude but when I walk that stage – I know I've become so much more of the person I have always wanted to be and that I am one step closer to achieving all my dreams.


I'm not a screw up anymore, and I will never be one again. Thank You Centennial. 
- Stephanie Dionisio