Getting to know Ashtonbee Campus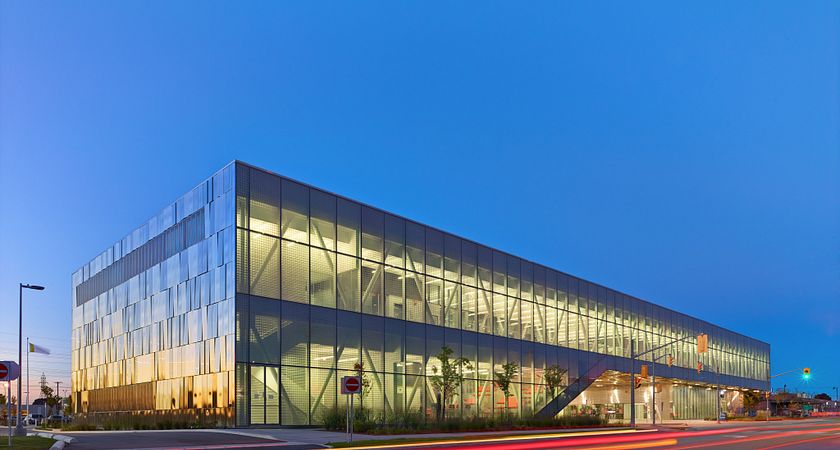 Ashtonbee Campus – Centennial's oldest property – is located just north of the intersection of Eglinton Ave. East and Warden Ave., near the Eglinton Town Centre in Scarborough. The campus brings together students from three distinct schools: the School of Advancement, the School of Transportation and part of the School of Community and Health Studies.
Ashtonbee is home to numerous transportation-related apprenticeship training programs, which make Centennial one of the largest such schools in Canada. The original building at 930 Warden Ave., which served as the former headquarters of Volkswagen Canada, is where some of the college's automotive apprenticeship programs take place.
A long tunnel connects it to the main campus building at 75 Ashtonbee Road. This two-storey building is composed of six blocks identified from A to F. Many of the heavy-duty transportation labs and workshops are on the ground floor, along with amenities such as the bookstore, cafeteria and faculty offices. In addition, a 300-seat auditorium provides enough space for presentations and other special activities. Classrooms make up much of the second floor.
Ashtonbee Campus underwent significant expansion in 2013 when a new Library building was added, which formed a gateway to the campus parking lots. The Student Centre is on the west side of the main building, which ties the new addition to the existing facilities. The campus gym gained a second floor with a well-equipped weight room and workout studio.
With the opening of Centennial's Downsview Campus, which facilitated the relocation of the college's aerospace-related programs there, Ashtonbee Campus will be undergoing further renovations to take advantage of the vacant aircraft hangar at the north end of the property.
Stay tuned for more changes to come!