How to calm your first semester nerves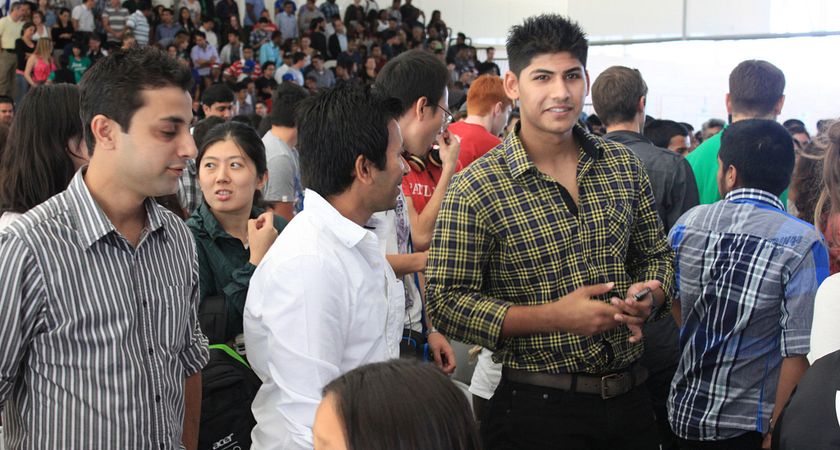 People fear the unknown…generally-speaking. Although some people enjoy spontaneity, we all feel insecure in times of uncertainty. Being prepared helps in mitigating problems. Won't you feel better if you practiced your speech before presenting it in front of the class? But how can you prepare for something that you weren't given any instructions on how to do it? Something like college. There are no rules on how to live your life through college. While we abide by school policies and classroom rules, our lives as students are not black and white.

What do you know about college? It is still school after all. There will be classrooms with teachers and classmates; a host of services, including the cafeteria, library, and gym; and a big scary campus, with cliques, strangers, and whatnot. The last part sounded grim but the reality is, it is probably what most new students think of about college. Let's break some myths, know the facts, and learn of ways to calm your first semester nerves.


College is…

... a place of learning, not only for career development but also for personal growth and self-realization. Centennial strives to keep the school a safe place and free from bullying, harassment, and any other harmful acts. It also offers assistance with homework, overall school life, home-school-work balance, and other relevant issues any student may face. There are up-to-date equipment and lab facilities for learning and quiet areas and bountiful resources for studies. Most of all, it is a social hub, where student activities and events are often held so even those who come to college with no known friends can easily meet their peers and befriend them.

... not a prison. This is a big stepping stone between school and the rest of your life. Use your time wisely and make learning count. A big difference from high school is that students will not get into too much trouble if they skip classes. However, it is not recommended to skip classes. You'll miss important lectures, pop quizzes, and may even get into deeper trouble, depending on the class rules and OSAP requirements. Don't look at college from a perspective of a prisoner, but from someone who has a dream to fulfill.

... the real world yet it is not. You are an adult now so act like one. Your lateness and absenteeism should be curbed now before you enter the working world, where you will get harsher penalties for arriving late, calling in sick, and missing deadlines. Clearly, there are similarities back from your childhood regarding these matters, when you had to manage your time and work properly at school; yet, college is a big leap but the real world is even bigger. Use your college years as training grounds for your future career, academically and professionally.

There are professors, classmates, and friends to lend a hand in rough times. They existed prior to college and will exist after as colleagues and friends. However, as a college student, you will need to be more mature and diligent. Always move forward and do better than you were "yesterday." Centennial College has a peer mentoring service to pair senior students with new students to help the latter with their college transition. In addition, here are some tips on how you can be more prepared in college:

* Talk with your family and friends and ask them about their college. Understand that there will be come differences, in terms of time, place, personalities, and opinions, but you can get a general sense of what you can expect in college. Try to get different perspectives from many individuals.

* Research what your school has to offer. Go on a campus tour, attend orientation, and search the school and your program online. Centennial College is a very diverse institution where you will meet a variety of people from different countries, races, religions, and other areas in which they will have similar and conflicting beliefs, values, and opinions. Look for opportunities and learn from others.

*Prepare. Everyone's circumstances are different. For example, if you are going to move away from home, make sure you have the essentials packed but also, learn how to cook and do the laundry, if you don't know already. If you need financial support, look for ways to earn an income ahead of time, which includes applying for scholarships and bursaries.

Most of you have experienced school before (unless you were homeschooled --- and I met someone who was and if you are one of those homeschooled, don't worry, because college is the same learning experience but with friends to help you out). There's not much difference from high school or from college…thirty years ago. Don't worry too much. Have fun, learn from mistakes, and live your life!