Centennial Welcomes International Students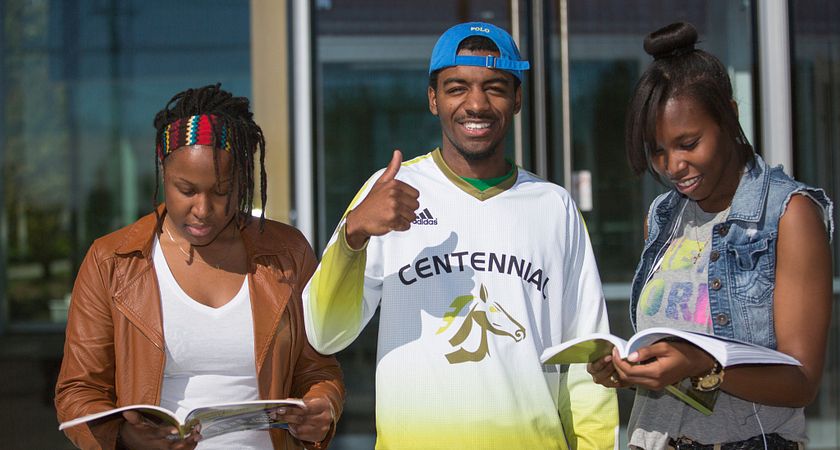 Being a new student is challenging enough, but when you add being new to Canada to the equation, settling in to student life can be even more difficult. Centennial Welcomes is the Fall 2014 orientation that gives international students a jump-start on campus life that is vital to their comfort and comprehension of this life at Centennial College.
Centennial Welcomes takes place at every individual's specific campus between August 25 - September 2, 2014 and is important for new students to get connected to their program, school, teachers and each other.
A program full of information and events has been designed to answer any questions first year students have about the College and more specifically, each program. Campus tours have been organized for students to get acquainted with the campus and the various classes. All of this is valuable to introduce students to everyone as well as the resources and services available to them at the College.
Students get the chance to meet the College President, Student Life Team and Student Government and program sessions are where students get to meet their classmates and teachers. The day is filled with fun, entertainment, prizes and free food!
For international students it can be trying to come to a new place and meet new people. It takes a lot of courage to take such an important step and Centennial wants all students to be proud of this decision they've made. In an effort to help international students adjust to their new life at Centennial and in the Canada, the orientation even has specific sessions for students from across the globe.
Adapting to life abroad and becoming a post-secondary student may be difficult at first and the College is always ready to help assist students during their transition. Centennial has its own International Education Office and international advisors are located at each campus to assist students with information and advice during their stay.
Studying in Canada provides students with a world of possibilities. At Centennial, all international students are made to feel at home. It is important that they register and attend their sessions to get all the information they need to get started. The sessions are as follows:
Monday Aug 25th at Ashtonbee Campus, 12:00pm - 1:00pm, Auditorium
Tuesday Aug 26th at Morningside Campus, 1:30pm - 3:00pm, Room 203
Thursday Aug 28th at Progress Campus, 1:30pm - 3:00pm, Athletics and Wellness Centre
Friday Aug 29th at the Story Arts Centre Campus
*For intake one (Diploma Programs) 9:00 - 10:00am Room 209 and again at 1:00pm - 2:00pm Room 253
*For intake two (Post Diploma Programs) 11:00am - 11:30am Room 209
Centennial Welcomes students from all different countries, backgrounds and cultures to Canada and to the College and makes sure that international students find a home away from home.
By Resham Karfa