Centennial College's Four Campus Community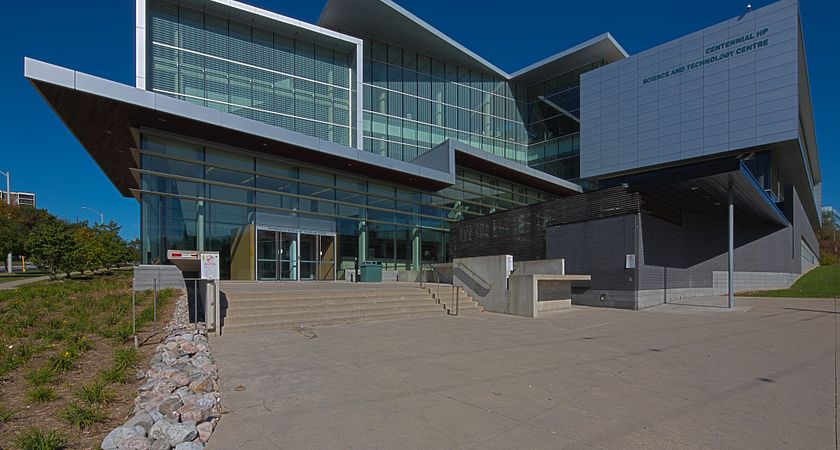 Update on January 9, 2019: As of January 2, 2019 we have added Downsview Campus: Bombardier Centre for Aerospace and Aviation as our fifth campus.
Centennial College has gone from being a local community college to a worldly institution. A diverse mix of students study at Centennial and the College has worked hard to build partnerships with local communities to prepare graduates to succeed in a global context.
For that to happen, industry-recognized full- and part-time programs take place at four campuses which are home to eight day schools. Whether in classrooms, labs or the community, Centennial College gets you to experience the "real world" even before you graduate and you are job-ready when you do.
Do you like aircraft maintenance? How about community development work? The Ashtonbee Campus is home to the School of Transportation and is one of the largest automotive and aircraft technology training centres in Canada. An assortment of programs exist for Transportation, Advancement, and selected Community and Health studies.
Are you interested in becoming a pharmacy technician? What about a personal support worker? The Morningside Campus is an environmentally friendly building, nestled in the Rouge Valley Conservation Area. It is home to the School of Health Studies, as well as selected Engineering Technology and Applied Science programs.
Do you have a passion for public relations? How about a desire for digital animation? The Story Arts Centre is the $36-million cutting-edge campus for the arts is the perfect place for you to tap into your creativity. Housing the School of Communications, Media and Design, it has everything you need to let your inner genius out.
Would you like to be involved in hotel and restaurant management? What about electrical engineering? This is the campus for you. The Progress Campus is home to the Schools of Business and Hospitality, Tourism and Culture. Here you'll also find Advanced Manufacturing and Automation Engineering Technology programs, as well as many Child Studies and Community Service programs.
Centennial College also offers a selected post-graduate program and continuing education courses at a site located in Pickering with direct access to the Pickering Town Centre and the GO Train Station.
And now, the opening of the new Eglinton Learning Site creates opportunities for all International Education students enrolled in the English Language Learning program as well as Continuing Education learners seeking professional development within the city.
With an incredible diversity of students in an array of programs and locations, Centennial College's community continues to expand in more ways than one. You can find almost anything you like in one of the four incredible campuses, and in the Centennial community overall.
By Resham Karfa