IT Services helpful to the Centennial College experience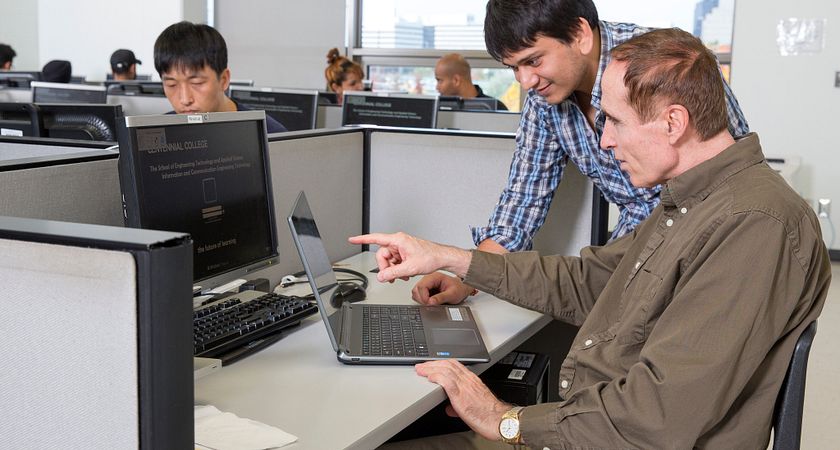 Information Technology (IT) Services is the basis for all of Centennial College's technological needs. Centennial's IT Services provide technical support for students, staff and faculty to pursue their academic and professional goals.
Helpdesk staff are the front line to client support. They make the first and most impressionable contact with clients. Each campus has its own Client Support Counter where students can receive help, support and technical information from a knowledgeable technician who will provide friendly and courteous service.
The following are some of the key IT Services offered to the Centennial College community that are extremely helpful to all students' college experience:
Client Support Counter
Each Centennial College campus has a Client Support Counter staffed by knowledgeable and friendly computer technicians who are dedicated to ensuring that all College technical resources are maintained and supported to current standards and student expectations. Some of the duties of a computer technician include supporting standard College applications, providing guidance on how to access, answering questions on file storage and assisting in the resolution of authentication issues among others.
Computer Labs and Home Directory
Centennial has over 2500 computers, both Windows and Mac, in approximately 100 general and specialty labs across all campuses. All registered students have access to the College's network services such as internet, printing, course software, data directories and storage space. To access these features students can login to the network using their student number
Web Printing 
Web printing is a tool that allows students to print black and white documents from non-College computers to any one of the printing facilities, at any campus, via the internet. Using the same website that one would upload print credits to, students can also choose the option to print documents located on personal computers to a printer at the campus of their choice.
myCentennial
myCentennial is a web-based tool that is designed to help staff and students interact with each other more effectively, and to make the Centennial experience as fulfilling as possible. For students, myCentennial is the electronic gateway to all of their College documentation and needs.
eCentennial
eCentennial is a web-based learning system that is used across the college to support students in all their courses. Faculty use a variety of tools in the courses they teach to provide a more comprehensive learning experience. This allows students to more actively participate in their learning. 
Other IT Services offered to the Centennial College community include Wireless Connectivity, College Computers and Printing Facilities. If anyone is having trouble, whether on campus or at home, calling the Helpdesk at 416-289-5280 will put them in touch with agents who kindly assist.