Meet Dayana Rebolledo, Business Administration - Marketing Graduate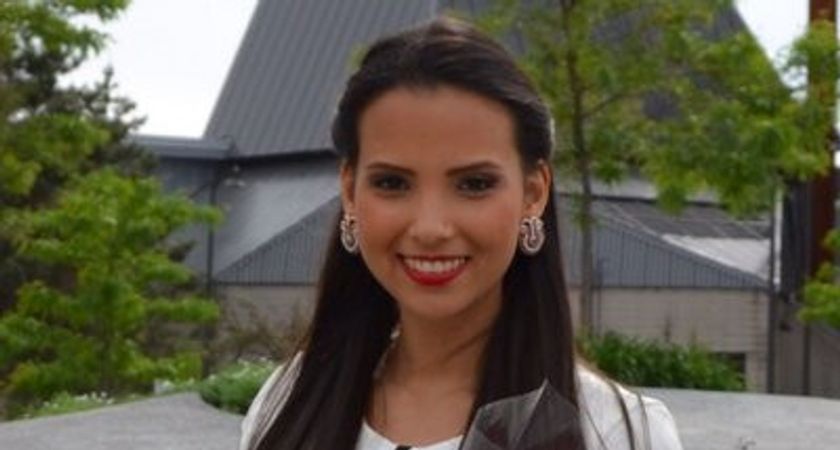 Meet Dayana Rebolledo. Dayana graduated from Centennial College this year with a Diploma in Business Administration – Marketing from the School of Business. Learning about the College from student advisors at an academic fair in her hometown of Caracas, Venezuela, Dayana was touched by the personal guidance provided to her in her own country and decided to complete her studies at Centennial. Participating in numerous extracurricular activities provided by Centennial along with studying real-world marketing cases arranged with the assistance of the College, Dayana learned to think like a leader. She is proud to be a Centennial College graduate and has tremendous respect for the multicultural environment the College has to offer.
Why did you choose to go to Centennial College?
When I was researching the different schools that I could enroll in back home, I had the opportunity to attend an academic fair in Venezuela where I met Melida and Minerva, student advisors from Centennial College. They had deep knowledge and understanding about the situation in my country. Thanks to the personalized service that I received from the beginning, as well as their capacity to address all of my concerns in a timely manner, I decided to complete my studies at Centennial.
How did the program you took at Centennial help to prepare you for your future?
There are several lessons that I got out of my program which I believe will represent key factors for my career success. First, the marketing program provided me with experience and an understanding of the common practices in the field. Also, by studying real-life cases and performing group work, professors taught me what it would feel like in the real world. I learned how to communicate effectively in a diverse environment along with analytical writing, problem solving and persuasive techniques.
What is the number one thing to take away from your time at Centennial? How did that help shape who you are now?
The number one thing that I learned at Centennial College is to be an effective leader. During my studies at Centennial, I faced several situations that challenged my leadership capabilities including delegating work, empowering, guiding, supporting and motivating classmates and solving the multiple conflicts that we encountered as a group. Before starting Centennial, I considered myself to be a leader but back home I never dealt with people from different backgrounds, which made my time at Centennial a unique and enriching experience.
What tips would you give to your fellow Centennial classmates?
The main advice that I would give is to get involved with all of the extracurricular activities that Centennial offers. During my time at Centennial I participated in several competitions (Ontario Colleges' Marketing Competition, The Fresh Connections and Voice Competition). I was also involved in the Association for Operations Management student chapter and the LeaderShape Institute. All of these experiences contributed to my development of multicultural communication skills, interpersonal, marketing related knowledge, persuasive techniques, as well as presentation and leadership skills, which are powerful tools I will capitalize on my future endeavors. 
By Resham Karfa