Budding filmmaker finds her way in Canada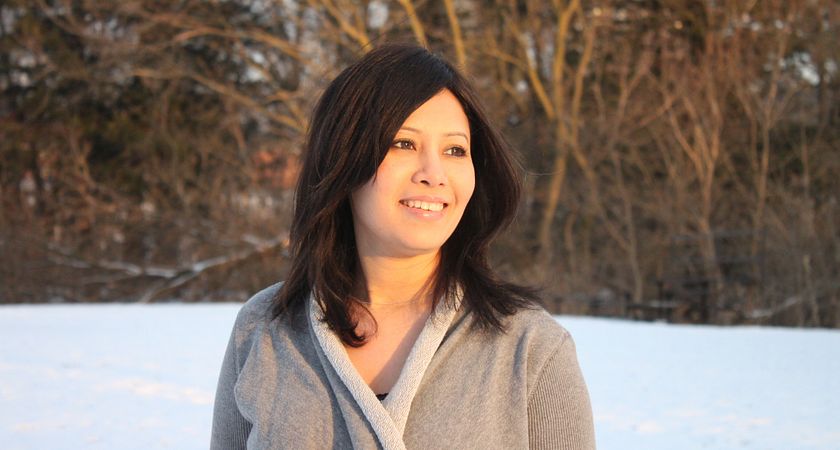 There aren't many new arrivals to Canada who come with the idea of becoming a filmmaker – and then fulfill their dream. What Farzana Shammi managed to accomplish in a few short years in a very fickle industry makes for an inspiring story.
A former journalist in her native Dhaka, Bangladesh, Shammi landed in Canada in 2008 and eventually enrolled in Centennial College's Broadcasting and Film program. It was difficult at first, but her professors were very encouraging and the group work helped her to forge friendships at the small campus near Toronto's Greektown.
"I was so nervous when I started school," Shammi recalls, but was thrilled to have a found a program that was seemingly tailored to her interests.
As part of her studies, Shammi produced a short documentary film with classmate Adam Rizvi highlighting the Sneha Foundation, a non-profit organization that supports disadvantaged students in Bangladesh. Having tasted success – the film was broadcast on TVOntario – Shammi knew her future was in documentary filmmaking.
Centennial sent her to Toronto's popular Hot Docs Festival, where she helped produce the official web broadcast along with her fellow students. There she was thrilled to meet two celebrated documentary filmmakers – Shelley Saywell and Jennifer Baichwal – who were more than happy to share their experiences with her.
As part of her program requirements, Shammi interned at Bishari Films where she worked closely with Saywell. She quickly made an impression when, using her fluency in Indian dialects, she was the only person able to find and interview a key subject for the film Cradle to Grave.
In turn, Saywell encouraged her to begin work on her own documentary about childhood friend Rumana Monzur, a UBC student who was assaulted and blinded by her husband during a visit back home in Dhaka. Shammi wanted to sit down with Monzur and have her tell her story through a camera lens.
While at Centennial Shammi learned she had won the Degrassi Scholarship, a unique award given to a Broadcast and Film student by the producer of the Degrassi High television series (the original series had been filmed at Centennial's East York campus). Shammi took it as a sign to begin her film project. She booked a flight to Vancouver, where Monzur lives with her parents and young daughter, and borrowed some camera equipment from the school to help her get started. 
In April 2012, Shammi completed her internship and continued to work on her own project. She flew to Bangladesh to interview a number of people who were close to the Monzur case (her husband had been charged with attempted murder and jailed, where he died in December 2011). News of the assault had opened a long-simmering rift in Bangladeshi society about the way women are treated in wedlock.
"There were a lot of people who were against Rumana. If you want to put down a woman in Bangladesh, all you have to say is that she was unfaithful and the claim is accepted unquestioningly," Shammi says of her visit. "I wanted to explore the culture against women."
Another chance meeting at the 2012 Hot Docs Festival allowed Shammi to introduce herself to Nisha Pahuja, the director of the award-winning film, The World Before Her. While the documentary about female infanticide astonished audiences in North America, Pahuja wanted the movie to be shown widely in India, where it could do the most good and affect change.
"The World Before Her shifts between the worlds of the Miss India pageant and a Hindu fundamentalist camp for girls. The access Nisha had to each world was unprecedented and ultimately she ended up with a powerful, controversial and intimate story about what it means to be a woman in contemporary India," Shammi says.
To show the film in India, especially in the rural areas, required plenty of money. Given the subject matter, Indian theatre owners would likely never allow the film to play on its own. Shammi was hired to help raise funds using a Kickstarter campaign, the popular website that appeals for donations for various creative projects. 
"Starting on March 8, International Women's Day, we launched an ambitious, six-month campaign to screen the film across India. We'll release it in theatres, on the net and we'll travel with it to schools, universities and places where people would never have access to this kind of story," explains Shammi.
"A large part of the campaign is travelling with several women's rights activists and Pooja Chopra, featured in the film, the former Miss India who was a near victim of female infanticide," says Shammi. The campaign was a success, having raised more than $57,000 to underwrite the film's exhibition in India.
As for her own feature-length documentary about Rumana Monzur, it is still in production under the mentorship of Shelley Saywell. With it Shammi hopes to shed light on the issue of violence against women in her native Bangladesh and the struggle for gender equality that continues in societies around the globe. 
Shammi received additional help in the form of the Doc Accelerator Scholarship Program this year. Shammi is one of eight emerging filmmakers selected to receive an intensive Hot Docs Festival-based curriculum and a mentorship job-training opportunity.
In the two years since Shammi has graduated from Centennial, she's enjoyed immense gratification as an independent filmmaker shining a light on pressing social issues. Says Shammi of her life's work: "It's the satisfaction of working at what I love."