Meet Vito Caradonna, Early Childhood Education Graduate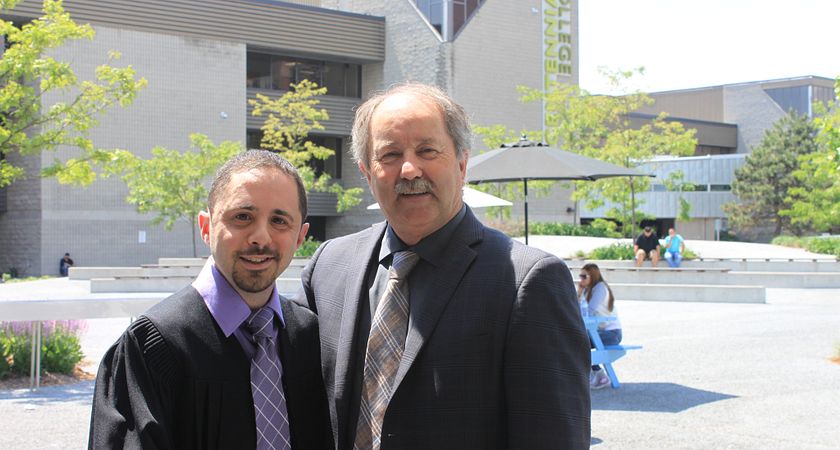 Meet Vito Caradonna. Vito graduated from Centennial College with a certificate in Office Administration from the School of Business back in 2003 and came back to earn a diploma in Early Childhood Education (ECE) this year from the School of Community and Health Studies. After overcoming obstacles and challenges, Vito hopes to inspire others to never give up on a dream. He is grateful to the College for allowing him to achieve his goals, as well as for the infinite friendships he has been able to form throughout the years.
Why did you choose to go to Centennial College?
I chose to go to Centennial College for its ethnicity and diverse backgrounds. We live in a wonderful multicultural country like Canada, where we should be embracing and accepting our differences. It's who we are and we should be proud.
How did the program you took at Centennial help to prepare you for your future?
Studying and graduating from the ECE program has prepared me for the future by providing me with the skills, knowledge and attitude to enter the field and demonstrate to future employers that I have the motivation and determination to be a successful ECE. I enjoy being in the presence of young children. I truly believe that children are the future of tomorrow. It isn't just a job, it's so much more! It's my dream, passion and fulfillment. I am a big child at heart.
What is the number one thing to take away from your time at Centennial? How did that help shape who you are now?
The number one thing that I will take away from my time at Centennial College is the ever-lasting friendships that I have formed with my peers and faculty. A big shout out to the wonderful, supportive and awesome ECE faculty as well as to Stan Cameron; I'd like to thank them all for accepting, believing and supporting me through the years. I'm truly blessed and grateful that our paths have crossed and thank my lucky stars for knowing them all. I've never experienced so much acceptance and warmth from faculty ever before. I will cherish your wonderful lessons, hopeful messages and words of wisdom. Thank you Pauline, Lynn, Lisa, Marah, Angela, Jenny, Dwayne and last but most certainly not least, Stan the Man – my extended family always!
What tips would you give to your fellow Centennial classmates?
I truly believe that you can do anything and everything you set your mind to. It all begins with you! If you believe it, you can achieve it. Keep reaching and aiming for those stars! I sure did…and my journey has only begun.
By Resham Karfa