A Guide to Student Services at Centennial College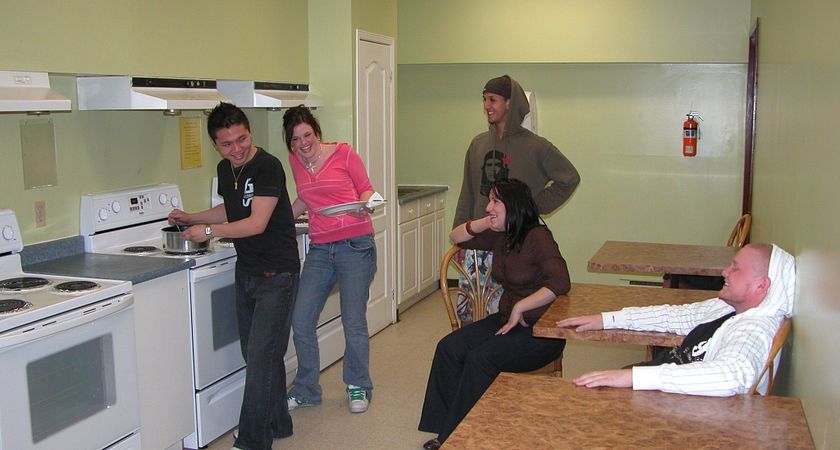 Q: What happens after I have applied?
A: Once our Admissions Department receives your application from ontariocolleges.ca, the College will send you an acknowledgement letter and information on what else, if anything, you may need to do as part of the application process. For example, the College may ask you to submit a missing transcript, to attend a program information session, to submit your portfolio for review, or to attend an assessment test. If you are a successful candidate, eventually you will also receive a letter offering you admission to a program along with a fee statement. It is very important that you inform both ontariocolleges.ca and Centennial College if you change your address or phone number after you have applied. If you don't, we will continue to send mail to your old address and you may not receive the information you need. Change of Address forms are available at each Enrolment Services Office.
Q: Do I need to take any test before I can start my classes/before I apply?
A: In most cases, you will need to take our English skills assessment for placement in your first semester courses. Some programs require you to take our Math skills assessment for placement as well. Your assessment scores will determine what level of English and/or Math class you can enroll in when you start your program. For more information on assessments, please visit Skills Assessment.
You may need to take skills assessments for admission if you:
Have applied as a mature student (i.e., without submitting your academic history);
Don't meet the grade requirements for your program;
Are applying for a fast-track program.
This means that if your scores are too low, you may not gain entry to your program, though you may be offered admission to a related program to build your skills for future entry into your program of choice.
Q: What if I don't meet the minimum admission requirements?
A: For most programs, you can apply as a mature student without meeting the minimum admission requirements as long as you are 19 years of age or older. However, there are exceptions with some health science-related programs as well as apprenticeship programs, fast-track and graduate certificate programs. For more information, please visit Admission Requirements.
Q: I'm not sure I can afford to go to school. Is there any financial assistance available?
A: Yes! Depending on your financial situation and course load, you may qualify for OSAP (Ontario Student Assistance Plan), other loans, scholarships and/or bursaries. We recommend that you check out our Student Financial Aid Services Office and the information under Scholarships and Awards. We also encourage you to do your own research to find other sources of funding. For example, speak to your guidance counselor or search on the internet. In addition to bursaries, scholarships and the like, we also offer many on-campus employment opportunities for students. Information is available through our Student Financial Aid Services Office as well as the Centennial College Student Association Inc. (CCSAI) at www.ccsai.ca.
Assistance is also available for those who have a documented disability. We encourage you to contact our Centre for Students with Disabilities to ensure you receive the accommodations you need. For more information, please visit www.centennialcollege.ca/student-life. Our Student Association also offers a number of services for all students such as the CCSAI-administered health plan, on-campus and off-campus social events, student clubs, used text book sales among others.
Q: I've recently been laid off and want to know if there are any programs for me, to help me return to school.  I heard about the Second Career Strategy.  Where can I get more information?
A: Second Career is a provincial initiative to assist those who have been laid off since January 2005. The Ministry is funding eligible candidates to take programs and re-train/upgrade at colleges to get back into the labour force. To check eligibility for Second Career, please call the Employment Ontario hotline at 1-800-387-5656. You can also contact the Employment Training Centre at Centennial Employment Training Centre for more information.
Q: No one in my family has ever gone to college or university. I'm worried about how I will do when I start college - is there any help available for people like me?
A: Yes, there is. We have an office dedicated to assisting students whose parents have not completed post-secondary education (college, university or an apprenticeship) in Canada - the First Generation Student Project. We encourage you to contact them to learn more about how they can help you succeed at Centennial.
Q: I have been out of school for a long time. I'm worried about going back to school after such a long time and then being with classmates who are much younger than me. Will you be able to assist?
A: Centennial's student population is very diverse, both in terms of their life experiences and their ages. Most programs are taken by students from varying age groups - some are right out of high school, others have been away from formal education for a few years; some have graduated high school; some have not; some have education and work experience from other countries; some have lived in Canada all their lives; some are training to start their career; others are upgrading their skills or are looking to change careers. Making the decision to go back to school can be difficult and/or exciting, and Centennial can help with things such as study skills and time management, as well as peer tutoring. Also available are social activities and student clubs run by our student association to help you meet other students who share your interests and feel right at home at Centennial College to look after your needs. Their helpful and knowledgeable staff assist you every step of the way, from pre-application through graduation. International students have access to all college services, but most things work a little differently, so please make sure you contact the International Centre even before you apply. 
Q: I have a disability and may need some assistance to help me be successful at college. Are there any resources available to help me?
A: Please contact our Centre for Students with Disabilities to find out what Centennial College is doing to ensure a smooth transition to college and success in your studies.
Q: Do you have any internships or field placements? What about co-op?
A: Most full-time programs have practical components built in. Depending on your program of choice, this may be unpaid work experience through either a field placement or an internship with an employer in your field of study. It may also be paid co-op terms or Professional Technology Year (PTY). More information is available in our full-time Course Calendar or on the program pages on our website.
Q: I might be interested in attending university after I graduate from college. Will a university give me credit for my Centennial courses?
A: Most of our programs have negotiated Articulation Agreements with universities, stipulating the conditions under which you receive transfer credit and how much transfer credit you may be eligible for with different universities. We encourage you to check into the details with your Program Coordinator. However, please also keep in mind that universities not covered by articulation agreements may also give you transfer credit. In this case, you should contact your university of choice to get a better idea of what you might expect.
Q: I already have attended college/university. Can I shorten my program by getting transfer credit for courses I have already taken at another institution?
A: You may be eligible for transfer credit if a course or courses you have taken at another post-secondary educational institution meet our requirements. Program Coordinators make a determination of how much, if any transfer credit you may be given, depending on how similar the courses were in terms of content, what grade you received and how long ago you took these courses. If you have international transcripts, you will probably be asked to provide a detailed credential evaluation.
Q: Is it possible to receive any credit for my work experience so I can shorten my program?
A: We do give credit for prior learning, including work experience. For details, please check here.
Q: I have applied to Centennial College but never heard back from the College. What do I do?
A: If you have applied a little while ago and are wondering about the status of your application, please contact Enrolment Services at 416-289-5300.
Q: I have been accepted! What happens next?
A: After accepting your offer, you will receive a package from Centennial College. It will give you information on assessment testing (in case you did not need to test for admission purposes), paying your fees, making your timetable, etc. You may also be invited to attend an Open House and receive information about Student Orientation (Centennial Welcomes).
Q: When is Orientation/Frosh Week?
A: Student Life Enhancement Division hosts Student Orientation (Centennial Welcomes) three times a year, generally just prior to the start of the semester. Once you have been accepted to Centennial, you will receive more information on the event. This day is for new students and we encourage you to attend. "Centennial Welcomes" is designed to introduce you to the College and to connect you to other students and your faculty. Our Student Association, the CCSAI, also hosts a series of activities and events for new and returning students. Please contact them directly for more information.
Q: How many hours will I be in class each day?
This depends on your program, but in general you should be available to attend classes Monday - Friday from 8:30 - 6:30. You would likely have breaks between classes, and your schedule might change from one day to the next. For example, you may be here from morning until mid-afternoon one day and from mid-morning to evening with a long break in between on another day. For most programs, you will be in class for about 20 hours/week, with the addition of time needed for homework, reading, group work, labs, etc. Keep in mind that your timetable is also likely to change from one semester to the next.
Q: What do I do if I want to transfer to another program?
A: If you meet the admission requirements for the other program, you can apply to transfer by filling out the appropriate form and speaking to the Program Coordinator of the new program. If the program is very similar to the old one, you may also apply for transfer of credit. Keep in mind that you can only transfer from one program to the other at the beginning of a semester.
Q: My transcripts are from outside Canada. Do I need to submit them with my application?
A: For many of our post-secondary programs, you may apply as a mature student if you are 19 years or older, and take our English, mathematics or science skills assessments to meet your program academic requirements. However, if you are applying for a program that is related to your educational background and would like to receive transfer credit, or if you are applying for a program that requires you to show proof of a diploma or degree (i.e., fast-track programs), you will need to have your credentials evaluated as part of the application process. Some programs (i.e., nursing) require you to submit grades showing that you have completed your academic requirements. We cannot accept skills assessments for these programs. We recommend you contact us for more details since there are many exceptions.
If you are submitting transcripts, you will need to have them evaluated by a recognized credential assessment agency, then forward the results of the assessment to ontariocolleges.ca
Q: What do I do if I need a visa to study in Canada?
A: We welcome ever-increasing numbers of international students at Centennial and have an International Centre to look after your needs. Their helpful and knowledgeable staff assist you every step of the way, from pre-application to graduation. International students have access to all college services, but most things work a little differently, so please make sure you contact the International Centre before you apply.
Q: What is the Signature Learning Experience and what is Humanracebook.ca?
A: The Signature Learning Experience (SLE) is Centennial College's unique way of providing you with an education that matters in the world, not only your field of study. The program will help you gain a better understanding of global social justice issues and prepare you for a successful future in the increasingly global marketplace. While the SLE is in the process of being embedded College-wide, there are two distinct features most full-time students will take part in. At some point during your time here, you will be taking our GNED 500 class: Global Citizenship: From Social Analysis to Social Action. Additionally, you will have the opportunity to participate in portfolio learning - a way to document your newly increased understanding of issues surrounding global citizenship.  Related to our SLE also is humanracebook.com - an interactive website you can use to participate in and explore global justice issues. We encourage you to check out the website even before you start your classes at Centennial College.
Note: Information is subject to change without notice.