Centennial College's Students With Disabilities Learn to Transition into Employment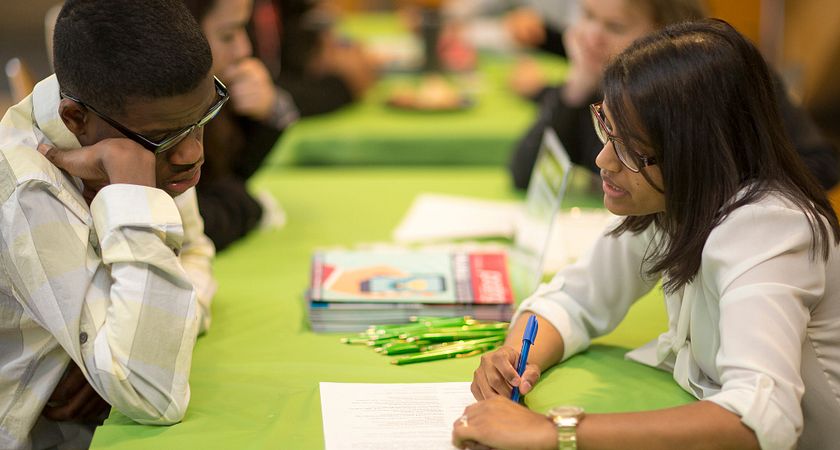 At Centennial College, the vision is an education without borders for all students to succeed, including students with disabilities. All students should have the chance to make it in life, and Centennial ensures that no one is left out. One key factor of success for all students is of course, the transition into employment. Centennial believes that all students should receive a top notch education and learn to grow and evolve into the workplace. So how has the College managed to incorporate this vision for students with disabilities?
The ENDSmart!:Transitions to Employment for Students with Disabilities Conference was crafted for our Centre for Students with Disabilities (CSD) graduating students or CSD students looking get ahead in their job search after college. Students with disabilities have a lot more barriers when accessing post-secondary education and employment. The conference was developed by Centennial a little over six years ago and had very humble beginnings. "It was initially developed to commemorate the students with disabilities, as there are a lot of negative stereotypes attached to having a disability" explains Parveen Dhatt-Sangha, Learning Strategist at Centennial College. "The stereotype when we think of a disability is a physical disability or someone in a wheelchair, when in fact 80% of disabilities are hidden. We wanted to eradicate that and present or showcase the positive aspects of having a disability."
The conference took place April 29 – May 1 and since its modest beginnings, has grown to include a number of elements taught to our CSD students and to give them the opportunity to think about what steps they would need to take and what skills and tools they would require to make that transition into the workplace easier for them. Agenda items included workshops about the interview process, how to create a resume and disclosure (when to disclose your disability and how).
Another other key ingredient for the students at the conference was having the opportunity to connect with employment service providers in the community. These are organizations that help our students find employment in the workplace. It is a way of networking which under other circumstances, our students with disabilities would not have the chance or the confidence to do so. "A lot of people don't know that we have almost 2000 students registered with a disability at Centennial. That's across the 4 campuses and that's astounding." says Parveen. "Because I remember when I started at the College in 2001, we might have had 600 altogether. And that number will constantly increase". At Centennial we will continue to educate and help students learn and evolve into the workplace with confidence. All of them. 
By Resham Karfa