Transportation in college: How will you get there?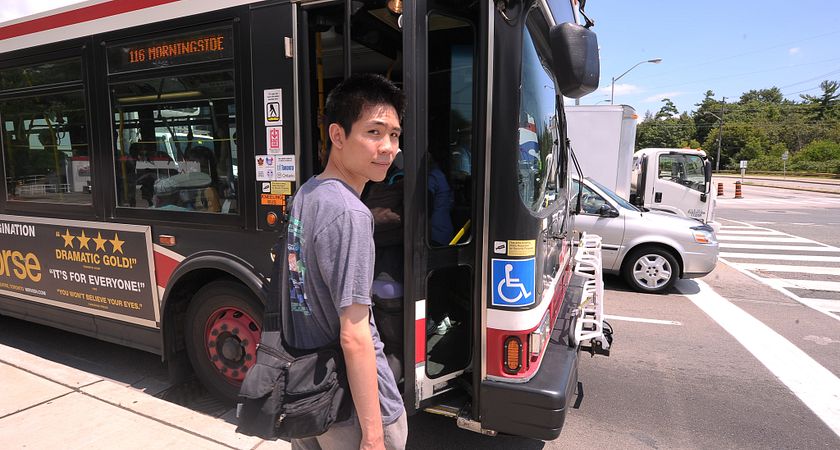 So, how will you be getting to school? If you haven't really thought about it, now's when you should start. After all, you're going to be doing it at least twice a day, meaning that a poor decision may haunt you for the remainder of the year. Some people have even quit college due to the travel hassles. Because of this, the issue of transportation should be treated with the same importance as which classes you're taking, and how your finances will get in order. You basically have two pathways to school: A car, or public transit. We'll have a look at both of them here, but first, another important factor.
Your living situation
Really, before you decide how to get to school, you have to figure out where you're coming from, because it will majorly change your approach. Are you living on campus? If so, you may not need any transportation at all, or something very minimal. Colleges like Centennial aim to provide students with as many of their needs as possible on the campus, reducing the need to venture far while living there.
If you're not living on campus, how far off are you? Are you within walking distance? Remember, a five minute drive on Google Maps doesn't equal five minutes walking, and a tiny trip can take you half an hour. So if you're living far away, is there a direct public transit route to campus? And if you're driving, do you need to take the highways to get there? How far away you are will really change things. With that in mind, let's have a look at the two most popular choices.
Driving
Pros: The biggest advantage of driving to campus is that you have freedom of movement. You can hop in and go whenever you want, without adhering to a schedule. On top of that, this article from About College points out how smaller trips just outside campus for business or pleasure become immensely easier. You aren't beholden to transit delays, and you'll never miss a bus. And if you're living far from campus, it's probably a more direct path to drive than to figure out a transit route.
Cons: While driving can be a time saver, you could wind up spending just as long behind the wheel as on a bus if you don't know what routes to take. I'll share a bit of life advice here for anyone driving to school in the Greater Toronto Area: The 401, the 404, and the Don Valley Parkway will all be jammed solid in the early morning, and at five in the afternoon. If you're driving to campus, avoid them if you can, and spend some time on the backstreets. You may balk at the slower speeds and frequent lights, but trust me. From my own experience, it's faster.
There's also hidden costs you'll have to consider, something another About College article talks about. For one thing, gasoline will never be cheap again. There's also the issue of parking. It can be costly, and going along the backstreets looking for an empty space can take time, and leave you with hefty parking-ticket fees if you guess wrong. Carpooling with some friends could save you cash, so long as they're willing to chip in for that gas and those parking passes.
Public Transit
Pros: Be it the train or the bus, public transit is often the cheaper alternative, particularly if you're travelling far. If you're a student at Centennial College, your admission comes with the perk of discounts on your Metropass. And if you're living on campus and only occasionally need to venture offsite for groceries or other necessities, it may be the easiest alternative. There's also the fact that a long transit ride could give you time to read, study, or even complete schoolwork if you manage to grab a seat, letting you be just a little bit more productive.
Cons: The big disadvantage of public transit is simply the time factor. You'll need to be aware of the train and bus schedule, and if you're living even a bit far off campus, have to take multiple buses. Even with morning traffic, a direct route by car might still be faster. It's more to think about, and can hamper any plans you may have, particularly if you miss a bus and are stuck for over an hour waiting for the next one (true story).
The Verdict
It depends on where you live, and what you value, really. If you value time and convenience, and are willing to spend a little more, drive. If you're trying to save money, and aren't worried about travel time, take transit. I'd also recommend transit to anyone living on or near campus, and a vehicle for anyone travelling far. This isn't universal though, and you should really assess your own transit needs before making the call. You may not think much of it now, but it's worth it to take some serious effort to figure out how you're going to get to school, and what works best for you. In this case, the journey really is as important as the destination.
By Anthony Geremia