Accelerator for Centennial Community Entrepreneurs & Leaders Launch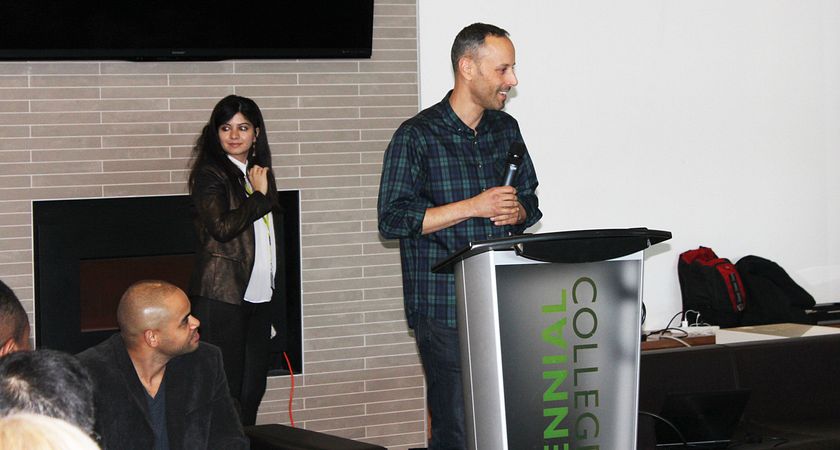 A space where like-minded individuals came together to be inspired, share stories and listen to words of wisdom from their fellow entrepreneurs – by any measure the Accelerator for Centennial Community Entrepreneurs & Leaders Launch was a colossal success.
The room encompassed emotions of triumph, success, motivation, determination and positive vibes. Keynote speaker Chef Robert Rainford, along with entrepreneurs Ahmed Bawah, owner of Mamas Life Products, Masio Saunders of Gremac, and Alon Ozery, co-founder of Ozery's Pita Break, did a fantastic job recounting their small-business victories and failures.
Honesty radiated through their delivery that was greeted by the audience with waves of awe and relatable compassion. If you are, were, or aspire to be an entrepreneur, this was the launch to be at. There was something there for everyone, even if being an entrepreneur has never crossed your mind. Chef Rainford encouraged attendees to follow their dream, stating that it will come to fruition if you believe in yourself.
"Before I became a chef, I dreamt it," exclaimed Chef Rainford. He went on to state how living someone else's dream will get you nowhere. Whether that someone is your parent, friend or relative, it is crucial to follow your inner passion. Emotions rose high toward the end of the speech when Rainford was almost in tears, and personally I had to keep my own tear ducts in check. He was not ashamed, he had no fear and his presentation, if anything, demonstrated his true message of the afternoon: Be yourself and follow your inner voice. He added a touch of humour by quoting an inspirational, entrepreneurial line from "Jay Zed," Canadian slang name for rap-hip-hop artist, Jay Z.
One of his many takeaways is to diversify your interests, in the sense that you should not throw all your eggs into one basket. Delve into different things; that way, if one thing does not work out, you always have a backup.
Centennial's ACCEL launch was designed to draw attention to the college's newest resource for entrepreneurs who can gain access to support and resources from advisors and mentors. The focus is on helping youth kick start their business ideas. To find out more about ACCEL here.
Trish Dryden, AVP Research and Corporate Planning, opened the ACCEL event by stating that the college is trying to create an ecosystem to attract and support youth. "We want to accelerate the person, not just the idea… we welcome the big idea innovators."
After the launch students had the opportunity to attend an Elevator and Business Pitch session, which was hosted by ACCEL and Enactus. The workshop proven to be an interactive way to teach future entrepreneurs the steps in creating and selling their business ideas.
I believe that the Accelerator for Centennial Community Entrepreneurs & Leaders will help catapult aspiring entrepreneurs to the next level of success by providing useful skills and advice – as long as they stay true to themselves and continue to follow their dreams.
By: Chris P. Jardine