A student's path to career success: Tahereh the Social Service Worker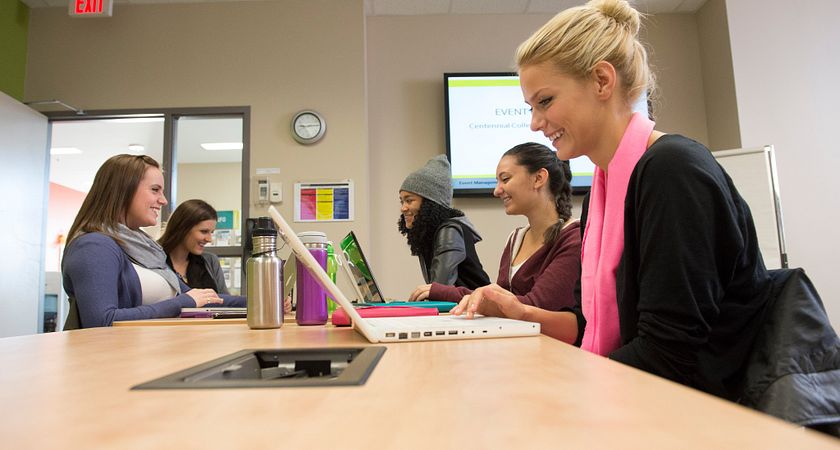 One of Centennial College's goals is to connect students to the workforce before they even graduate, and one of the ways they accomplish this is with co-op and placement opportunities. Aside from giving students important real world workplace experience, these placements allow them to begin forging a network of contacts through the industry professionals they'll be interacting with.
Tahereh is one of many such students who have benefitted from that opportunity. Tahereh studied the Social Service Worker program until her graduation in April 2013. Tahereh found the program extremely practically helpful. "The curriculum offered for this program," she says, "helped me understand and learn the concepts and techniques to use for my work and also for my personal life."
But there was more to the program than just instruction. An important part of the Social Service Worker curriculum is the field placement in the final semester. In Tahereh's case, she was placed at the YMCA of Greater Toronto, something that provided her with a wealth of practical experience, as well as confirmation that she'd made the right career choice.
"The placement was a great chance for me to recognize my interest and ability," she says. "It gave me the opportunity to know and get familiar with the type of job I would like to pursue in the future. My placement work experience and the knowledge I gained were among the positive advantages I could then bring to my job interview."
And transition she did, as Tahereh now works as an Employment Counsellor with the YMCA of Greater Toronto, her placement having quite directly opened the path to employment. For that, she credits the school. "I really appreciate the support of the Career Services Department at Centennial College," she says, "which assisted me in transitioning from a student to an employee."
As for advice for students taking the same path as her, Tahereh suggests they invest the time to make sure they find a placement that fits their academic and personal needs, instead of just grabbing one to complete their program. "I advise them to consider their interests and qualifications when choosing from the different options," she explains, "and choose the one that provides the most experience and joy."
She continues on with a suggestion that students ensure they get the most out of their placement. "They should do their best to know and understand the job as well as their duties in order to perform their job to the best of their abilities," she says. "Within their workplace there is lots of networking opportunities, which they should take full advantage of. If it is done well the door to other opportunities will open for them."
While Tahereh was fortunate enough to get hired at her placement, not everyone finds that same immediate success. Students should prepare for their job search as soon as possible. Fortunately, Centennial College has the resources to help them out. "Right after graduation, I advise students to start their job search. They should not miss any time. If they have any problem with job searching, tailoring their resume or interview skills, they should ask for help. The Career Centre is there to help them, as is the Hire Centennial Website."
By Anthony Geremia