A Deeper Look at Apprenticeships, Part 2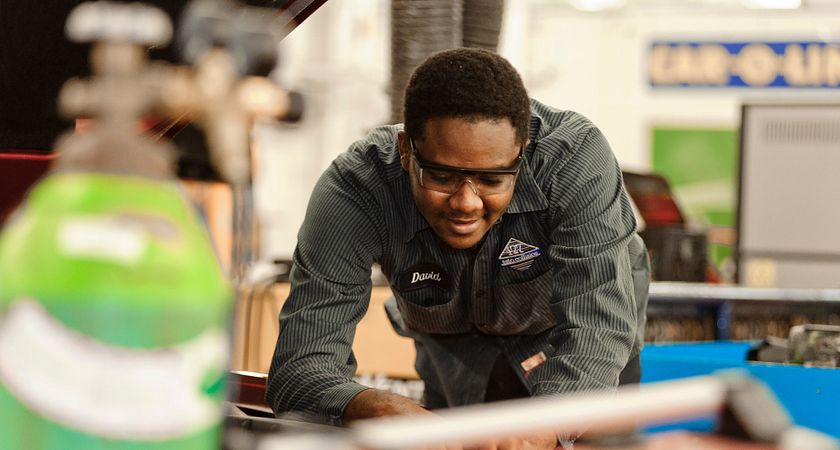 Apprenticeships, designed to get students into the lucrative field of skilled trades, offer many different possible educational paths. We've previously discussed the advantages of skilled trades, and taken a brief look at the world of apprenticeships. This is a continuation of an interview with Dave Samalea, the Chairperson of Automotive and Motorcycle Programs at Centennial, about the possible apprenticeship paths a student can take.
We come back to that image of a student out of high school looking to get into the trades, and moving from company to company, trying to be taken on as an apprentice. "Let's just say that I leave high school and go knocking on doors," Dave says, in full storytelling mode, "and I can't find an employer that's willing to hire me, or I don't have the confidence maybe to go and bang on those doors. Or maybe I come from a family where a diploma is very important, and I'm thinking I want more than just the technical side of school. I want some business courses or communication courses or what have you. That means I'm looking at a program like Motive Power Technician."
It's an example of a Diploma Program, a two-year program that will earn you that diploma along with your trade's skills. Compare this to the Traditional Apprenticeship program, which is entirely technical. When you're in a Diploma Program not only are you taking in the technical side of the experience, you're taking other subjects, including communications, business and customer service.
"At the end of that two-year span," Dave explains, "you have a diploma, you have the technical ability, you have some confidence and something to show an employer in the form of a diploma that might make it easier to get a job."
He outlines the way this type of program typically unfolds: "It's two years in school, and then you have to do your on-the-job portion, which takes three to five years if we're talking automotive service technician."
While Traditional Apprenticeships are quicker, three to five years in total, "you don't have the diploma. You don't have the other subjects you would learn."
Another benefit to this program is that it can serve as a point of entry for students who don't have a high school diploma, a requirement of most other apprenticeship programs. "If you took the diploma program first, "Dave says, "because you can apply as a mature student without an Ontario secondary school diploma, you could get into the diploma program. The ministry will deem that college diploma as equivalence."
Pre-Apprenticeship Training is a special set of programs. Dave explains in more detail: "They're typically targeted at people who cannot obtain an apprenticeship through normal means due to various barriers." Essentially, they are for students who couldn't knock on that door. Perhaps they have a lack of education or experience, or they're students experiencing some form of barrier to going out and finding employment, such as unsatisfactory English skills.
"Over the course of the program," Dave continues, "people will obtain level one of their trade and receive academic upgrading and a work placement to gain some much-needed experience.
Given Centennial's focus on education access for anyone and everyone, it's a popular program with a lot of applicants, so there are lengthy interviews to find applicable students. At the conclusion of the pre-apprenticeship program, students can continue in the traditional apprenticeship model with the employer that they served their work placement with, or find another employer.
Check back tomorrow for the next part of this story, where we talk about with Co-Op Diploma Programs.
By Anthony Geremia