A Deeper Look at Apprenticeships, Part 3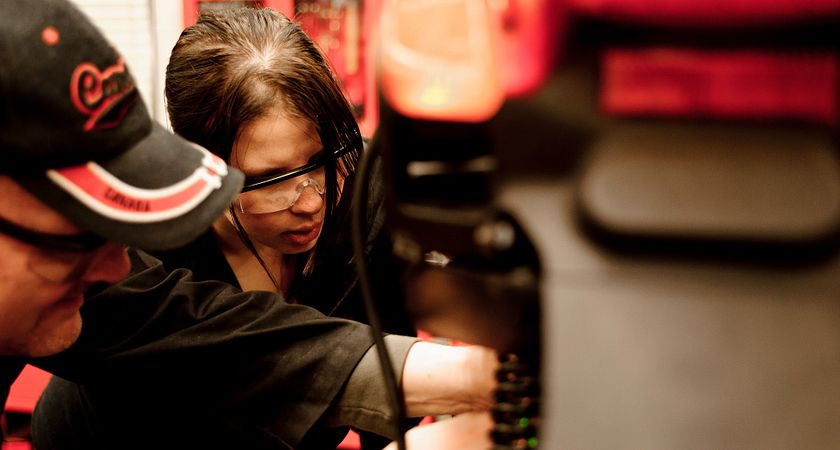 Apprenticeships, designed to get students into the lucrative field of skilled trades, offer many different possible educational paths. We've previously discussed the advantages of skilled trades, and taken a brief look at the world of apprenticeships. This is a continuation of an interview with Dave Samalea, the Chairperson of Automotive and Motorcycle Programs at Centennial, about the possible apprenticeship paths a student can take.
One thing that traditional apprenticeships and diploma programs share in common is that the student can opt to apprentice with any relevant employer that will hire them. For something more focused, there are Centennial's newer, special co-op diploma programs.
"In automotive we have two co-op diploma programs: One is with the Trillium Automobile Dealers Association, and the other is with Chrysler Canada. These are programs we apply to run every year for a limited number of students, who in the course of the two-year diploma program they're taking not only get the technical, but also get other types of programs and courses, and so they'll get a diploma."
What separates this from the previously-mentioned diploma programs is a paid work placement taking place in the middle. "Between the first and second year of school," Dave says, "There is a paid eight-month work placement as a co-op component to the program. So they're here for school for two semesters, then they go out and work for two semesters, then they're here again for a final two semesters of schooling. Then they get their diploma and they've completed their apprenticeship requirements."
There's another essential difference, too, in that this co-op program allows for the bypassing of several exams. Dave explains how it works: "In the Motive Power Diploma Program, after they complete the two-year diploma program, students will have to challenge the three apprenticeship in-school sessions by writing a series of exemption exams, one for each of the apprenticeship school levels, and they have to score 70 per cent on each of those to be considered exempt."
It has to do with special Ministry requirements. However, these co-op programs were set up so they would meet the requirements, students would get the diploma, and the apprenticeship. "We've got two of them in automotive," says Dave, "we also have a co-op diploma in truck and coach, and one in heavy equipment."
While this sounds advantageous, enrolment numbers are limited. So while non-co-op diploma programs can bring in approximately 200 students, each of these special co-ops has a cap that is much lower, usually around 25. The reason is simply that they're focused on specific companies, which have a limited number of paid positions at each partner company that can actually be filled, whereas a student in a Traditional or Diploma apprenticeship can simply search for work at any company in their chosen profession.
Check back for the next part of this story, where we talk about Modified Apprenticeship Programs, and give some general pointers on picking the path that's best for you.
By Anthony Geremia