A Deeper Look at Apprenticeships, Part 4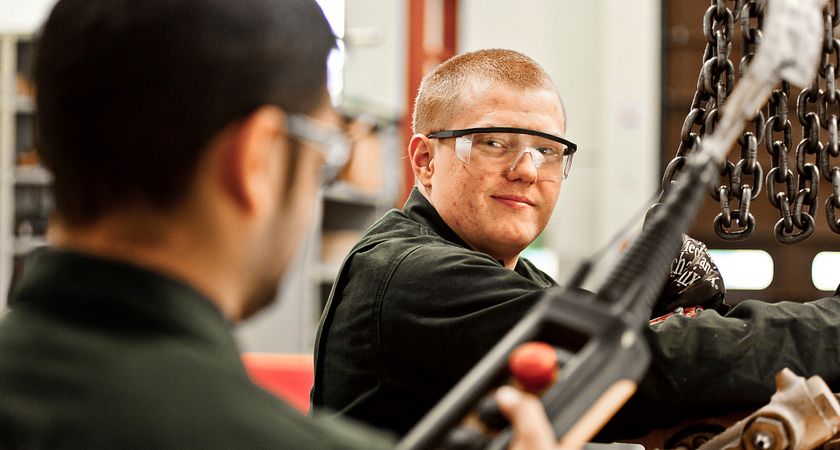 Modified Apprenticeship Programs (MAPs)
The last of the four different kinds of apprenticeship paths at Centennial, Dave Samalea illustrates it for us by once again returning to the door-knocking high school student.
"Let's say one of those doors happens to be at a General Motors dealership," Dave illustrates. "General Motors has an Automotive Service Technician program with Centennial, and it's a Modified Apprenticeship Program (MAP)"
The special nature of this program comes from the fact that all students enrolled in it work at General Motors dealerships, rather than a variety of different shops. "Unlike a traditional apprenticeship," Dave explains, "where you might have someone from a small garage, someone from Active Green and Ross, and maybe someone from a Volvo dealership all in one class, the GM program is only for people that work in GM dealerships, and that's a requirement of getting into the program. We have modified apprenticeship programs with General Motors, Ford, Toyota, and Honda. We also have a program with Canadian Tire, which is modified, but you don't have to be first working at a Canadian Tire store, so it's a little bit different."
MAP's are closer to the layout of a Traditional Apprenticeship, in that they are certificate programs instead of a diplomas. The twist here, Dave says, is how "all of these programs have an additional eight weeks of training time in-school versus a traditional apprenticeship." In addition, apprentices learn on vehicles and proprietary equipment unique to the manufacturer, since the labs at Centennial emulate the branded dealerships.
What's right for you?
So, those are the options before you. But how does one choose which program fits their needs? "It's a lot more complicated than it was in the 60's and 70's, that's for sure," Dave admits.
Fortunately or unfortunately, he also explains, a bit of it is simply fate. "In some cases," he says, "it's beyond your control if you're a prospective technician, and you're going out to look for work."
A would-be apprentice could end up working at a large dealership, or a small private garage. "There are pros and cons to both," Dave explains. "You may go to 30 or 40 places before someone says yes, so should you be that fussy? The place you start at is not necessarily going to be the place you finish your apprenticeship at, either. You may work at a Honda dealer, or maybe the place that says yes is a Toyota dealer. In that case, your decision will be made for you.
As for whether you should aim for a certificate or a degree, it really depends on a student's individual goal in life. Someone wishing to cut to the chase may opt to go for a traditional program. "In some cases," Dave explains, "it's 'I want to become a licensed technician as quickly as possible, I'm not interested in having a post-secondary diploma. I don't want to spend two years in school and then serve an apprenticeship."
While Dave does encourage people to investigate the co-op program, he also expresses the sentiment that it's not for everyone. "A large number of people latch onto the co-op," he says "because what they see in a co-op diploma is, 'I get a diploma, I get my apprenticeship, I don't have to write exemption tests, and I get eight months paid work at a dealer, fantastic, sign me up.'"
"But what they don't see is that only a small number of people may be selected, and you're competing against maybe 400 other people for the same position, and it's academically challenging, much more than a traditional apprenticeship program, because you're not just dealing with technical, and that's much more challenging for someone who may or may not have that academic background to handle it."
There's the financial aspect on top of that, too. As mentioned before, Traditional Apprenticeships are funded by the Ontario Government, whereas diploma and co-op programs rely on tuition for funding.
What it really comes down to, Dave says, is that "people should be doing their research about what apprenticeship is, and the different paths they can take to do it, and then figure out which way works for them."
As parting advice, he encourages students not to simply align to the demands of other people, society, or their family when making this choice, but instead ask, "what can I achieve for myself, and what is the smartest move I can make?"
By Anthony Geremia