7 things I looked for in a Journalism education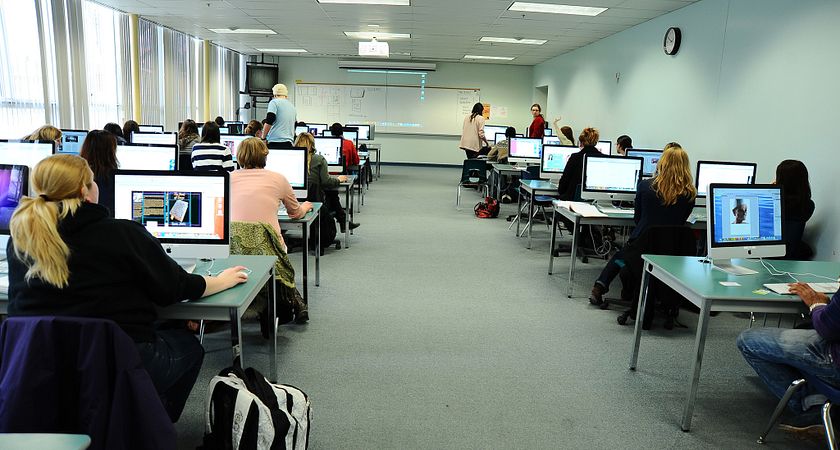 I'd seen those compilations online of news reporters blundering, causing problems, and generally being unprofessional. And I'd read more than enough criticism of a poorly-researched, obviously biased story in the papers. I can't think of how many times I looked at the news media and wished for better, more responsible reporting.
The fact is, it begins in school. If you're looking to join the noble profession, and not end up on someone else's "Top 10 reporter fails" list, you need to make sure you pick the right education up. So, if you're shopping around to figure out what you need, here's some things to look out for, things that I looked out for when I shopped around for a school to attend:
1) You get to practice the craft
Sitting in a lecture hall and listening to a professor will only get you so far, and the best way to learn is by doing. You want a program where you create content, and not just "test" or "mock" content, but real things. You need to get away from your desk, go and chase news, and create real stories with a real audience, so when you enter the working world, you've already been doing that thing they'll want to to do for years. 
2)  It's a small, personalized setting
Another flaw in the traditional lecture hall setting: The 300 students packed into that hall are all very different people with very different needs. Everyone learns at a different rate, and the best education is personalized, intimate and small-scale. It's better when your professors know your name, and you can impress your skills on them. Not only that, but with a small class of, say, 30 students, it's possible to get to know everyone. Breaking into Journalism is all about networking and connections, and if you keep in touch and get to know everyone in your class, then you have the makings of your first professional network.
3) You get equal amounts of theory and practical
For all the bashing I just did about the traditional lecture setting, theory is important too. Before you're sent out in the world to write and report, you need to make sure you know what you're doing. Copyright, privacy laws, ethics and even copy editing are all worth studying, even if they feel a bit dry. At the very least, you need to know what an Oxford Comma is.
How can you get the theory? Through a joint program. That's when a university and college collaborate, and have you take theory classes at the former, and practical labs at the latter. Aside from getting the best of two different worlds of education, you can walk away from these joint programs with credentials from two different schools, something very prestigious to add to a resume.
4) You get to work on multiple platforms
New media, and Journalism specifically, has become about cross-platform integration, and combining disciplines. What this means is you can't just be a writer, or a photographer, or a videographer, or a radio broadcaster, or a webmaster. The modern media maker has to wear all these different hats, and that goes for the media you publish on, too. Newspapers, the internet, radio and television are all very different beasts, and a program focusing solely on print journalism, or photography, or something else specific leaves a prospective journalist with critical weaknesses, and holes in their skills. A good program makes sure you pick up a little bit of everything.
5) The people teaching you are real professionals
Take a good look at who's teaching you. Where have they been, and what have they done? Be sure to check their credentials. It's not that "those who can, do; those who can't, teach," but rather "make sure they've done the thing they're teaching." You want teachers who are, or have been practicing journalists and members of the industry, who have recent, relevant experience in their field, experience that they can then pass onto you.
6) You get to work with a real company
Internship is becoming a dirty word, and in all fairness, there's some good reasoning behind that. No one likes the idea of getting the grown-ups coffee for two solid, unpaid months. But that's not what it's about, or supposed to be about (and if it is, hightail it out of there. Remember, they're there to teach you.)
Ideally, you'll have spent time in your program practicing your profession, and an internship will lead you to the next step: Spending time embedded in a company, and figuring out what the job's all about outside of your school's walls. You should be leaving with real experience, contacts in the industry, and experience and skills to add to your resume.
7) The alumni that come out of it are accomplished and award-winning.
Lastly, while it's not a popularity contest, it's still worth noting that if someone's got some awards to their name, you know you've found something good.
Sound like solid advice? Well, all these reasons are why I chose to attend Centennial College's joint Journalism program. It gave me opportunities to write for the East York Observer paper and website, and cut radio and television demos that added to my portfolio. I had the opportunity to interact with industry professionals, and help produce content for both CBC television and 680 News on a pair of internships. My professors worked for the CBC, Globe and Mail, and the Toronto Star.
There's a three-year advanced Diploma program, but I opted to go with the joint program with the University of Toronto that provides you with an additional degree. The program is taught by professionals who've worked for the CBC, CTV, Globe and Mail, and Toronto Star, and produces award-winning students.
If you're looking to enter Journalism, and become a responsible, professional member of the media, make the right choice, and see what we have to offer.
By: Anthony Geremia