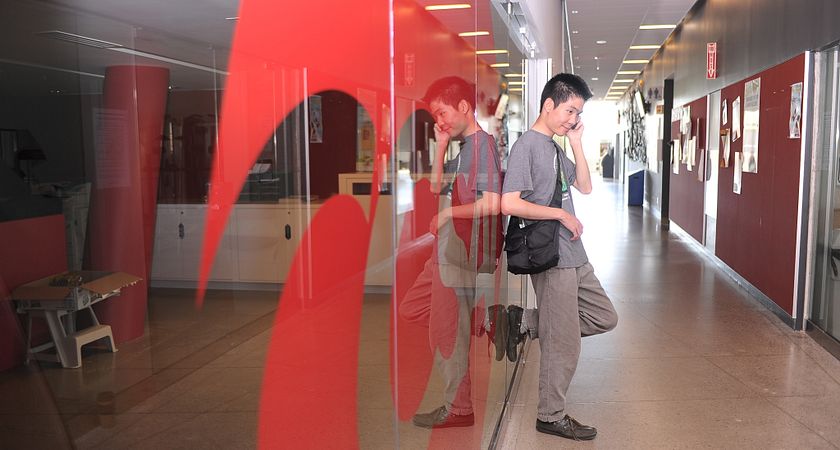 SafeTalk is a three-hour training program at several Canadian post-secondary schools that instructs people on how to identify others that may be having suicidal thoughts, and connect them to helpful resources. It guides participants through four steps- Tell, Ask, Listen and KeepSafe - with the goal of making them  "suicide alert," able to aid when someone is at risk.
"You have to be crazy to think about suicide, true or false? "Eric Dunn says, letting the question hang in the air before continuing. "And many people think you 're crazy if you think it. You 're not crazy, you 're under a lot of stress. "
Dunn is a counsellor at Centennial College 's Career and Counselling Centre. But more importantly, he 's been one of the instructors for Centennial College's SafeTalk since its inception 2 years ago.
"It's not group therapy, "Dunn elaborates. "It's training. It 's how you recognize when suicide may be an issue for someone, and how you get them help. It 's a kind, gentle approach to community-building. If somebody sees me suffering, I would hope that someone would pull me up and say, hey, are you okay?"
"It was a deal with Living Works," Dunn explains, talking about how SafeTalk came to Centennial. "They're based in Calgary, and their specialty is suicide prevention training. "
"LivingWorks agreed to train a whole bunch of trainers," he continues, "and there wouldn't be any cost, and the agreement was that we'd participate in a research project, which we did. So it was actually a wonderful win-win situation. That was about two and a half years ago. They trained about 40 of us, 40 councillors across the province from every college. And then they turned us loose on the colleges."
Currently, several programs at Centennial College have the training incorporated into their curriculum, so time-strapped students don' t have to take the time to attend. These programs include Paramedics, Health and Wellness, Child Care, and Community and justice. In addition, there's a separate training program for faculty. "The first two years, there were waiting lists for it, " Dunn says, enthusiastically.
The program comes to the school at a particularly poignant time. Earlier this year, the World Health Organization released a report entitled Preventing Suicide: A Global Imperative. According to the report, more than 800,000 people take their own lives each year, or one person every 40 seconds. The report also notes that suicide is frequently an impulsive decision, made during times of crisis and stress caused by financial issues, relationship problems, illness and work overload. 
It 's that last one that's a frequent source of problems for the students Dunn sees both in the program, and in his normal job as a councillor. "We go through a little exercise," he illustrates, "where we ask, is that person crazy, or are they just under a lot of stress? We start to talk about the stress, and the kind of stress that we put on ourselves. Too much work, for example. Students will say, I don 't exercise, I don't eat properly, I don't see my family enough because I don't have the time because I 'm working all the time."
Since the beginning of the program, the response that Dunn has received has been overwhelmingly positive. "The program and the information made me think differently about suicide," Dunn reads off a recent evaluation form as proof. He's also seen some remarkable things in the program, which he takes time to elaborates on. " The faculty ones are so poignant," he says, " because people are bringing their life experiences in there. It shouldn' t have surprised me, but it did. The honesty, and the pain, it' s quite remarkable what people choose to share, and you can help. You can offer resources, ideas, and things like that."
When it comes to the student sessions, the biggest surprise for both Dunn and the attendees is how entertaining they can be. "Man, it's fun, " he laughs. " I think people are stunned. The comment you get is, I came here thinking this was going to suck, and it was amazing, and you made me think. " When asked about how a serious subject can be made entertaining, he points to the students themselves. " They make it fun. People are under stress, and so they talk about the stress they put themselves under, and it 's great material to mine for the absurdities of life. You can have fun with that. This is not a yuk fest. But what you get is, man, those three hours just flew by."
By: Anthony Geremia