The Value of Skilled Trades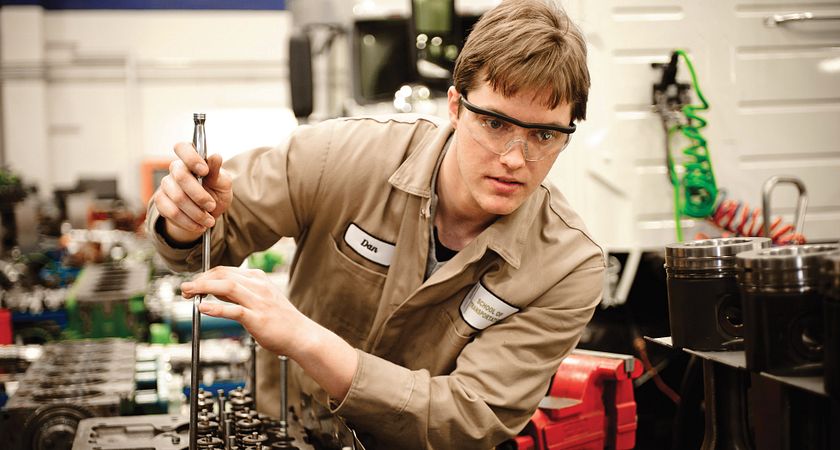 When my car broke down in the middle of the road on the way to class, my family had it towed to our local garage. When the job was done, the car was running again and the shop was paid a handsome sum for bringing it back to life. Afterwards, my mother said something that stuck with me: "Thank goodness there are people out there that actually know how these things work." And yet the common perception of skilled tradespeople tends to be that they couldn't make the grade in "regular" school and go on to take up a more sophisticated career.
But pop the hood on your, your family's or your friend's car and have a look at the engine. Unless you're a gearhead, you probably have no idea how any of it works or what to do if it stops running. That complicated engine exists to remind you that there are some things we'll always be completely out of our depth about. When your car breaks down, you likely don't have the ability to diagnose the problem, or repair your home's water pipes if they burst in the middle of winter, or change the carpeted floors in your living space to hardwood just because you feel like it.
That's what skilled trades are: In-depth knowledge of things that everyone needs, but most people can't figure out. There's a perception that skilled trades are for people that haven't done well in school, that can't make it into more legitimate jobs. Yet, it's funny how reliant we are upon them when a tire goes flat or a roof starts to leak. Maclean's even recently published an article about that stigma, involving a personal tale about a student in Calgary who found success pursuing a skilled trade, despite the stereotypes. In reality, trades are where the money is, because in that moment, you need someone with those specific skills more than anything else. There's a personal angle to this, too. You can use those skills to fix your own car, or repair your own plumbing, or even make your own furniture.
Businesses are taking notice of this need, too, and have written formal literature on it. "The Business Case for Essential Skills Training in the Skilled Trades" is a report published by the Canadian Apprenticeship Forum – Forum canadien sur l'apprentissage (CAF-FCA). It surveyed companies that employ skilled tradespeople, and found that every dollar they invested in skilled tradespeople gave them three dollars back. What this means for students is that companies are looking for them, and a potential employee who comes to the table already trained through an apprenticeship or similar program is at an extreme advantage.
Apprenticeship programs are an expression of one of the core ideas of college: Practical, on the job skills training to land you a career. At Centennial College, apprenticeships involve training on the job with an employer, supplemented by college classes to teach you the theory. The instructors have current industry experience, and you'll have the opportunity to work at modern, state-of-the-art facilities both on and off campus. Join an apprenticeship, become a skilled tradesperson, and become the one everyone else goes to when they need their problems solved. 
By Anthony Geremia