How to Use Social Media to Benefit Yourself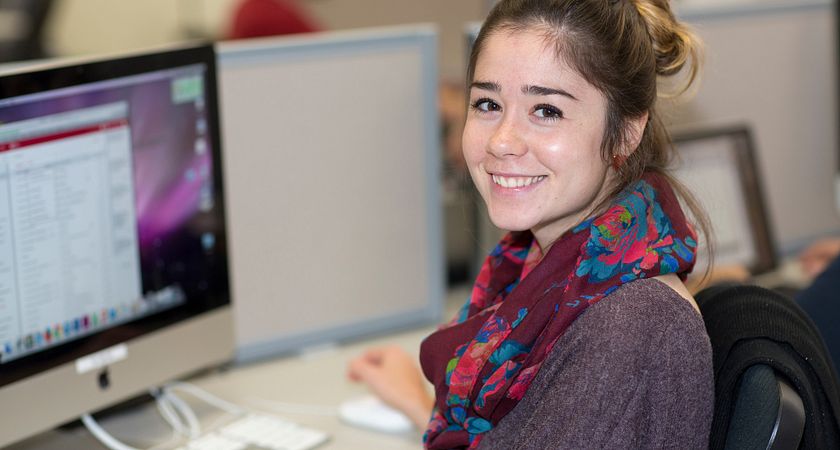 As a college student Pew Research shares that it's fair to say that you're on at least one social media platform, likely multiple ones. After all, you're the demographic that makes the most use of it. Far too much advice about social media and professionalism boils down to "don't use it," but that's hardly realistic. Let's accept that you're using it and will continue to use it. Instead, let's look at what you can do with it and how you can make it improve your academic and professional life.
It's often been said you should pay careful attention to what goes on Facebook, Twitter, Instagram and anything else you make use of. After all, the people in charge of college admissions are probably looking at it, as US News reveals, and that was three years ago, eons in Internet time. If they're watching, then so are employers, and it's a certainty that every resume you hand in is followed by searches across social media for your name. College is the perfect time to manage your social media usage, and not just to make it non-damaging. Indeed, it can enhance both your education and your career, and here's how.
1) Despite everything, social media is still worth using
So much of what we do takes place online, so it'd be foolish not to participate in social media. Twitter, Facebook, Tumblr and others are simply how we interact with the world at large and how we exchange information, frequently linking us faster than traditional means. It's no wonder that as a student, you probably use it far more than your email. That's why Centennial College has its own official Twitter, Facebook, Instagram, and Pinterest accounts (all worth following, I might add) in order to get you important information faster. So, why is it worth using from a professional perspective? For one thing…
2) It can be an immensely useful academic tool
While browsing Facebook in class will never benefit your education, it can help in other contexts. Here's a bit of a personal lifehack: During my classes, whenever I participated in a group project, I'd promptly create a private Facebook group for the assignment. I'd already friended most of my classmates, so I'd then add the ones I'd be working on the project with into the group.
It proved to be an extremely convenient forum to organize meetings, figure workloads out, and even upload and swap documents for editing and adding to. Similarly, a private group was set up for my entire class, and we'd use it to swap notes, spread messages about cancelled and moved classes, and organize academic matters faster than any other platform. When juggling multiple projects and assignments, it truly was a lifesaver. But there is continued use for social media post-school…
3) Professionally-managed social media can benefit your career
Technology marches on, and so does connectivity. If the career you're looking to get into doesn't use social media now, it's guaranteed that it will eventually. The best thing you can do is develop a solid base of knowledge on how each platform works. Being able to say that you know how to manage social media, and have the skills to back that up, can open doors for you, particularly at companies that are new to the game.
On a more personal level, it can benefit you by projecting a professional image on your social media. By its very nature, its supposed to be a personal look at yourself. So, if your personal image is tidy and clean, employers may take notice...
What is a professional image? It's easier to define what's unprofessional, really. The U.S. News article linked above provides a helpful definition in the form of "vulgarity, evidence of alcohol consumption or essay plagiarism, or proof of illegal activity." Professionalism is essentially a state of Not That. But that doesn't mean you have to abandon a personal touch.
4) You want to make sure that some of who you are shines through
You shouldn't strip your accounts down to the bare minimum or only make yourself an antiseptic, detached professional. Go ahead and talk about things that interest you. After all, companies want to see that you're a human being, too, with likes, dislikes, interests, and opinions. Show off your mountain bike. Or that vacation photo of you and your friend hiking in Costa Rica. Just keep it sensible. The key is not to scrub your accounts clean, but rather to…
5) Ultimately, think of who's watching
Really, it's about what you're comfortable with your educators, family and employers seeing. The key takeaway from that news article is simply that, privacy settings or not, if you put something out there, it's in the public domain available for anyone to see without it being considered an invasion of privacy. Certainly, you're entitled to lock your Facebook account down, and deny friend requests from employers (tip: You're more than allowed to say no) but the information is still out there. The gold standard is simply to think of who will be seeing what you post, and whether you're okay with that. You may be tempted to irreverently glamorize your college life, as The GW Hatchet explains, but ask yourself if you're really, truly cool with your potential boss bringing it up at a job interview five years down the line.
By Anthony Geremia