How Centennial College Integrates Technology into the Learning Experience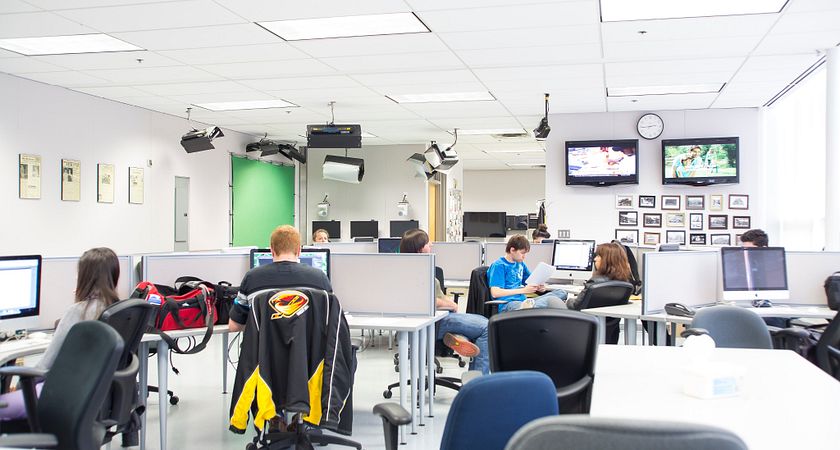 In high school you may have been required to write in a notebook, present on bristol boards, only use books for research, and do your math with a pencil. If you're a recent high school student, you could probably already tell this wasn't very relevant to how you'd be conducting business in the world outside those walls. Nowadays, few write on paper, the universal default for any presentation is Powerpoint, the bulk of corporate communications are by email, and almost every device with a screen has a calculator in it somewhere. If your career of choice doesn't yet require the use of a computer every day, it eventually will.
Since it will undoubtedly be a part of your job one day, it's important to incorporate regular use of technology somewhere along the chain of education. Odds are you're already learning online in your spare time, so it's a natural progression to formalize it. The CBC revealed that the Ontario Government has even called for online integration in post-secondary education, recognizing its importance. Centennial College has also recognized how recent, relevant technological experience can give students the edge in both their careers and in life, and makes every effort to integrate that technology into its programs. 
Distance learning
One advantage of the digital age is how it allows access to educational materials from afar. Centennial College supports Distance Learning as a pathway to education for students that are unable to make it into a classroom. Maybe transportation is a concern, or maybe their life keeps them away. Whatever the reason, technology can be used to secure education in a way previously impossible, in a way that's flexible, convenient, and accessible to a broader audience than before. You have all the benefits of a traditional instructor-led class, but in a setting that allows you to accommodate the rest of your life.
Educational connectivity
Via myCentennial and eCentennial, you can be linked with both your classmates and instructors, with your course materials being made available online. This aspect doesn't need to simply happen within the school's digital space, though. As discussed in the past, social media can be used to excel in your education by using it to connect with your fellow students and potential employers. Of course, with this comes the need to be knowledgeable and savvy about what you put online.
Encouraging access to technology
Many of our more tech-focused programs actively encourage laptop ownership among our students, and we provide powerful, up-to-date Mac and PC desktop computer labs for those that don't. In addition, our libraries provide access to online resources, and our IT department ensures students can access AV media, printing, and anything else they need to complete their work and presentations. As a registered Centennial College student, you can access our network services, including storage space for assignments and course materials on the College's network.
Encouraging technological research and development
An important aspect of Centennial College's values is that it views technology positively, as an instrument for social development and change. Centennial's Applied Research and Innovation Centre (ARIC) is responsible for partnering with Ontario businesses to help them research and develop solutions to business challenges, frequently in the tech sector. ARIC has many specific criteria for the projects it takes on, and one such requirement is that there's social good associated with it. Whether it's designing solar-powered streetlights or creating an interactive video game to help disaffected teens, student researchers at ARIC are participating in social good, on top of sustaining the local economy. 
By Anthony Geremia