A Deeper Look at Apprenticeships, Part 1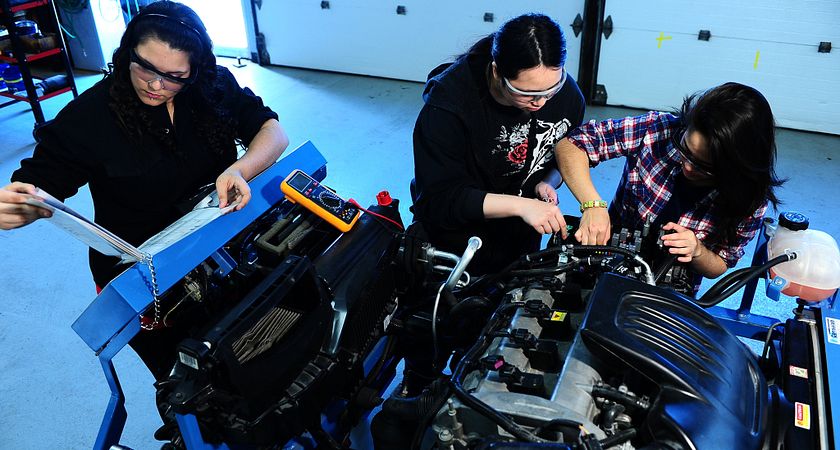 While we've taken the time to talk previously about the advantages of skilled trades as a career path and how apprenticeships help people achieve that, we'd barely scratched the surface of what's available. There's a lot more to apprenticeships, with many different possible academic paths for a potential tradesperson to take. Looking to learn more, I spoke to Dave Samalea, the Chairperson of Automotive and Motorcycle Programs at Centennial. One of his many jobs is to oversee the automotive apprenticeship programs at the college.
"Back in the 70's," Dave explains, "there was only one option really, and it was a regular traditional apprenticeship. It was one size fits all. Now we have many more ways and opportunities for students to earn a transportation career."
Specifically, there are four different potential paths for a Centennial student to take, ensuring every student has a chance to enter the automotive trades. "It's really quite complicated," Dave admits, "and every time I go to a career fair and start trying to explain the different options, people's eyes glaze over. I say, I'm sorry, but this is great for you, because there are so many more opportunities to gain a licence than there once was. Unfortunately, some councillors and teachers don't even know all the choices."
This leaves potential trades students out in the cold, confused about what their options are. Hopefully, a bit of light can be shed here. Over the next few entries, we'll discuss the many possible paths into the world of skilled trades via apprenticeship. 
Where to begin
As discussed in the previous post, a common misconception about apprenticeships is that the school you wish to attend will set you up. In reality, it begins with the student finding work themselves.
"Say I'm a high school senior," Dave narrates. "I leave high school in grade 12. Maybe I've done some automotive courses in school, or maybe I've done a co-op. It doesn't really matter. When I leave school, I go knocking on doors at shops that have a licensed technician. The only people that can work on a vehicle legally are licensed technicians and apprentices. I keep banging on doors until I get an employer that's willing to take me on as an apprentice." And that's where the journey begins.
The oldest and original form of apprenticeship is the traditional format. "Once the employer says yes, I'm going to sign you to an apprenticeship," Dave explains, "they contact the Ministry of Labour, Training and Skills Development, and then there's a training agreement that's signed between the three parties, the employer, the ministry and the apprentice."
An advantage of this set-up is that the student will actually get paid. "From that point on," Dave elaborates, "the apprentice works and earns money, and learns 90 per cent of the total time all the different things they need to know about how to fix a vehicle. That's that competency-based system that, depending on the trade, takes two to five years." In that time students, depending on the trade, will participate in two or three school sessions to supplement this, and leave with a special Certificate of Completion, allowing them to write an exam for a Certificate of Qualification, which in turn qualifies them for a Certificate of Apprenticeship.
One upshot of this approach is that it's the most direct path to apprenticeship, bypassing academics, and focusing entirely on hands-on experience. Another advantage of this set-up is the fact that the Government of Ontario subsidizes most of the program, keeping tuition at the minimum level. That being said, it's hardly the only available path for a student, as there are approaches that blend both theoretical and hands-on education.
Check back for the next part of this story, dealing with Diploma Programs and Pre-Apprenticeship training.
By Anthony Geremia