Meet Parni Bali, Operations Management Graduate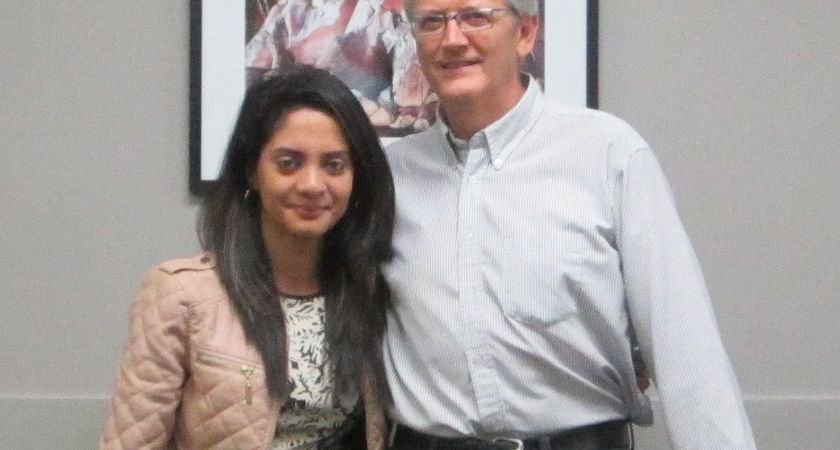 Meet Parni Bali. Parni graduated from Centennial College (this year) with a Diploma in Operations Management from the School of Business. Grateful to Centennial for helping her build her teamwork and multitasking skills, Parni has recently been employed by Apple Canada in Operations. She is a proud Centennial College graduate and has great appreciation for her classes and more specifically, her professors.
Why did you choose to go to Centennial College?
I chose Centennial College as the College provided me with a great path to switch to university by getting maximum credits. The program I chose was Operations Management which had the perfect blend of all of the key business courses needed to succeed in this field. Now I always look forward to educating myself and optimizing my potential to contribute to making this world a better place to live in.
How did Centennial help you to prepare for your current job at Apple?
I still remember the interview at Apple where they put us in a group of four and gave us a specific scenario to work on. I had worked on situations like that in my marketing courses at Centennial College. While studying subjects which varied from general business to marketing, production planning, quality assurance, finance, human resource and operations, I developed a passion to learn about the finer aspects of business administration and to implement my skills in the real world. I personally believe that without diving into every opportunity I had encountered, I would have never been able to find my propensity towards business. My courses and our professors had provided me with a perfect platform for learning about various business aspects which I can now apply to my job at Apple, which is an invaluable experience.
My professors at Centennial also helped me gain tremendous confidence in my public speaking abilities. I, along with a team of four students, had competed in the G20 simulation competition held just before the 2014 G-20 Toronto summit, where political leaders from a variety of countries gathered to talk about key issues. We had to express our views on the issue of 'Women's Education and Poverty in Developing Nations'. The opportunity to participate in the G-20 Toronto summit along with the guidance from our professors at Centennial helped me grow and achieve so much and I am confident I can apply all of that knowledge at Apple to succeed.
What was the transition like to go from Centennial College to Ryerson University?
In university you have to rely on self-learning, whereas at Centennial College I found that my professors were much more involved with their students. I took key business courses at Centennial which overlapped with many courses at Ryerson. I remember applying the skills that I learned in my Supply Chain Management course at Centennial in many group assignments at Ryerson. The English course at Centennial helped me for citing references the right way. Each course at Centennial provided me with a good foundation for my future courses at university, which I am so grateful for.
What do you recommend for students who are job searching?
I recommend providing a good LinkedIn profile, which should be updated with all of your information. LinkedIn was one of the best platforms I used for job searching because you can connect with the HR manager who posted the job. I applied to over 150 jobs online through LinkedIn alone. I deactivated my Facebook account which I found played in my favour. Interviewers look up your name and if only your LinkedIn account shows up, it puts you in a good spot over those whose other accounts show up as well.
The Career class I took at Centennial helped me in setting up my LinkedIn account, portfolio and an updated resume. I took the portfolio from this class to many interviews and having all your key achievements in a folder gives a better perspective of your personality to the interviewer. I was rejected by many companies until my offer came from Apple but I did not let the rejection letters hold me down. There were times when I was rejected by one company while being on a phone interview with another. The key is to keep working hard and remain focused on your goal. I credit Centennial for this confidence and will take it with me wherever I go.
By Resham Karfa