Proving their value: Accounting students find professional success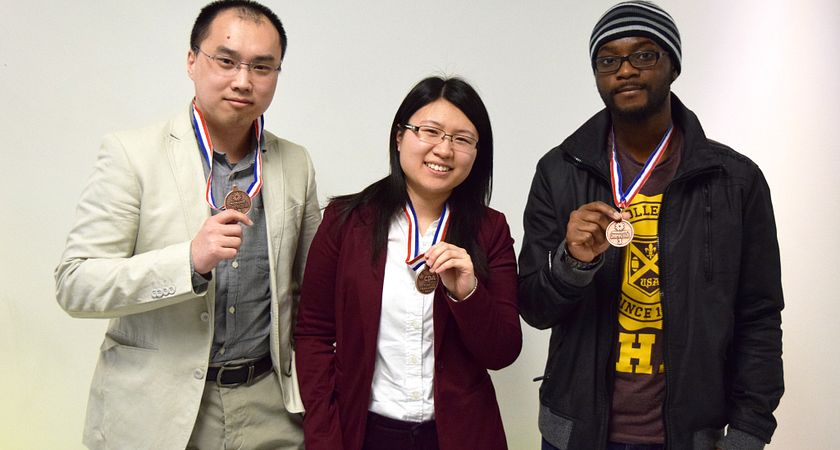 What sets Centennial College apart is how it connects students to life experience. For all the classroom learning we provide, nothing compares to real-world experience. This is the case with the School of Business's Accounting programs. They teach their students that accounting is not just numbers, but is also the language of business.
A team of accounting students got the chance to acquire some real-life experience and demonstrate their learning at the 2015 CPA Ontario College Case Competition. The three Centennial College accounting students were pitted against 21 other colleges, including Fanshawe, London, Humber and Seneca on March 14. The competition itself involves the students reading a 12-page case study, essentially a story about a business in trouble. The students have to read and understand the case, create a solution, and pitch it to the judges.
In the end, Centennial's team took third place. Here's how they did it.
Recruiting
School of Business professor Gopika Joseph was the team's coach this year, after previously serving as an assistant coach. "I love coaching students," she says, "and giving them a little different taste of real life experience, preparing them for the future. I am myself a CPA and a CGA."
After interviewing students who were motivated to try out, she assembled a team of three students. Curiously, all three are international students, with Tingting Yue and Hoada Shenghailing from China, and Olufemi Ijadola coming from the U.K. More importantly, though, each one had a specific area of expertise.
"I'm a number person," Tingting explains. "But accounting is not just simply math."
"When I came to Centennial and I heard about this competition," Olufemi admits, "I was actually told that I didn't meet the criteria to actually join the team. I thought I'd just give it a shot anyway, and luckily Gopika picked me."
"I don't focus on just numbers," Olufemi says of his strengths. "I like marketing and human resources and other aspects that go along with accounting."
"I worked in the investment and financial industry in Beijing," Hoada says of his experience, "and that gave me a lot of knowledge in this industry, so I know what I should learn, and how to apply this knowledge."
"I divided the team based on their strengths," Gopika explains. "I knew that Olufemi, for example, was great at financial analysis, so I asked him to take on that role and responsibility. Hoada is very good at delivering the whole case and going a bit more in-depth and Tingting is good in qualitative analysis. When I was interviewing them, I was able to select them based on their strength."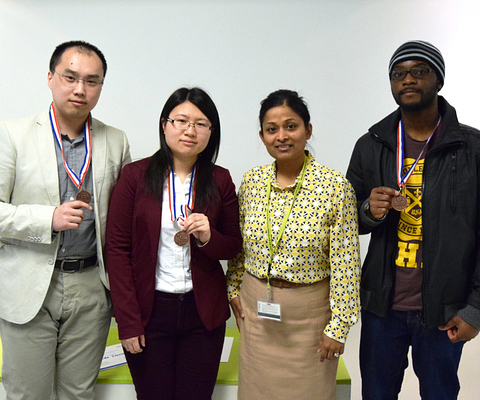 The training
As part of their training for the competition, Gopika presented her own cases to the students, to prepare them for the one they'd have to analyze in the final competition, even including some from her own university days. "I selected cases that were the best fit in my mind," she explains. "They had to be able to make them think outside the box, and be Canadian situations. I even took some of my own MBA cases and gave them to them."
Of course, all the training in the world merely served to highlight what Centennial College's accounting programs had already taught them. "I noticed that a lot of elements in the cases we used to practice that we'd actually come across before," Olufemi explains, "so it wasn't totally new. Having a great team that is better with numbers than I am really helped. I more enjoyed the qualitative aspect as opposed to the numbers, because even though I'm in accounting, I'm not the biggest fan of numbers."
"When we learn accounting," Hoada adds, "we learn how to communicate with others in a business language," something essential for his role as the communicator of the team.
Winning 
"Winning was exciting," Gopika gushes. "I actually thought my team was one of the best, because I was able to sit in on the semi-final round. They came up with amazing material, and were able to solve the case very well."
"I've never participated in a competition like this before, so it's new to me," Tingting says of her win. "It's proof that I have the ability and knowledge to be good in this accounting field, so it's an experience that prepares me."
"I take this prize as a standard," Hoada says. "It puts me on a higher level, it says that I can compete with others."
"Having an accomplishment you can share with others is great," Olufemi adds. "It's something I can look back on when I doubt I can accomplish something. Also, I think this is the first medal I have."
By Anthony Geremia